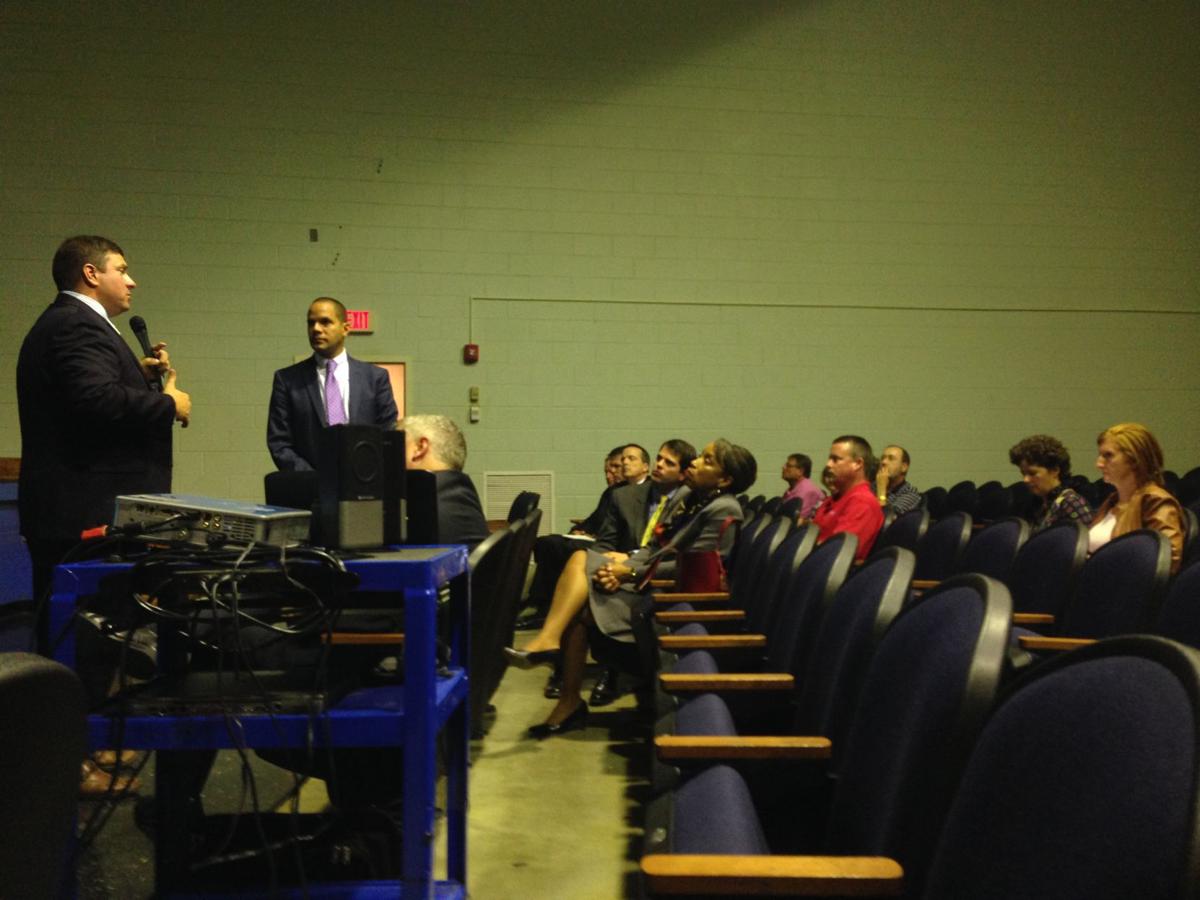 Two mega-trailers will be added to an elementary school in northwestern Chesterfield County, serving as a Band-Aid to the overcrowding issues Watkins Elementary School has struggled with for years.
Watkins will roll out the trailers next school year as enrollment continues to increase at the over-capacity school. The trailers serve as a temporary solution before the new Old Hundred Elementary School opens.
"While we are excited that Old Hundred Elementary School will open in 2019 and help alleviate overcrowding at Watkins and surrounding elementary schools, we are mindful that we must take steps now to accommodate potential growth until then," Superintendent James Lane and School Board Chair Javaid Siddiqi wrote in a Thursday letter to Watkins parents.
The new school is expected to take up about 20 acres of an 80-acre parcel off Old Hundred Road across from the Hallsley subdivision in the northwestern part of the county. Plans call for the doors to open in August 2019.
Last September, 1,152 students enrolled at Watkins. Next school year, another 79 students are expected to enroll, bringing the total up to 1,231 students.
In the letter to parents, the school leaders said one eight-classroom trailer that will be added comes with bathrooms and is expandable.
The second trailer will be used as an auxiliary cafeteria, and can serve as a multipurpose area otherwise. Both trailers will be added near the school's softball field and be installed in late summer before students return to class. Two mega-trailers and one smaller trailer already are at the school.
The Watkins Parent Teacher Association will meet today at 6:30 p.m. at the school to discuss the changes with parents.
The school system is also still approving waivers for parents who would like to send their child from Watkins to another elementary school, though the waiver deadline has passed.
Transportation must be provided by the family, unless the family has another child attending a center-based gifted program at the school for which they are seeking a waiver.
In early March, school leaders expressed support for a plan that chipped away at reducing the number of trailers in the school division.
According to a six-month study presented to the School Board in early March, many of the 319 trailers throughout the district need to be demolished since they are older than what is recommended.
The Environmental Health and Safety team recommended trailers for demolition that are more than 25 years old, as well as those that are 20 years old but have a history of water damage. Of the 319 trailers in the division, 135 are 25 or older.
In theory, only 12 Chesterfield schools need trailers, which are those schools that exceed 100 percent of their functional capacity, according to the report. Of the 267 trailers now parked at schools, only 56 are needed.
About 221 of those 267 trailers are used for teaching, while the rest are empty, serve as storage or are used for other things such as staff office space and PTA work areas.
The district's short-term plan is to get rid of the trailers not used directly for teaching. In addition, some trailers will replace others that are in poor condition.
In total, 39 trailers are slated for demolition in this budget year and the next.