The number of children in Virginia hospitalized with COVID-19 is surging. Last week, at least 252 either positive for the virus or suspected of having it were in Virginia hospitals, according to federal data. That's the highest figure since the pandemic began, and it's five times higher than at the start of July.
The increase in serious illness suggests that children are no longer immune to the virus's most serious symptoms. And it comes at a time when schools are reopening and students ineligible for vaccination are packing into classrooms.
"Now we're seeing children who are coming in with pneumonia and the need for oxygen," said Dr. Suzanne Lavoie, a Virginia Commonwealth University infectious disease specialist and professor of pediatrics and internal medicine. "It's very serious."
Early in the pandemic, many believed one silver lining was that young children were spared. They might test positive, but they rarely developed harsh symptoms. Some did suffer severe illness from multisystem inflammatory syndrome as a result of COVID. There have been 83 cases in the state. Teenagers were slightly more susceptible to COVID.
But that hopefulness no longer appears true. In the past two months, young children and teens have entered hospitals with low oxygen levels, pneumonia, cough and respiratory failure — the same symptoms adults have presented since March 2020.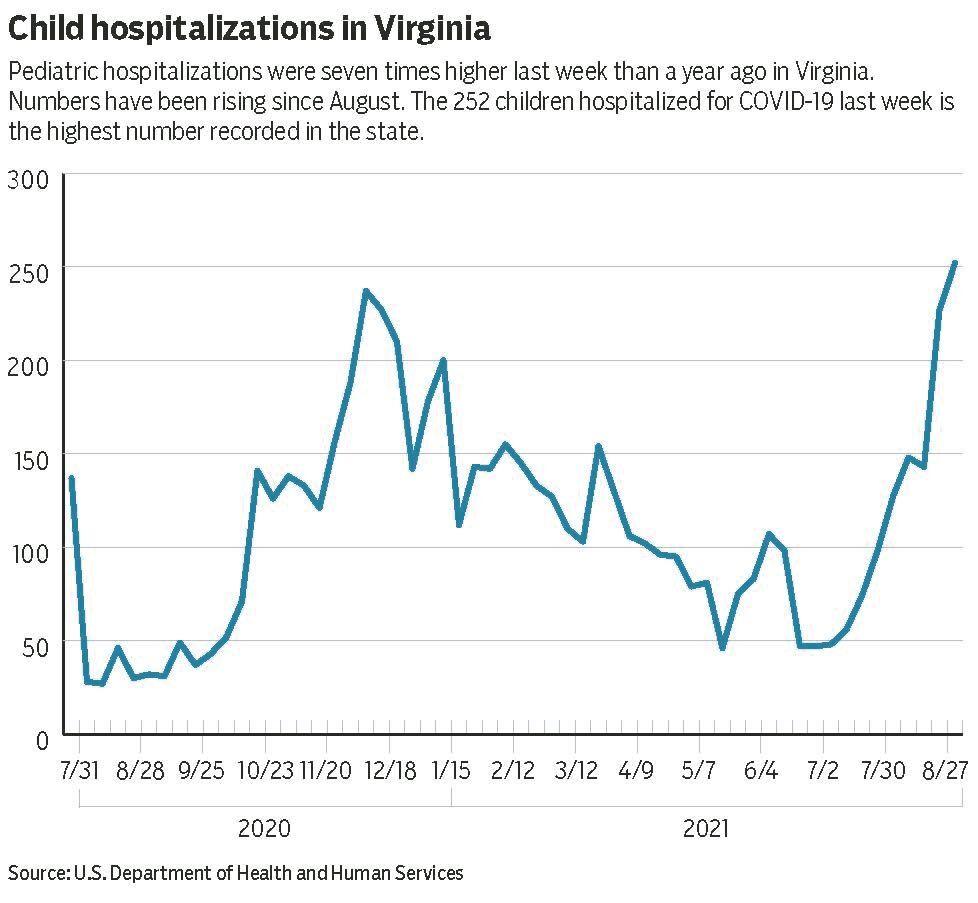 Early on, youths accounted for about 5% of all positive cases at VCU Health, Lavoie said. Last week, that figure had ballooned to 15%. The ages run the gamut. Lavoie recently saw patients as young as 15 months and as old as 17 years.
There have been more than 33,000 COVID cases in Virginia since July 1 among people 19 or younger , according to data from the Virginia Department of Health. (State data includes kids up to age 19.) Though the pandemic has stretched 18 months now, 1 in 4 pediatric cases have occurred in the past 10 weeks.
There are at least three reasons why kids with COVID are more likely to get seriously ill: the delta variant, a lack of vaccinations and schools reopening.
"It's probably a combination of all those things," Lavoie said.
Doctors believe the delta variant affects children worse than the original strain. A higher percentage of kids who test positive are displaying symptoms, and those symptoms are more severe. That exact cause remains unknown.
One possible reason is that the viral load of the delta variant is higher, so when people pass the disease from one person to another, they are passing more of it than before, the doctor added.
Fewer vaccinations in young kids and teens likely play a role, too. Children under age 12 aren't eligible for vaccination yet because the Food and Drug Administration hasn't given approval. The FDA could sanction the Pfizer vaccine for children ages 5-11 as early as next month.
Among adolescents 12-17 in Virginia, 64% are fully vaccinated, which is below the adult rate of 74%.
Some parents chose not to vaccinate their children under the now-negated notion that children don't need to be vaccinated. But everyone who can get one should get one, Lavoie said.
The reopening of schools, which largely began in late August and early September, is likely another cause for the recent surge, Lavoie said. But schools aren't the only thing to blame.
The number of pediatric hospitalizations increased in May and June as people generally relaxed, in-person events resumed, and people stopped wearing masks. The figure dropped in June when schools closed but climbed higher again in July before schools reopened, just as the delta variant was becoming more prevalent in the state. The more parents are out and about, the more likely they are to pass the virus to their children.
Though Lavoie considers the number of hospitalized children a major concern, she doesn't advocate for widespread closures of schools. While there have been 6,470 children hospitalized for COVID since the start of the pandemic, there are 1.3 million K-12 students in the state.
There are risks to sending students home, too, she said, such as limiting social interaction and negatively impacting mental health. Instructing kids to wear masks, spreading students out and cleaning the facilities can mitigate spread. Doctors were worried when Henrico and Hanover county schools initially planned to make masks optional. The state now requires all public school students and employees to wear masks, but parents can apply for an exemption for their child.
But nothing helps as much as vaccinating the adults who interact with children, Lavoie said. The more adults who are vaccinated, the fewer avenues the virus can follow to infect an unvaccinated child.
"The more we get people vaccinated around kids who can't be vaccinated yet, the better we can do in terms of herd immunity," Lavoie said. Kids are getting infected "from the community, and unfortunately we have widespread community disease of the delta variant."
COVID deaths in children are still rare. Since the pandemic's onset, four children under age 10 and seven adolescents between 10 and 19 have died in Virginia. While most had comorbidities such as obesity, not all did, Lavoie said. Some very young children have died without any complicating factors.
In that way, COVID is starting to more closely resemble influenza, which is most likely to kill the very young and very old, she said. The ages of kids who died of COVID range from a very young child to a 16- or 17-year-old.
"It's uncommon for children to die, but on the other hand, one child who dies of COVID is one too many children who die of COVID," Lavoie said.
Among the 252 children hospitalized with COVID last week, the majority of them were treated at six hospitals: Children's Hospital of the King's Daughters in Norfolk (73), Inova Fairfax (50), VCU Health (32), Carilion Roanoke (32), Chippenham (28) in Richmond's South Side and the University of Virginia (12). Hospitals with fewer than four pediatric patients aren't included in the federal count, which means the total could be slightly higher.
Most hospitals in the state don't have pediatric intensive care units, where the sickest children suffering from respiratory failure are sent.
VCU has 56 staffed pediatric beds, and it has run them at 90% to 100% capacity for the past month, Lavoie said. When the Children's Hospital of Richmond at VCU opens a stand-alone building on East Marshall Street in 2023, it will have 72 beds and space for more.
VCU's adult beds have operated near capacity or at capacity this summer, too, as emergency rooms are seeing higher rates of heart disease, physical trauma and other non-COVID ailments. When a hospital is full, it places itself on diversion, instructing ambulances to take patients elsewhere. VCU has gone on diversion multiple times recently, Lavoie said.
"We have been very stretched over the last month," she added.
Children's Hospital of the King's Daughters admitted 35 patients for COVID in August, Dr. Laura Sass, a pediatric infectious disease specialist, told WAVY. In the first two weeks of September, it admitted an additional 38.
The hospital is admitting more infants, who often stay from one to several days.
Though children are being hospitalized more now, they are still less likely to be hospitalized than adults. Since the beginning of July, the 0-19 age group has made up a quarter of all COVID cases in Virginia, according to state data. But children have accounted for only 8% of all hospitalizations in the state.
At Carilion, however, cases aren't surging, a spokesperson said. The number of pediatric COVID hospitalizations increased slightly in August but remains relatively small and hasn't reached the peak from last winter.
Most pediatric coronavirus cases there are incidental findings, meaning the patient was admitted for a non-COVID concern and hospital staff later learned the patient was positive for the virus, said Dr. Donald Kees, interim chair of pediatrics for Carilion Clinic.
Across the state, there aren't many hospitals that offer pediatric care. Pediatrics has become more specialized in the past two decades, and many hospitals have gotten out of the business of taking care of kids, Lavoie said.
If a child enters a small community hospital with severe illness, it's likely the child will be transferred to a bigger hospital in a larger metropolitan area.
Spokespeople for Inova and Carilion did not respond to requests for comment.
It's unclear how many children in local school districts are hospitalized. Hanover does not track the number of students in hospitals, and a spokesperson could not provide the number of students in quarantine. But 2% of students who take in-person classes are currently taking them remotely, the spokesperson said.
In Chesterfield County, 2,231 students were quarantined Monday, according to the district's dashboard. A spokesperson declined to say whether the district is tracking hospitalizations and if any students are in the hospital. A bus driver in Chesterfield died of COVID earlier this month. Spokespeople for Richmond — where two school employees have died of COVID — and Henrico did not answer questions about the number of seriously ill students in their divisions.