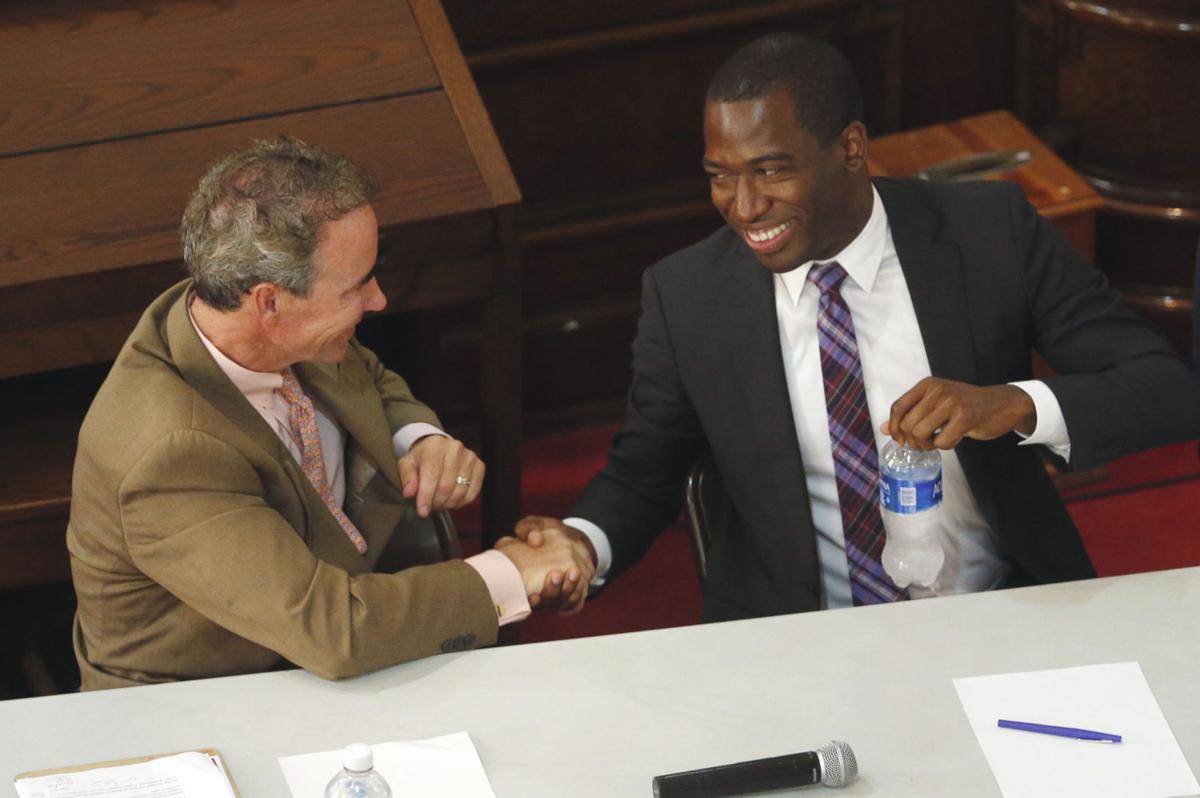 Richmond mayoral candidate Joseph D. Morrissey is siding with opponent Jack Berry in a rift among Democrats over whether Berry should have access to the party's proprietary voter data.
Morrissey on Tuesday also called on the Democrats to give him access to the data, accusing its leaders of "shenanigans" and "trying to rig the system."
The Richmond Democratic Committee recently asked the state party to reconsider whether Berry should continue to have access to the Democrats' trove of voter data, which campaigns use to bolster their canvassing and direct-mail operations.
Morrissey linked the issue to his and Berry's shared opponent Levar Stoney, who previously served as the state director of the party and has already been endorsed by the chair of the local committee.
"While Jack Berry and I may have honest disagreements or political issues, I nevertheless realize that what Mr. Stoney and Democratic Party officials are doing to Jack is both despicable and mean-spirited," Morrissey wrote.
Berry has defended himself against the party's charges, saying he is a lifelong Democrat and calling the flare-up "political games."
He deflected questions about Morrissey's decision to come to his defense in a text message: "I'm not a politician, and I have no patience for all that political stuff."
Stoney's campaign denied Morrissey's accusations.
"As far as we are aware, there are multiple candidates for mayor with access to Democratic voter lists, including Jack Berry," he said. "Our campaign is less concerned about Democratic voter list access and more concerned with engaging voters, providing substance on the issues, and presenting a forward-looking vision for the city. If I was Jack Berry, I would not want Joe Morrissey fighting my battles."
Asked what evidence he has to support his accusations against Stoney, Morrissey said, "I think it's pretty apparent what's going on. I've never seen a situation before where a sitting chairperson of a Democratic committee starts taking sides."
The chairman, James "JJ" Minor, said he endorsed Stoney as a community activist, not in his official role as head of the local party. He said the full committee will vote at a future meeting on which of the eight mayoral candidates, if any, to endorse.
As to questions about whether Berry should have access to the data, Minor said the decision was up to the state party. He said all parties are simply trying to protect "the integrity of the data."
The local committee has said it's concerned about Berry's political allegiances, citing a $500 donation Berry made to Republican Glen H. Sturtevant Jr. during his run for the state Senate and Berry's decision to hire a Republican operative to staff his campaign.
The local committee advises the state party on which candidates should have access to the data in nonpartisan local elections.
In addition to his defense of Berry, Morrissey called on the party to also give him access to the list, saying he has "served as an elected Democrat longer than all of the other mayoral candidates combined."
Morrissey broke with the party in 2014 when he announced he would run as an independent against the Democrats' candidate for the 74th House District seat. He had just resigned his seat after being convicted of contributing to the delinquency of a minor but then successfully ran for re-election after saying he would "let the voters decide."
In his declaration of candidacy in the mayoral race, however, Morrissey lists himself as a Democrat.
(804) 649-6580
Twitter: @nedoliver