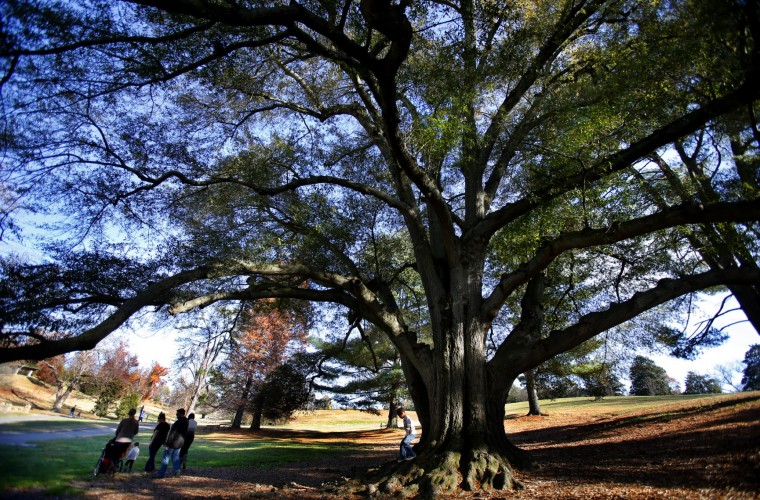 Solving a case of mistaken identity led to a Richmond tree being named the biggest of its kind in the nation.
The Darlington oak at Maymont is the only national-champion tree in the immediate Richmond area.
The oak was crowned champ April 27 — Arbor Day — and successfully defended its title Oct. 5 when the nation's big-tree list was revised.
Some champion trees aren't all that impressive to the eye, but at 76 feet tall, with a full, handsome crown that spreads 108 feet across and big branches that gracefully arch off to the side, the Maymont oak commands attention.
"You look and go, 'Wow, that's a national champion!' " said Maymont horticulture director Peggy Singlemann, beaming with pride beneath the tree the other day. "It's magnificent. It's like it's posing."
Known to be at least 125 years old and estimated to be much older, the tree didn't get proper recognition until this year.
For nearly three decades, it was mislabeled as a laurel oak, a similar-looking species. Singlemann said she felt that was wrong, and in 2006 she sent a branch and some acorns to the National Arboretum in Washington for a positive identification. The verdict: Darlington oak, a tree native to the Richmond area but more common in the Southeast.
Jeff Kirwan, a retired Virginia Tech forestry professor who runs the Virginia Big Tree Program, went to Maymont early this year to measure some trees to see if they might be state champs.
Singlemann asked him to measure the Darlington oak. He did, and the findings were sent to the Washington-based conservation group American Forests, which maintains a register of America's biggest trees.
On a points system based on height, crown spread and trunk size, Maymont's once-hidden jewel topped two reigning co-champions in Florida.
The Maymont oak is one of 72 national champion trees in Virginia.
"The fact that it's in such a public place is a wonderful thing," Kirwan said. "People can go and enjoy it."
Ingrid Saunders of Richmond was walking in Maymont recently when the size and beauty of the tree caught her eye from about 200 feet away.
"It looks like a great climbing tree," Saunders said. "Wouldn't you like to have had that in your backyard when you grew up?"
Maymont also boasts seven state-champion trees, including a 105-foot-tall deodar cedar.
If the champion oak doesn't stay in good shape, a former titleholder could outgrow it, said Sheri Shannon, a Richmond native who is American Forests' big-tree program coordinator.
"They have been known to come back and regain their throne," Shannon said.
The oak should look good even in winter. Most of its thin, narrow leaves — similar to those of a willow oak — stay green year-round.
The champ stands in a low, moist area just down the hill behind the Maymont Nature Center. A hill behind the tree, on the south side, protects it from much of the harsh summer sun.
"It's living the high life," Maymont's Singlemann said. "It really is in a perfectly placed position to really grow well, and it has."