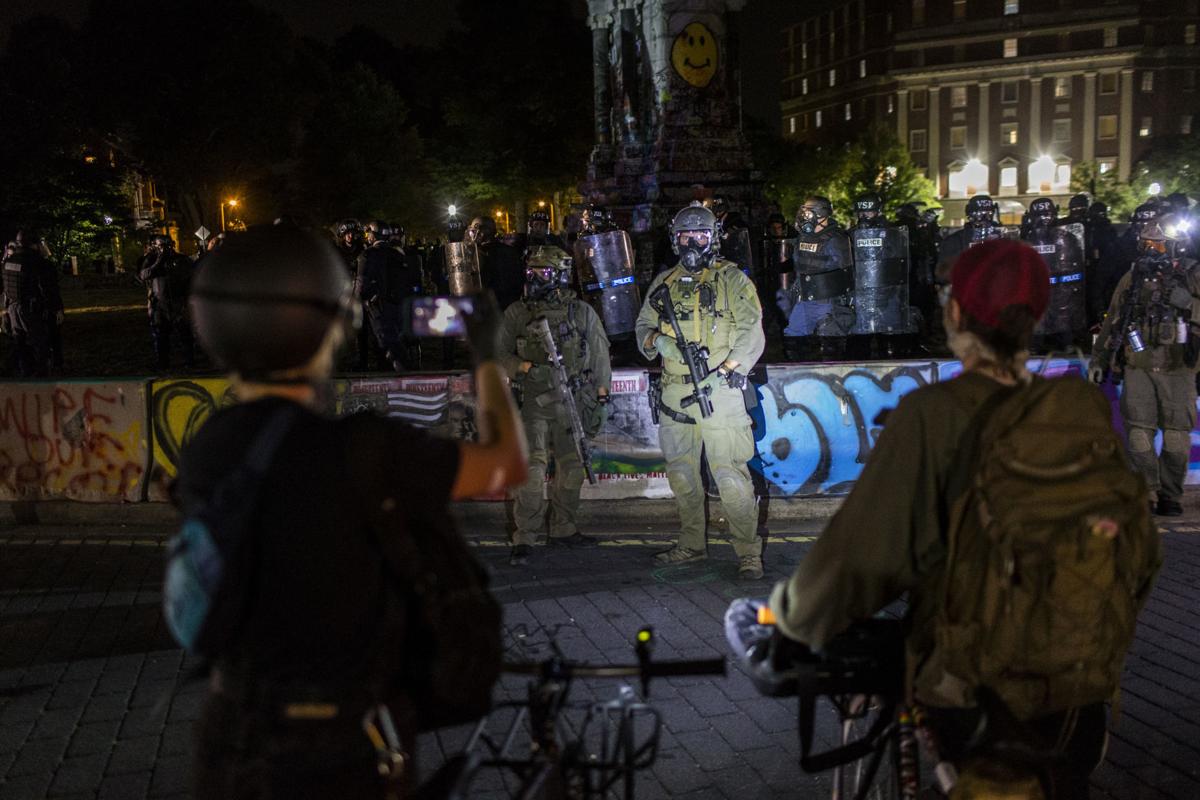 Police and protesters clashed once again at the Lee monument on Friday night, with chemical irritants used to clear the scene and six arrests made in the aftermath.
That confrontation, which happened between 10 and 11 p.m., was followed by officers clearing the scene. Protesters then returned to their original position in what they have deemed Marcus-David Peters Circle for the remainder of the night.
It was the fifth time this week that authorities have declared an unlawful assembly in Richmond and ordered crowds to disperse. Shortly after 10 p.m. on Friday night, police moved into the circle of the monument, which has been the base of racial protests in Richmond over the past several weeks.
A protester threw an object at the police, and was shouted down by other protesters. Shortly after, the police released multiple rounds of chemical irritants into the crowd.
The police officially declared an unlawful assembly at 10:17 p.m.; a tweet about the unlawful assembly was posted at 10:25 p.m.
After clearing the scene, police began making arrests - there were at least five police vans waiting. Richmond police said in a news release Saturday morning that 6 people - 5 adults and 1 juvenile - were arrested.
At one point, an officer was heard yelling to another officer that it was "time to grab somebody," which was captured on video by WVEC.
The Times-Dispatch is waiting for an official response from Richmond and State police to numerous questions about Friday night's incident. A spokesman for Capitol Police would not divulge how many of their officers were involved Friday night, but did say their officers did not deploy any crowd deterrents such as pepper spray or sponge munitions. The spokesman said all other questions should be directed to Richmond and State police. Richmond Police said in a news release Saturday that one officer used pepper spray, but no officers deployed tear gas.
According to a news release by Richmond police Saturday morning, the juvenile, a black male from Richmond, is facing a felony charge of assault on a law enforcement officer, with a paintball gun, and misdemeanor charges of obstruction of justice and unlawful assembly. The adults, all white and all Richmond residents between the ages of 27 to 30, are facing various misdemeanor charges. Three of the men each face a single charge of unlawful assembly. Another man is charged with trespassing and obstruction of justice. One woman faces charges of unlawful assembly and obstruction of justice.
New regulations for gatherings at the Lee monument were put in place in 2017. Following the white nationalist violence in Charlottesville that August, then-Gov. Terry McAuliffe temporarily banned gatherings at the Lee statue on Monument Avenue. He then imposed emergency regulations in November 2017 that became permanent last year.
State officials on Monday announced that authorities would enforce rules already on the books barring gatherings on the monument's grounds from sunset to sunrise. Protesters are referring to the circle around the Lee monument as Marcus-David Peters Circle.
Peters, an Essex County biology teacher and Virginia Commonwealth University honors graduate, was naked, unarmed and experiencing a mental health crisis when a Richmond police officer fatally shot him in 2018. The city's police chief and top prosecutor at the time deemed the shooting justified because Peters threatened to kill the officer as he charged him.