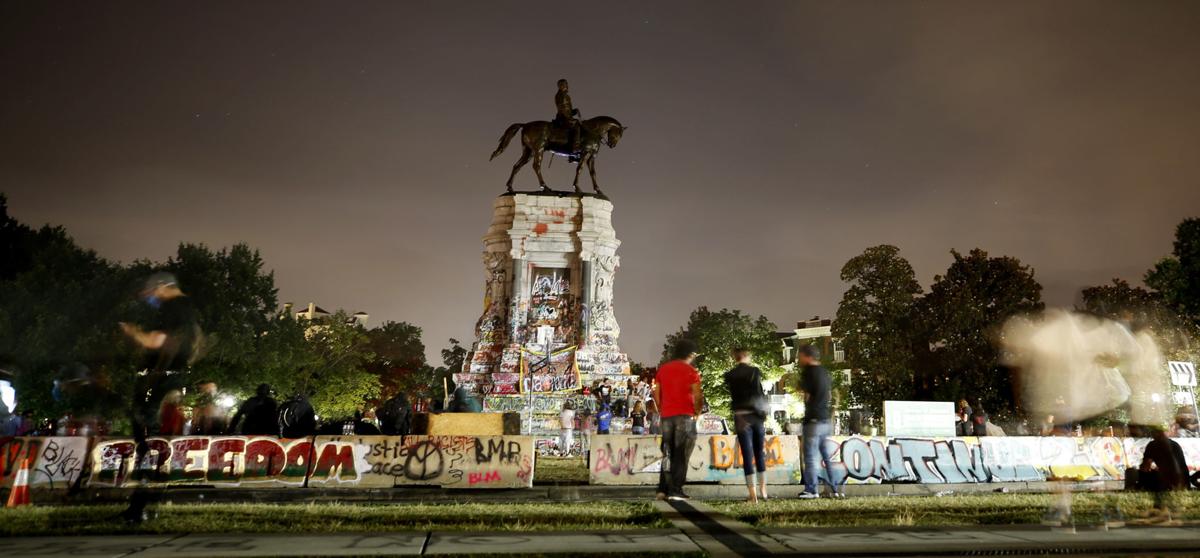 Three weeks ago, coats of spray paint had yet to completely coat the pedestal of the Robert E. Lee monument.
At the time, the removal of locally controlled Confederate monuments was still illegal in Virginia, pending legislation set to take effect July 1, and Lee's statue — a representation of oppression and racism — stood tall along the avenue's mile-long stretch.
But Richmonders protesting police violence have reclaimed the space in the former capital of the Confederacy, building on a movement that calls for defunding police departments and reinvesting money into Black communities. A sign now unofficially renames the location as "Marcus-David Peters Circle" after the high school teacher killed by a Richmond police officer in 2018. Graffiti lines the barricades and the statue's steps and walls in a sea of condemnations against police brutality.
As residents await the official takedown of the Lee statue, which Gov. Ralph Northam declared would be removed before being held off by an injunction, the site continues to be one of public gatherings that never before existed.
Here are a few stories about the people who show up.
The family of Serge Maboneza
Living in a white neighborhood, Serge Maboneza said it took a minute for his daughter to realize that she's beautiful. At 4 years old, her favorite shows are mostly white characters and her friends are blonde and pale.
"She's the most beautiful girl in the world and she knows now," he said. "It's my responsibility as a dad to make her understand that you can be Black and you're still beautiful."
As Keza twirled in her flower-printed dress and danced with her brother at the base of the monument Saturday, Maboneza's eyes darted to the cars circling around. He's heard of the possibility of counterprotesters; he's seen the videos of police tear-gassing crowds and fires being lit on Richmond's streets.
He didn't want them to witness that and feel fear.
"I thought let's bring them over here so they can see … everybody putting their hands together and fighting for a reason. I want them to believe in something and fight for something," Maboneza said. "I'm hoping that their lives will be different."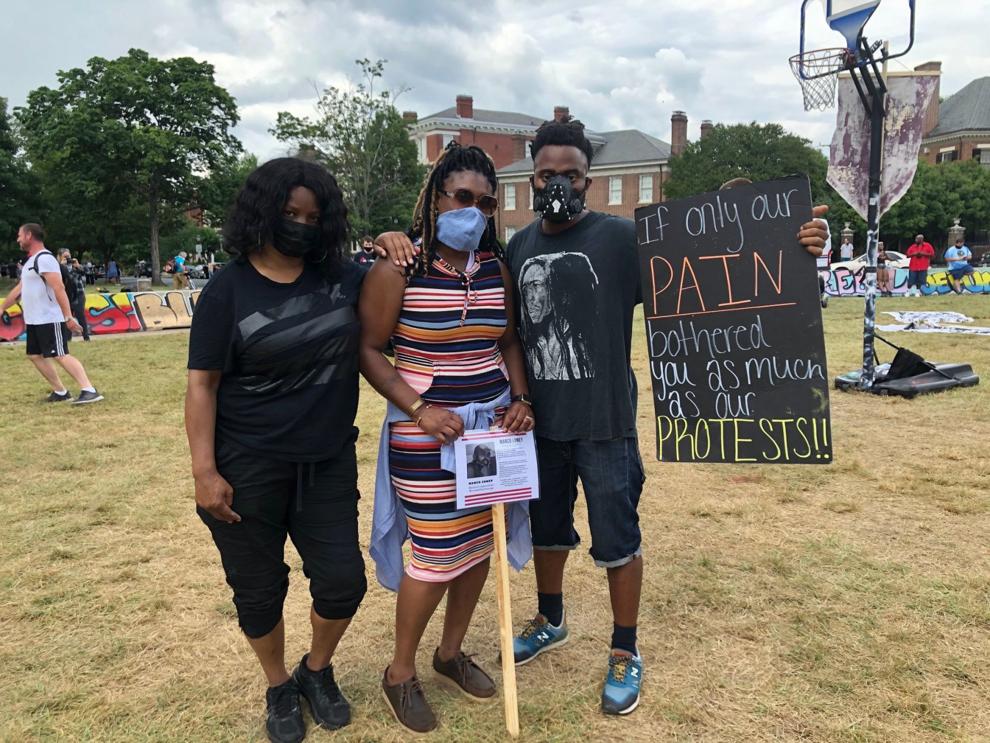 The family of Marco Loney
At the age of 9, Angel Pervall's brother was ripped from her life by a bullet. His hands were above his head, facing away from the Richmond police officer in 1995 who shot him in the back. The family was told police thought he had a weapon. He didn't. Officers weren't charged.
It's a story they've heard over the years with different faces and names: Rayshard Brooks, Michael Brown, Marcus-David Peters. For 25 years, the Marco Loney family has experienced a trauma that will never subside, Pervall said. The family came to the monument to add his name to the pictures already surrounding the monument.
"Marco Antoine Loney is a part of this movement," she said, looking toward the monument. "We just want everybody to know that this is not anything new. … We know this pain."
We're a George Floyd family, she said.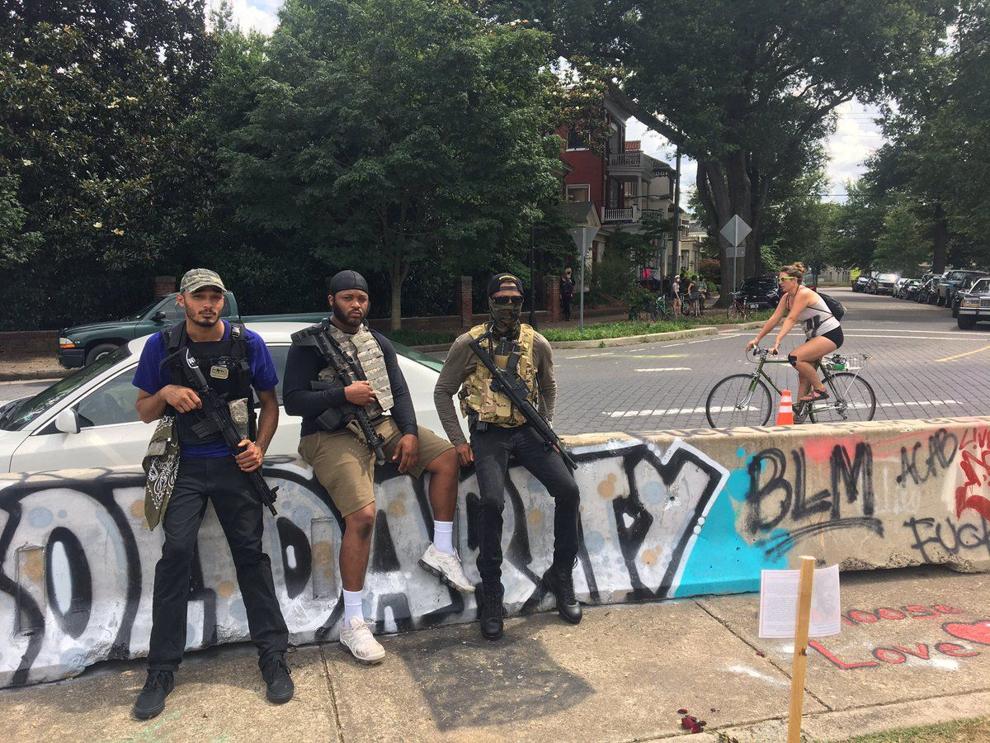 They carry assault rifles and wear bulletproof jackets. They have bandannas over their faces and don camouflage or black clothing. To many, they may appear ominous. But to them, they are keepers of the peace.
If you were at the Lee statue Saturday, or if you've been to any high-traffic areas frequented by protesters this month, you've probably noticed these individuals patrolling the peripheries of demonstrations.
Jay, BB and Lewis were three of about 10 "peacekeepers" strolling around the statue Saturday. They asked that their full names not be used in the interest of their safety.
The trio said they've received threats from white supremacists. They spoke while seated on the barricade surrounding the statue, their eyes scanning the scene around them.
"Somebody has got to keep us safe," said Lewis, noting that he and other peacekeepers do not trust the police to have protesters' best interests in mind.
"We've got to be our own police."
BB spoke through a black bandanna, intermittently pausing to turn his head to the side and communicate through a walkie-talkie. He said Saturday was particularly anxious compared to other days of protest because there were unsettling rumors that groups meaning harm to peaceful demonstrators were in town.
"It's a sinister intent; we've been occupying this space for weeks and now they want to march," he said, referring to groups who seek to keep Richmond's Confederate monuments in place.
Other armed peacekeepers occasionally walked up to the trio, speaking under their breath, nodding their heads. The trio declined to divulge the contents of those communications, but said their brethren share the same goal — peace.
"We are not aggressing anybody; we're not looking for a fight," Jay said. "We will not provoke. If we are threatened, we will act."
The peacekeepers described their state as "calm but alert." When an armed group of Right to Bear Arms Virginia advocates entered the circle, Jay, BB, Lewis and other peacekeepers walked over to them with caution.
Hands rested in the vicinity of triggers on both sides of the exchange. But after a peacekeeper said, "We're just making sure you're not KKK" to the Second Amendment advocates, the groups shared an amicable chuckle.
Keia Shearn, Ashé Wilson and Devin White
Keia Shearn, Ashé Wilson and Devin White said they have all been victims of racial profiling.
And so, as they observed the spectacle of the Lee statue together for the first time Saturday, they said the experience was deeply personal.
"I wanted to get a closer look at all the lives that have been lost," said Shearn, gesturing at the memorials to victims of police brutality that surround the monument.
"The artwork, everyone with the flags and signs, that's all wonderful. But it's also sad because so many lives have been lost. It's heartbreaking as well."
White is Shearn's son. She said it was important to her that her child see the monument and accompanying demonstrations because they illustrate "everything people are doing for our culture, our race."
Shearn and White are from the Richmond area. Wilson is from New York, and said he has been arrested before because of the color of his skin.
Although the past few weeks have been turbulent, he said, he was enthused to see a multitude of ethnicities represented at the statue.
"I'm glad to see a lot of different colors," he said.
"Hopefully this makes a stamp on someone's heart.
Based on parental concerns, the names of some children have been removed from this article.
(804) 649-6103
Twitter: @sabrinaamorenoo
(804) 649-6555
Twitter: @ZachJoachim