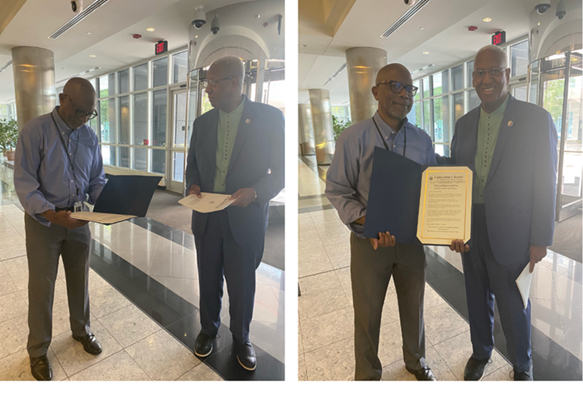 Rep. Donald McEachin, D-4th, congratulated Richmond Times-Dispatch columnist Michael Paul Williams on Tuesday for his Pulitzer Prize for commentary on race and racial inequities in Richmond.
McEachin delivered his remarks on the House floor and presented Williams with an official Congressional Record to celebrate his accomplishment.
"Mr. Williams has been a trailblazer and barrier breaker here in Richmond. He has an impressive, nearly 40-year career and has used his talents to shine a light on Virginia's sordid history with racism and the inequalities that still exist today," McEachin said. "His commentary has helped shape narratives and understanding of racial disparities and compelled readers to more fully consider their impacts in the Commonwealth. I congratulate Michael for his incredible achievement and look forward to his continued work."
Williams said it was "mind-blowing" that he is now a part of the Congressional Record and that the recognition was an honor.
"It's an honor I didn't expect. It's extremely gratifying," Williams said. "I'd like to express my appreciation to Congressman McEachin."
Williams earned a Pulitzer for his "penetrating and historically insightful columns," according to Pulitzer judges. He came to The Times-Dispatch as a news reporter in 1982 and became a columnist 10 years later, recognizing the lack of Black voices at the paper.
He has received many other awards throughout his career, including four Virginia Press Association awards, the George Mason Award for outstanding contributions to Virginia journalism in 2010, the Virginia Center for Inclusive Communities 2012 Humanitarian Award and the National Society of Newspaper Columnists 2014 Will Rogers Humanitarian Award.