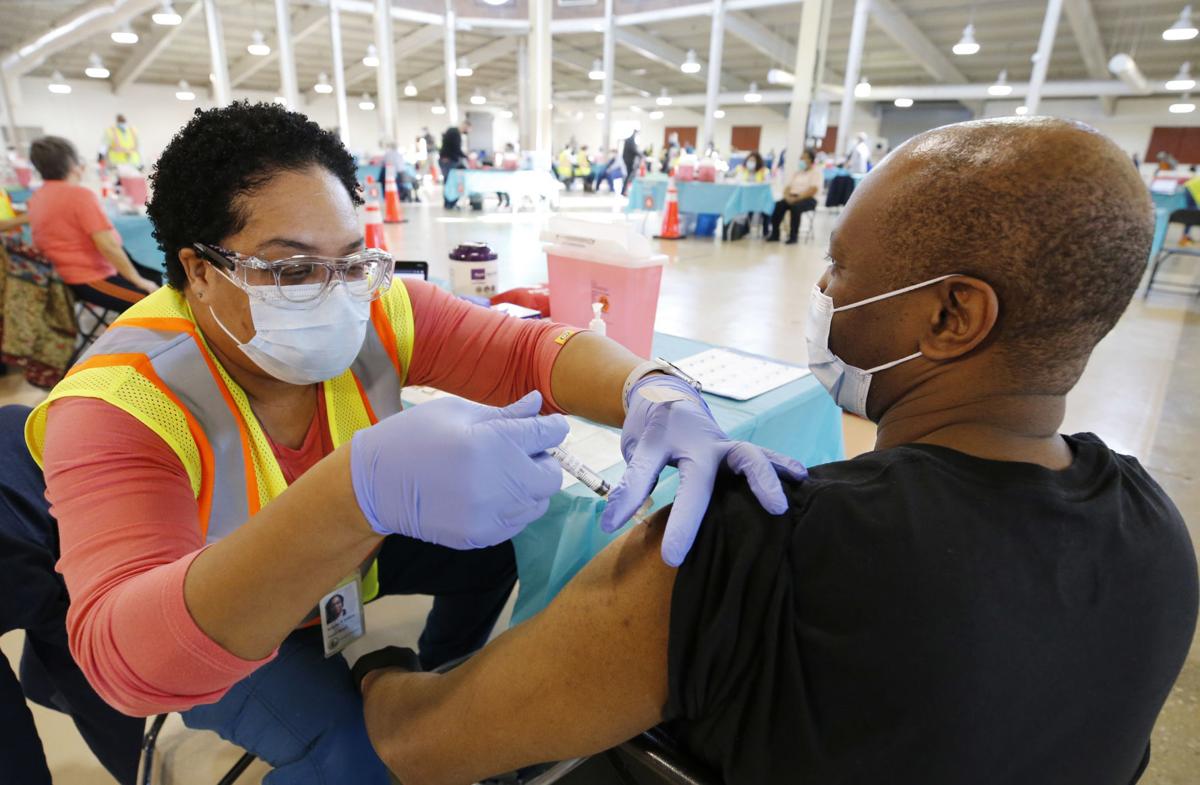 Richmond and Henrico County's health districts removed the need to preregister for a vaccine on Monday, opening a pathway for residents to directly schedule appointments instead.
"We are no longer in the time of long lists and waiting by your phone," said Amy Popovich, nurse manager of the local health departments. "This is a new era of getting COVID-19 vaccines."
Almost everyone who preregistered has been contacted at least once, said spokesperson Cat Long. The week Virginia made everyone 16 and older eligible for a vaccine, 27,000 people were on Richmond and Henrico's waiting list.
At least 229,000, or 41% of the localities' population, have received one dose. Individuals can still choose to preregister at vaccinate.virginia.gov.
Prior to the announcement, receiving a dose at a health department site required a link that would send people to the federal vaccine administration management system to find a shot near them.
This step was after registering through the state website launched Feb. 16 to centralize sign-ups, a source of frustration and confusion for eligible individuals who spent weeks waiting to get a text or email alerting them that they could get an appointment.
The slow process prompted people to register on multiple systems, find a dose through pharmacies or join Facebook groups for vaccine hunters.
Residents being able to directly schedule a shot also reduces accessibility barriers, said Jackie Lawrence, director of health equity for Richmond and Henrico's health districts.
One factor in how health departments determined who they sent sign-up links to was speed in which an individual registered, placing people who can't navigate or don't have stable access to the internet at a disadvantage.
In Richmond, 1 in 4 residents don't have a broadband internet subscription, according to the U.S. Census Bureau. In Henrico, it's 1 in 7.
Online tools such as VaccineFinder, which maps pharmacies and hospitals with available slots, require sifting through multiple websites before reserving a vaccine, and information is available primarily in English.
Neighborhoods with the highest levels of segregation across racial and socioeconomic lines in Richmond — which at one point had the highest COVID rates in the city — are the least likely to be near chain pharmacies providing vaccinations while being the most likely to be without transportation.
Immigrant and refugee clinics were created to bridge these gaps and prioritize people having challenges with the preregistration process so residents at high risk didn't fall behind. Mobile vaccination events headed to public housing communities and independent living facilities.
Richmond and Henrico residents interested in scheduling an appointment for a health department vaccine clinic can visit vax.rchd.com or call (804) 205-3501.
With demand continuing to outweigh supply, the health districts recommend checking every few days for availability.
(804) 649-6103
Twitter: @sabrinaamorenoo