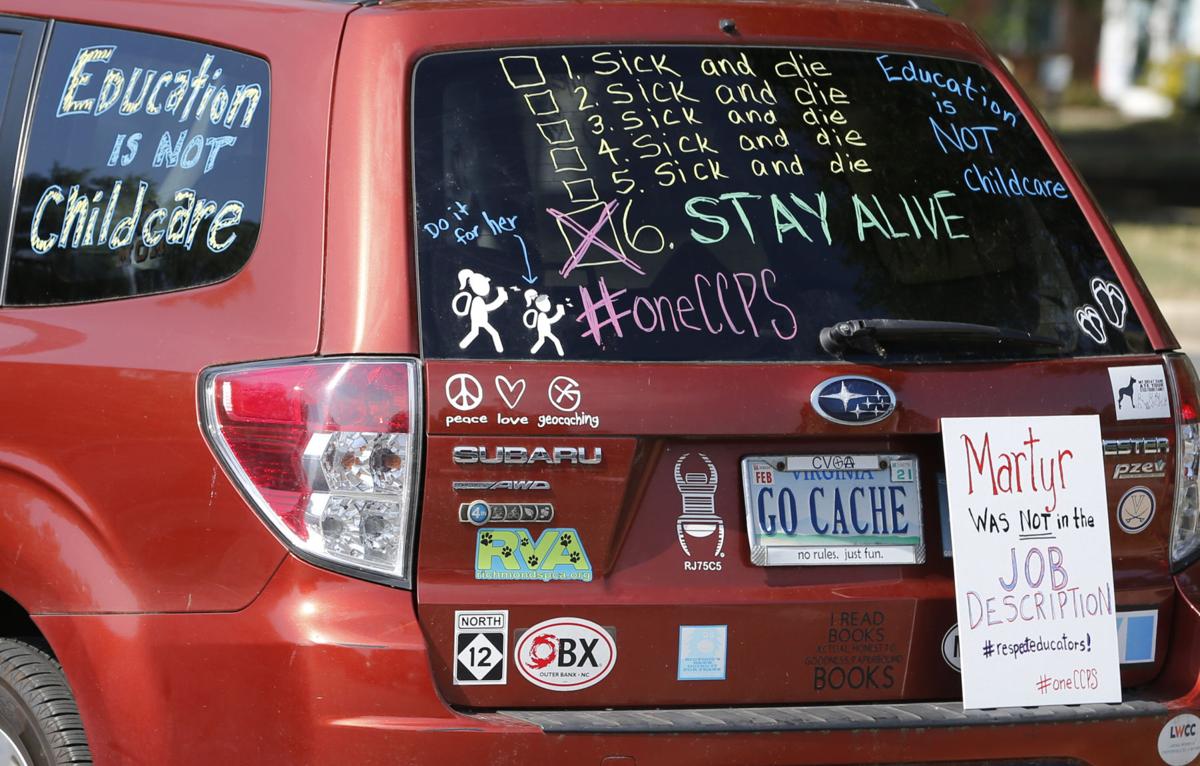 Richmond-area teachers and school staff will be eligible for COVID-19 vaccinations beginning Monday, Jan. 18, the Virginia Department of Health announced Wednesday.
Local health officials are planning several large vaccination events starting this week for teachers, public safety officials and other front-line workers in the Richmond metro area. Those required to teach in person will go before those who may teach virtually.
"These are the folks at higher risk of exposure to COVID-19," said Dr. Melissa Viray, acting director of the Richmond and Henrico health districts, on Wednesday. "The folks who are teleworking, who are able to fully do their duties remotely, are not necessarily as high priority as those who don't have a choice."
Brookie Crawford, a VDH spokeswoman, could not provide a specific date as to when all teachers will be fully vaccinated. Working as quickly as possible, logistical issues such as changes in supply, staffing and equipment can impact the coronavirus vaccine rollout.
Teachers in Virginia are eligible in the second phase of the rollout. In the first phase, health care workers and long-term care residents and staff were eligible to receive the vaccine. Roughly 35,000 people had been inoculated in the Richmond area as of Tuesday, Dr. Danny Avula, who was recently tapped to lead statewide vaccination efforts, said last week.
At least 24,828 teachers and employees across Chesterfield, Hanover and Henrico counties are eligible for the vaccine, according to spokespeople for the school districts.
In an email to Chesterfield staff Friday afternoon, Superintendent Merv Daugherty announced the vaccine timeline for the school district.
Between Jan. 21 and Feb. 4, all teachers, staff, bus drivers, custodians, food services employees, Juvenile Detention Center staff, substitutes and temporary work assignment employees who responded yes to a survey last week regarding receiving a coronavirus vaccine will be vaccinated on a set date.
For the time being, the sign-up window to gain eligibility to receive a vaccine through Chesterfield schools has closed.
Over the summer, battles brewed over whether to send students back into classrooms come September. In September, Richmond, Chesterfield and Henrico started the school year remotely. Hanover had 60% of students return five days a week.
Chesterfield remained virtual until the end of September, bringing students back in various cohorts. Henrico intended to welcome students back into buildings, but plans have continuously been halted by increases in COVID-19 cases. Richmond public school students remained virtual and will not return before the end of the academic year.
In a statewide December poll conducted by Virginia Commonwealth University, more than half of respondents said they think it's safe to send children and teachers back to in-person learning.
Across the four districts, there were approximately 767 coronavirus cases reported among teachers, staff and students between September and December, data from the school systems shows.
Teachers' eligibility for the vaccine caused a third delay for in-person learning efforts in Henrico. Because Henrico school nurses will be assisting in administering the vaccine, temporarily removing them from their posts at schools, Superintendent Amy Cashwell on Tuesday delayed in-person learning indefinitely.
The delay brings the district a step closer to meeting demands made in a petition by the group HCPS Back to School Safely, which presented concerns to Cashwell's office last week.
"The safest thing to do is to at least have the employees vaccinated fully, and to have a reduction and community spread," said Ryan Burgess, a Henrico teacher who has advocated against returning to classrooms, in an interview. "I feel confident that if I have the vaccine and I am needed back in the building, or they want me back in the building, I would be happy to go."
But just because teachers might be vaccinated soon does not mean that all Richmond-area districts will be back to brick-and-mortar operations. Superintendent Jason Kamras said that even with vaccines rolling out, RPS will maintain its decision to remain virtual for the spring 2021 semester.
The COVID-19 pandemic has had a disproportionate impact on Black and brown people. These communities have already had strained relationships with medicine because of medical racism. Leading a majority Black school district, Richmond's School Board has not been willing to send students back to school buildings unless the risk for transmission is near zero.
"I certainly understand that hesitation amongst Black staff given the history of the medical profession in communities of color," Kamras said in an interview. "But I do think, based on all the available evidence, this is a safe and effective vaccine, and I strongly encourage everyone to take it."
For Sonia Smith, a Black woman and president of the Chesterfield Education Association, knowing that one of the available vaccines had a diverse population participating in the trials gives her reassurance in receiving a vaccine.
"The beauty of at least one of them is the Moderna vaccine had diverse groups of people participate in the trials, that is more reassuring for me as a Black woman," Smith said in an interview.
Hanover schools spokesman Chris Whitley said last week, "It is safe to say that we will be encouraging all of our employees to get vaccinated, and we will provide them with opportunities to receive it."
In Virginia, there are no plans to mandate the COVID-19 vaccine, which could result in many teachers refusing to get it, and no other state has mandated vaccinations.
Annette Anderson, the deputy director for the Center for Safe and Healthy Schools at Johns Hopkins University, said any mandates could backfire.
"A lot of urban schools didn't open this fall … because they did not have the staffing to support a full in-person option," she said. "The other thing that you're seeing is that there are teachers that are saying that they don't want to go back. Vaccine or not, until they feel it's safe, they're not going to go back."
Chesterfield's teachers union, along with Henrico's, is advocating for a mass dissemination of the vaccine before reopening schools.
"Not once have I heard any teacher or educator express that they don't want to return," Henrico Education Association President John Reaves said in an interview. "I think it's just, with so much going on ... waiting until employees who want the vaccine are able to receive it is in my mind a pretty clear goalpost."
In Chesterfield, where the School Board voted 4-1 Tuesday to bring elementary students back into the classroom five days a week starting Feb. 1, 83% of staff have stated a willingness to receive the vaccine when available.
The school district, which brought students back into the classroom in waves in the fall, abruptly returned to virtual learning on Nov. 30 in response to the county's seven-day average of coronavirus cases per 100,000 surpassing a threshold of 25. Only select K-12 special education students known as Cohort 1, who number about 1,000, have remained in the classroom.
All elementary school teachers should receive both doses of the vaccine before having to go back to teaching their students face to face five days a week, Smith said.
"We've had staff back in the schools since September. Those that are part of Cohort 1 [select K-12 special education] teachers, custodial staff and food services should be at the front of the line to receive this vaccine," Smith said in an interview.
(804) 649-6948
Staff writer C. Suarez Rojas contributed to this report.