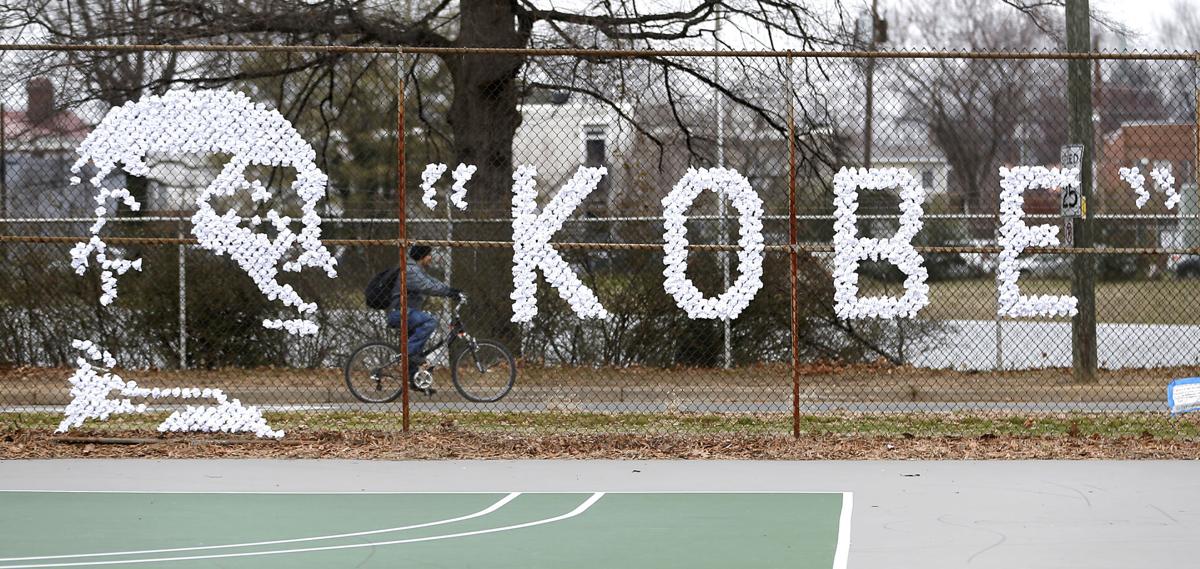 One thousand paper balls. That's what it took.
After being personally crumpled atop Jake Van Yahres' wooden table and thrown into his various travel bags, the paper balls were plopped into their designated holes of a chain-link fence at Randolph Community Center's basketball court. Using the sketch of each opening he'd done as a guide, Van Yahres viewed building the mural as playing life-sized Battleship. He only suffered a single paper cut.
Once he was finished Monday night, those paper balls viewed from the courts formed a silhouette of Kobe Bryant's face and his first name spelled out beside it in all caps.
Van Yahres, the artist, wanted to remind people about an aspect of Bryant's legacy: his jump shot, which for the past two decades inspired people to shout "Kobe" before planting their feet, arching their wrists, and tossing a wad of paper into the trash can.
Van Yahres worked past the court lights going out around 11 p.m., relying on the dimness of the street lights before finally stepping back to witness the full scope of his tribute to the basketball legend, who died alongside eight others in a helicopter crash Jan. 26.
"I wanted to do it in a court where people actually play basketball and basketball means something to them," Van Yahres said, noting that he only held off until Monday night due to weather. "I wanted people at the court to say it when they shot it ... because that's what we used to do as kids all the time."
When Van Yahres walked around it Tuesday, he heard exactly that, and smiled at the idea of people calling it "Kobe's court."
"Because that's what you'd call it. Like, 'Oh the one with Kobe?'" he said. "I still feel like Kobe can't die. ... People feel almost like we've been robbed a little bit of what more he had left."
Van Yahres, 31, is no stranger to reframing moments. The Richmond artist's work has become known for its social advocacy, and in August, was featured on CNN when he gave a makeover to the crosswalk in Charlottesville where in 2017, a man drove his car into a crowd after the "Unite the Right" rally and killed counterprotester Heather Heyer. It showed black and white fingers interlocking. In 2017, he created a logo of support for Colin Kaepernick, with the "Persist" fist wrapped around his jersey number, 7. Kaepernick later posted a shot on Instagram of a former teammate wearing it on his cleats.
Van Yahres hopes to make the artwork, which he said isn't political, permanent, and is set on figuring out how to make it weather-resistant. So far, the paper balls have held up well even in the rain, said Randolph Community Center supervisor Jeff Edmonds as he looked out onto the court from inside Wednesday afternoon.
"We want it to stay as long as possible. ... The court was packed the last two days and no one touched it," Edmonds said, emphasizing "packed." "They were out there taking pictures in front of it. That's how much Kobe was appreciated."
City Councilwoman Stephanie Lynch, who represents the 5th District , wrote on Instagram that she made a request to the city to make the tribute permanent.
Edmonds grew up watching Bryant come into the NBA and make for a legacy he feels is something anyone could be proud of. Van Yahres' artwork reminds Edmonds of where he hopes to bring the center, and the "work hard" mentality he wants to impart on the people who come through.
It's that mindset — Bryant labeled it Mamba mentality — that made him Van Yahres' favorite basketball player. And it's why, when finding out about his death , he was immediately inspired to build something for other Richmonders who felt the same — people like Mary Beth Latham, who was a three-sport athlete and grew up playing basketball.
She came to the court Wednesday to experience the love she felt when driving by it the night before. Bryant's championing of women's sports kept her going during her tougher years, and when she worked hard, Bryant made her feel seen.
"Being a female athlete my entire life, I never saw an endgame for me. Female sports are not funded. They're not a huge thing in the United States," she said. "Kobe saw me. ... I have so much pride in my hometown right now."
She said he died doing something that was bigger than basketball: being a girl dad. Bryant was in the helicopter with his daughter, Gianna, and others who were headed to a girls basketball game.
At 3 p.m. Wednesday, friends Phillip Sasser and Robert Bey are taking pictures at the court and bring up how Bryant was more than his talent and drive. He was a family man.
The temperature is in the mid-30s, and the rain pounds against the concrete as Sasser adjusts his purple Los Angeles Lakers hat. Bey pretends to prepare for a layup, and makes a swishing noise, just feet away from the tripod they've set up in front of the tribute.
Raindrops slide off Sasser's purple sneakers while he mentions how Twitter led him to calling Bey to join him for a mini photo shoot. More than 1,300 people had tapped the heart below one tweet of the artwork by 8 p.m. Wednesday.
Bryant represented the competitive champion spirit, Sasser said, so when he died, it hit home.
"Especially with people who have kids," he said. "For the young man to have done this here in Richmond, it means a lot. Bravo."
Following Kobe Bryant's death, fans at the Staples Center in Los Angeles, where he played, crowded around a trash can dressed in head-to-toe Lakers gear, doing the same jump shot motion, shouting "Kobe."
Murals of Bryant popped up around the world, on courts in the Philippines, on walls in Nashville, in alleys in Boston and across Los Angeles.
Now, Richmond has one to call its own.
(804) 649-6103
Twitter: @sabrinaamorenoo