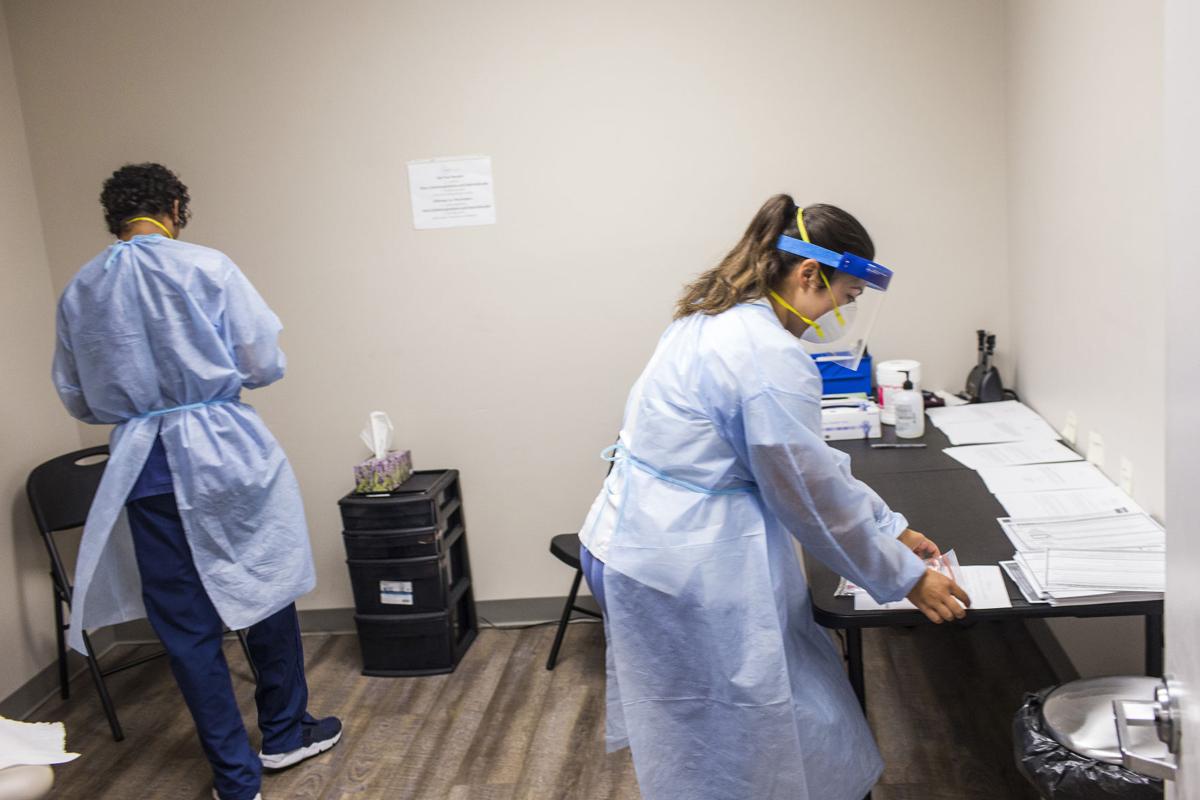 The time, 12:37 p.m., was scribbled onto a white sticky note that clung to Bri Avendano's plaid lapel, indicating the end of a required 15-minute wait to gauge any reaction following the first shot against COVID-19.
For months, Avendano had been one of roughly 562 health care workers in Richmond-area community clinics that stabilized a vital medical safety net for Black and Latino populations. Uninsured people. Those experiencing homelessness.
They remained on-site in K-N95 masks, face shields and isolation gowns to keep the doors open for patients with nowhere else to go. All the while, workers battled staffing shortages, burnout and the emotional toll of the coronavirus pandemic. This was a step forward, said Avendano, a health care assistant at the Virginia League for Planned Parenthood.
Now their patients, many of whom are at the highest risk for the virus, can feel relief and comfort that the providers they rely on for health care won't transmit it to them, continued Avendano.
By Friday, only a scattered few among Richmond's safety-net providers like CrossOver Healthcare Ministry, Daily Planet, Health Brigade, Planned Parenthood and Capital Area Health Network had yet to receive their first dose — reflecting the taxing effort community clinics took to come together in major vaccination events and protect their front-line staff.
"The way we keep saying it is, there's a light at the end of the tunnel, but there's a really dark spot we have to go through first," said Dr. Patricia Cook, Daily Planet's chief medical officer. "That's the only way that I can think about it, because our case rates are shooting up. Every day."
On Saturday, Virginia shattered records and reported 5,798 new infections. The state is now averaging nearly 5,000 cases a day, heightening the urgency to quickly dole out vaccines.
Starting the week of New Year's Eve, the clinics streamlined a vaccination process inside of Daily Planet's building off West Grace Street that averaged 70 to 80 workers per day receiving shots.
Richmond's clinics have served a pivotal role in softening the painful blow to the city's Black and Latino communities that, as of Saturday, are more than 82% of hospitalizations and 60% of deaths. Combined, they're barely 54% of Richmond's population.
For CrossOver, the largest free health care clinic in Virginia, they're more than 60% of its patients. The clinic also accepts only new patients whose incomes are below 200% of the federal poverty level — about $24,300 for a single person. The patient base for Daily Planet, a community health center, is largely Latino, immigrant and homeless.
Same goes for Planned Parenthood — where medical director Shanthi Ramesh has seen an influx of uninsured or undocumented patients come through in the past 10 months — and Health Brigade and Capital Area Health, all of which have established a reputation for nonjudgmental and gender-affirming health care.
The state has relied on safety-net providers like these to halt the spread of COVID-19, rebut vaccine misinformation that's run rampant and provide a link to a health care system not trusted by underserved groups — decades of work proving crucial as Black and Hispanic residents remain the most reluctant to receive a vaccine despite being among the groups hardest hit.
Ongoing and centuries-long racist medical practices have left Black and Latino populations dismissive of public health and government officials, and with community health centers being a medical anchor for these communities, that means the clinics will also be where they turn to for vaccines when they become eligible.
But hesitancy has crept in among some health care workers as well, and while there's no system yet to track the extent, Cook said it's a persisting challenge. She's heard some voice concerns about the unknown or say "I don't really do vaccines."
"You just have to address that and do the best that you can," said Cook, adding that the Daily Planet's team huddles every day about vaccine education and has already begun speaking to patients about their options. "You give people all the science that you've got and let them make a decision."
The clinics have continued to provide mental health services, treatment for chronic diseases, stable housing searches, Pap smears, screenings for sexually transmitted infections, access to reproductive health and more — resources that have become scarce and pushed aside nationally as some health care providers shut down to limit the spread of the virus.
While approaching the 15-minute mark, Avendano said health care workers hope patients and other workers see people receiving the first dose as a reassurance and a commitment to ensuring communities make it through.
"This about how we care for each other," Avendano said as Ramesh, Planned Parenthood's medical director, handed recipients round signs reading "I got my COVID-19 vaccine!"
In three weeks, Avendano would be back to do it again.
(804) 649-6103
Twitter: @sabrinaamorenoo