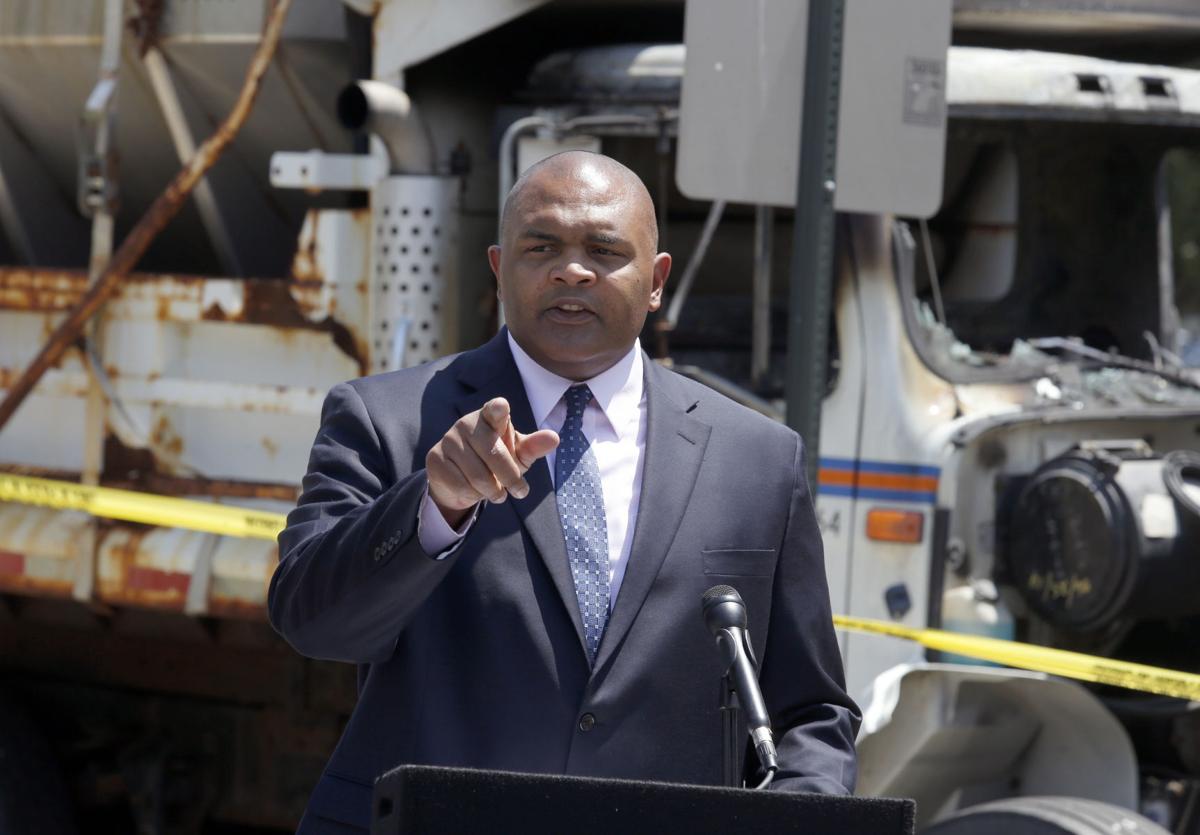 The Richmond City Council agreed Monday to advance a pair of police reforms but drew a line at what two council members described as a move to "defund the police."
After the nightly street protests turned violent over the weekend — resulting in fires, damage to buildings and nearly two dozen arrests — the City Council agreed on first steps to establish a civilian review board for police and new protocols for police responding to a person experiencing a mental health crisis.
The council's actions Monday bring the city closer to addressing demands of local protesters amid a nationwide movement for racial justice and an end to police brutality.
But in a 7-2 vote, the council declined to ask Mayor Levar Stoney's administration to examine the Richmond Police Department budget for money that could be diverted to mental health and substance abuse programs.
Council members Stephanie Lynch and Michael Jones, who both endorsed the proposal, were the only ones to vote for the resolution.
In a news release before the meeting, council members Kim Gray and Kristen Larson said they are opposed to the resolution, saying it lacks clear policy direction with no consideration of the COVID-19 pandemic and the social unrest's impact on the local economy.
In an interview before Monday's meeting, Gray, who is running for mayor and has been critical of the protests, said the resolution co-signed by Lynch and Jones is "an attempt to check a box."
"We need more information about budget implications and where we are," Gray said. "We are in a financial crisis."
Jones accused Gray and Larson of "fear-mongering."
In an interview ahead of the meeting, Jones said he takes particular issue with the two describing the proposal as a preliminary step to "defund the police," a popular protest slogan that has sowed debate over whether it should be interpreted as a call for abolishing law enforcement or reallocating public money to other areas.
"We're just asking the police to look at what they spend their money on, where in their budget crosses over into social services, and to make recommendations," Jones said. "That's it."
Police Chief Gerald Smith has said he supports the creation of the civilian review board but spoke against Lynch and Jones' proposal at Monday's meeting, saying that "words matter."
He said the resolution implies a "loss of faith and lack of support" that could drain officer morale and exacerbate such problems as attrition, long response times and police misconduct.
"We should fund change. I'll examine our budget head to toe in the spirit of improvement. But first I need to change a misconception that the RPD budget is up for grabs like it were a yard sale," he said. "Let's work together to build a better RPD."
About half a dozen speakers afterward implored the council to adopt the resolution anyway, questioning whether the public can trust the police to assist in reforming local law enforcement.
Despite the opposition to budget resolution, the council unanimously endorsed steps toward the establishment of a civilian review board and the Marcus Alert protocol for police.
The council-appointed review board would be charged with laying the groundwork for an oversight body that could investigate complaints and other incidents involving the Richmond Police Department. The board would be responsible for submitting a final report with recommendations for its framework and a proposed annual budget by March 1.
The Marcus Alert is named for Marcus-David Peters, a Black school teacher who was killed by Richmond police in 2018 while he was experiencing a mental health crisis. Peters threatened to kill the officer and charged him before he was shot.
Over the past two years, activists and members of his family have advocated for the city to create a new system requiring mental health professionals be the first responders to a mental health crisis. Police would still serve as backup in those situations.
The resolution directs the mayor's administration to work with a member of the council to develop a plan for its implementation by Oct. 1.
The city prosecutor at the time cleared the officer who shot Peters. Activists in the recent protests have called on the current prosecutor, Commonwealth's Attorney Colette McEachin, to reopen the case and to drop all protest-related charges from the past two months.
Last month, after protesters demonstrated outside her home, McEachin said her office does not respond to public demands, but rather responds to the law and facts of a case.