This year, Father's Day is like no other.
After months of living in lockdown because of the coronavirus, the country erupted with civil unrest in the aftermath of the killing of George Floyd by police in Minneapolis. There have been marches, calls for racial equality and the removal of Confederate statues in Richmond.
Antonio Redd brought his daughter, Amaris Gabrielle, 5, and son, Ace Garvey, 2, to a Black Lives Matter car rally in Shockoe Bottom a few weeks ago to see the marches firsthand. His daughter had a lot of questions and wondered why they were there.
"I said, 'The reason why we're here is a Black man was killed by the police again, and it wasn't right.' She knows that Black and brown people have had to struggle and people look at them very differently," Redd said.
We talked to several African American dads who've had an impact in the Richmond community to hear their thoughts on George Floyd, the Black Lives Matter protests, and the difficult conversations they've had to have with their children in the past few weeks.
Darryl Watts, basketball coach at Armstrong High School, father of Michiah, 22, and Ashlie, 20
Darryl Watts has been the basketball coach at Armstrong High School for 18 years and coached thousands of kids. Until last year, he also worked through parks and recreation with young boys in the public housing communities at Fairfield and Mosby courts.
"I have a thousand sons. I get phone calls all the time. I tell them, 'Even though I don't coach you anymore, I can still coach you in life,'" Watts said. "I always smile when I get those texts on my birthday or Father's Day. I look at my girls and thank them for sharing me with so many people."
Earlier this month, Watts helped organize a rally for equality with other coaches in the Richmond area. The rally drew 300 to 400 people at the Arthur Ashe statue on Monument Avenue who peacefully marched to the Robert E. Lee statue.
"[The march] wasn't for us, but for the next generation. I want my grandkids to feel good about their interactions with the police. For the world to be a better place where all people are treated fairly," he said.
The most important thing lately, he said, is teaching his players how to interact with the police. How to behave when they're pulled over. To turn on the light, to keep their hands on the wheel, to move slowly when reaching for the glove box.
"I've had guns pointed at me. I could easily be George Floyd," Watts said. "I try to tell them what that interaction should look like so they can go home, so their life isn't in danger," Watts said.
"The George Floyd [killing] is eye-opening for a lot of Americans. They don't know these things happen. A 55-year-old white man can't relate to my experiences because he's never had a gun pointed at him by police or had police stop him to ask him where he's going and why."
"I had a real good conversation with one of my players not too long ago. He didn't see the point of the protests. I had to make him understand that if your voice is not heard, you don't exist. If you expect change, you have to demand change. That's the reason for the protests."
Lester Johnson, owner of Mama J's, father of Lena, age 3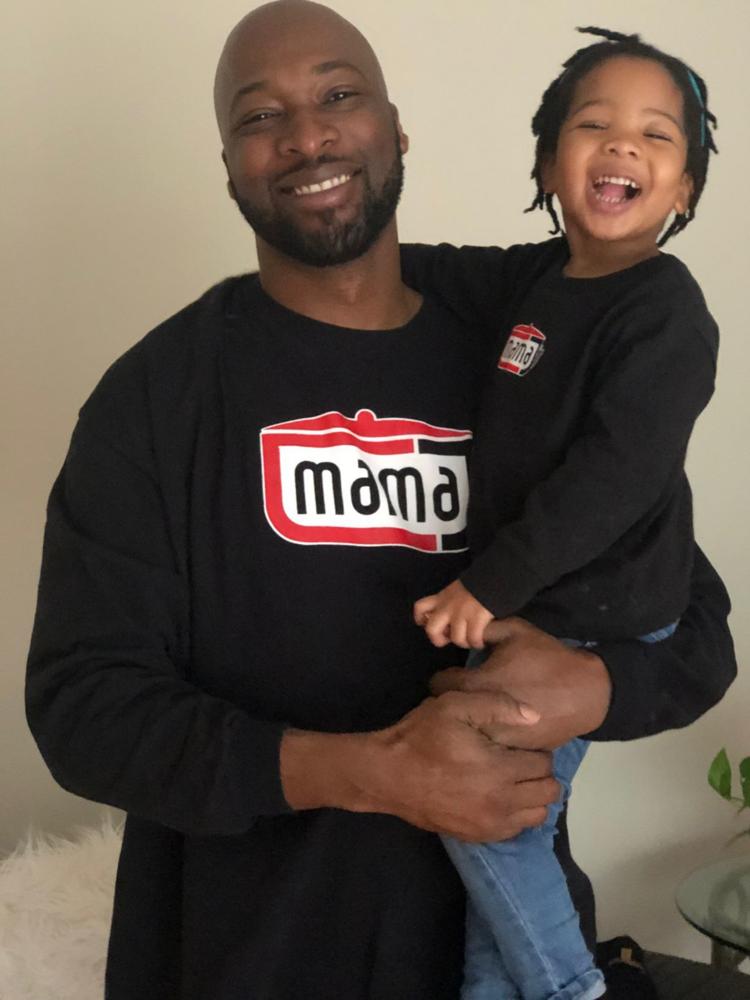 Lester Johnson has been dealing with the challenges of the coronavirus pandemic closing his doors and then the pressure of the protests. While his restaurant, Mama J's in Jackson Ward, hasn't been damaged, he said, "It's a stressful time."
He's worried about the health and safety of his staff, his customers and his family, including his mother, Mama J, who is 73 years old.
"I'm not in any rush to reopen," he said. "I'm not sold that we're done with this yet. Money isn't that important to me to lose a loved one or my customers or my staff."
He watched the video of Floyd's death, and, like many, the image is seared on his memory.
"It's tragic, to sit there and watch a man lose his life over nine minutes. For the most part, everybody who looked at it felt the same way about it. Part of America's problem is that it's tried to avoid that conversation for so long. That's where the frustration came in. George Floyd is a catalyst. This is something that's been percolating in our society for a long time," Johnson said.
"I hope that with everything going on, the world is a better place than it feels like it is right now. Some good things are coming out of the frustration and pain," he said. For his daughter, he said, "I hope the world she grows up in is a more loving world than the one we currently live in. And that people will show more empathy toward their fellow men and women. I hope that the world is a better place for her."
KJ Cook, community outreach coordinator in the office of the attorney general, father of Kyra, 6 months old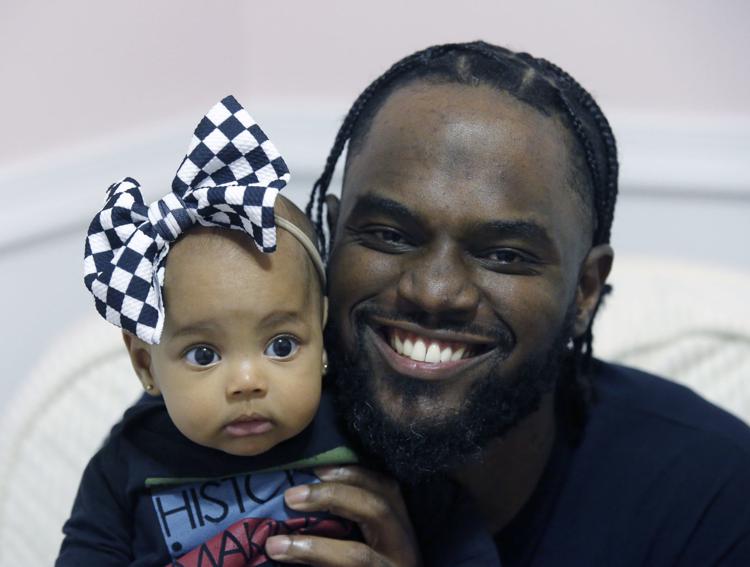 In 2015, 12-year-old Amiya Moses was killed by a stray bullet while playing on the sidewalk in her North Side neighborhood. KJ Cook, a 36-year-old outreach coordinator, attended the same middle school Amiya did, Henderson Middle School, and felt a connection.
"I remember going to that middle school. I remember some of my fellow students being killed and wondering who's going to be next? Could it be me? I remember feeling helpless," he said.
He created a scholarship program honoring Amiya Moses for high school seniors who want to major in criminal justice in college.
"I wanted to help someone," Cook said. "I want to show them there is more to life, more to aspire."
As a new dad, he's been watching the marches for Black Lives Matter and hopes that "we're in a moment of great change." What he would most like to see is changes in the school system.
"I went to Richmond Public Schools. It's not the kids' fault that they live in an impoverished neighborhood while other kids live in a ZIP code that sends them to a school with way more resources. If you're equipping one group of people and not another, it's unfair. These kids are going to schools with leaking ceilings, with no heat, no air conditioning, those are just the basics. That's an unfair burden on those kids."
Cook grew up in Fairfield Court with a single parent and now works in Gilpin Court, trying to reduce gang violence. The biggest challenge, he said, is trying to keep kids interested in school.
"They're being pushed through, they're not being educated. Getting them to school is a struggle. If they don't like basketball or football, there are not a lot of resources for them. If they're a kid who likes music, there's nothing for them. They don't have luxuries. Some of the rec teams didn't have the resources for uniforms and couldn't play," he said.
His biggest dream is that RPS will change the zoning laws in the future.
"I don't know if it's just me wishing on a star, but I hope RPS drops the school ZIP code," he said. "So that kids can have a choice where they go to school. Some of the brightest kids are not being engaged. If they get the same level playing field [as their white counterparts], you'd see so much potential coming from these kids. If they can see the world, get past their neighborhood, get past surviving and helping their parents pay the rent, I think you'd see a world of difference in the inner city of Richmond."
Stephen Lewis, assistant athletic director at St. Christopher's, father of daughter Ryan, 10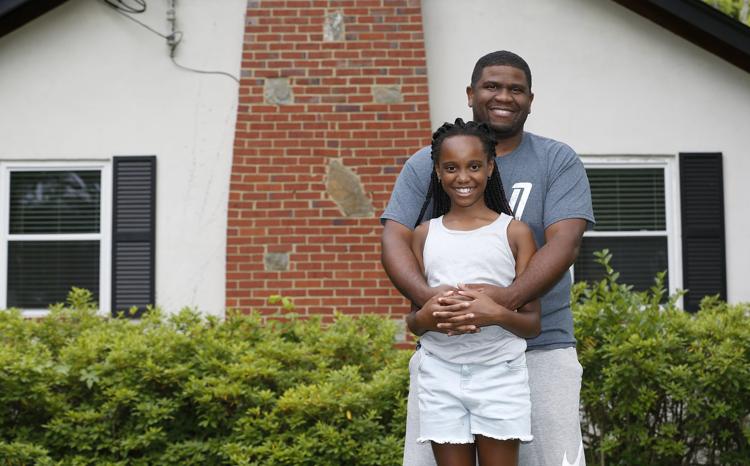 As an assistant athletic director at St. Christopher's, a private boys' school in Richmond, Stephen Lewis works with more white athletes than Black. In the weeks since the Black Lives Matter marches started, he's been trying to help educate his players on racial disparities.
"I'm in a unique position," Lewis said. "From what I'm hearing right now, they don't understand what's going on or why it's going on. I can help by talking to my guys, making sure they understand and have empathy for teammates who are minorities."
He also tries to delicately teach his daughter about what's happening.
"Right now, I'm trying to educate my daughter. She is a breath of fresh air. When she comes into the room, you know she's there. She's one of the happiest people you'll meet. She's a leader. At her school, all her buddies look up to her. She doesn't understand race relations. I'm trying to educate her about what's going on, why it's going on, why people don't like people who look like us. She's only 10, and these are difficult conversations. But I'm raising her to treat everybody the way you want to be treated. As long as you do that, things will work out well for you."
He spoke with his team about a teammate who lives in the East End and has a 30-minute drive to school and another player who lives in Windsor Farms two minutes away.
"How many cops will the student from Windsor Farms see on their way to school versus the student coming from the East End? It's helping them see what other people have to go through and what their lives are like."
"[Racism] is a systemic situation. It's been going on for over 400 years. We can't think that everything will change in a heartbeat. My thing here in Richmond is to help change things that can be changed within our communities."
Antonio Redd, health specialist for Richmond City Public Schools and associate minister at Second Baptist Church West End Richmond, father of Amaris Gabrielle, 5, and Ace Garvey, 2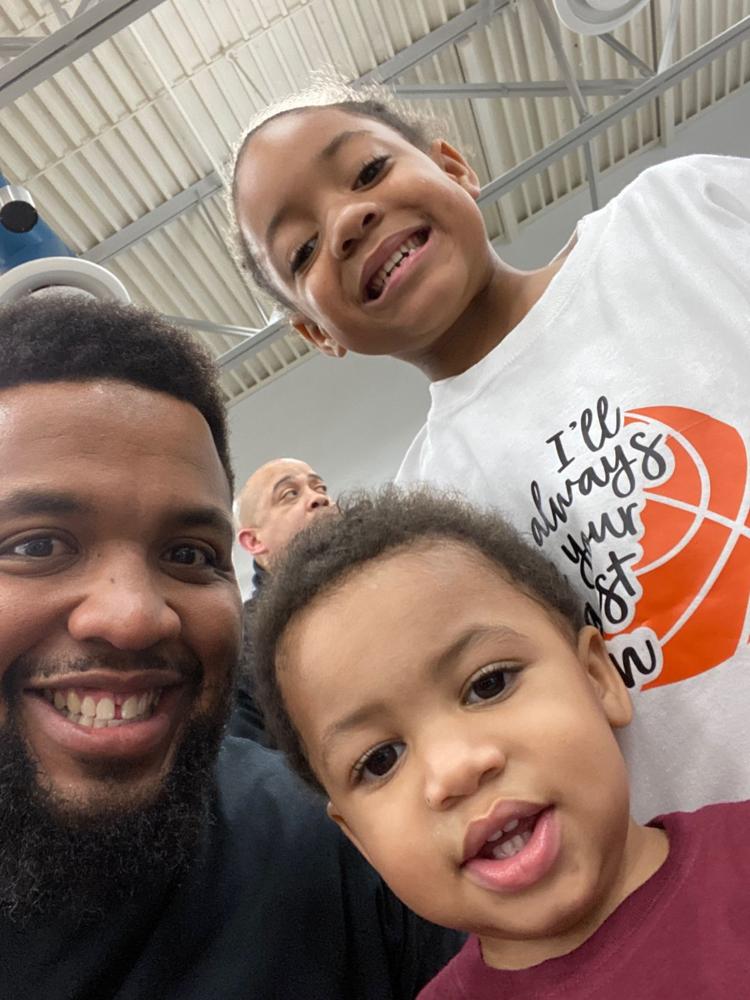 Antonio Redd, a 35-year-old health specialist and father of two, has been a leader in the fight for answers in the death of Marcus-David Peters, a Black man killed in a confrontation with city police during a mental health crisis in 2018.
"It's unfortunate that two years later, somebody else had to die for our initial demands to even be recognized and heard," he said. He has been working with a coalition of the family of Peters and community organizers to get Marcus-David Peters' case reopened and to create a "Marcus Alert System," which would mandate that mental health professionals be the first responders in a mental health crisis. Richmond Mayor Levar Stoney recently said he would support the Marcus Alert.
"After two years of work, someone else had to die for [the mayor] to even consider it. It's the same with the statues coming down. Someone else had to die before we even considered the possibility of bringing those statues down," Redd said.
"I want my daughter to know how beautiful she is, but also the obstacles she might face growing up," Redd said. "I want her to know that she has to work really, really hard because of the skin she lives in. My son, too. I want them to know, at a young age, the importance of being involved in the movement and the fight for justice and equality and in dismantling racism. I want them to see me involved, to see their mother involved, to recognize when something isn't right and to fight to make it right."