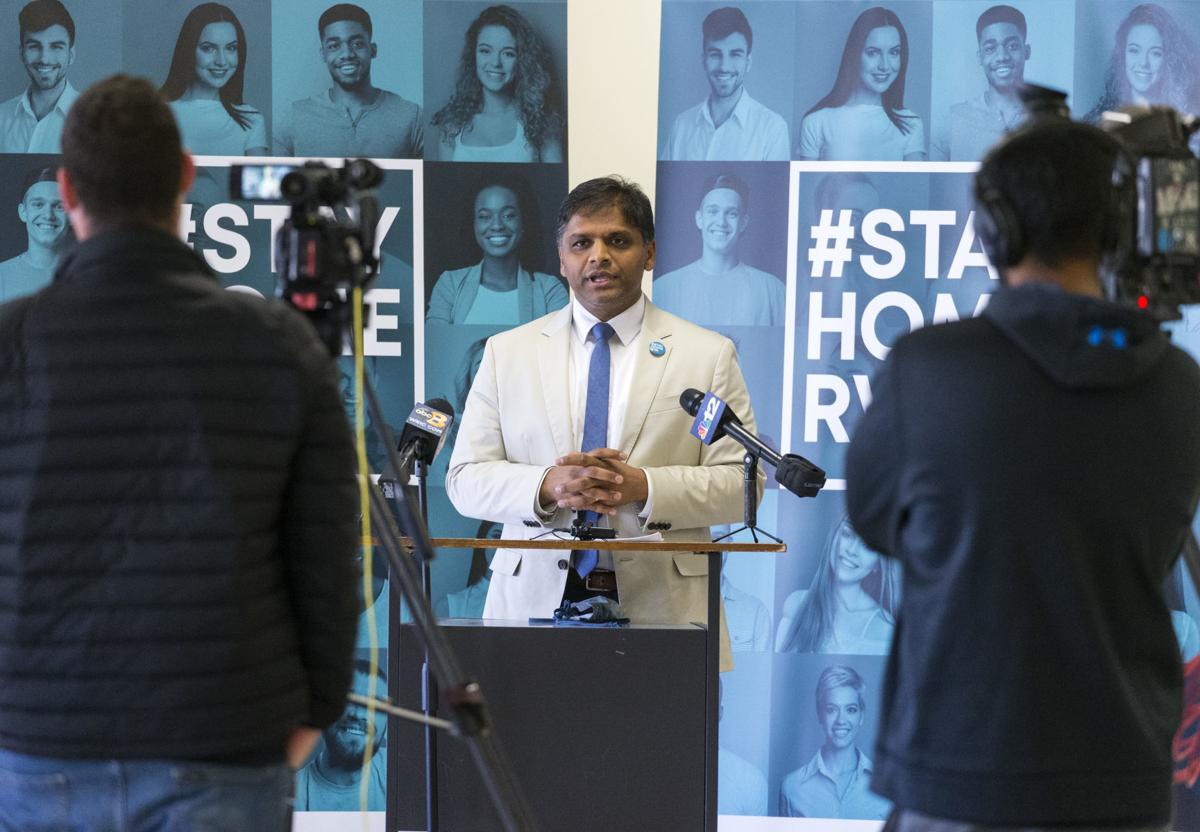 If COVID-19 trends in the Richmond area hold, there may be no need to turn the Greater Richmond Convention Center into a field hospital, said Dr. Danny Avula, director of the Richmond and Henrico County Health Districts.
Local hospitals are managing cases with relative ease after canceling elective surgeries in preparation for the crisis and should be able to shoulder a surge of hospitalizations when the pandemic peaks locally, Avula said at a news conference Friday, where he also detailed racial demographic data for confirmed cases in the area.
The numbers released for Henrico show the county adhering to a nationwide trend in areas for which information is available: Black residents are contracting COVID-19 in higher numbers than white residents. This held true in updated data Avula released Friday for the city of Richmond, where all nine to die from the disease have been African American.
"It's not surprising," he said. "It continues to be frustrating and heartbreaking, but it's indicative of the underlying health disparities that we've known about for a long time."
If people continue to observe social distancing guidelines, the curve of cases may be elongated, but the peak may not rise much higher, which Avula said would lessen the need for a field hospital in the city.
At the start of the month, Gov. Ralph Northam announced that the Greater Richmond Convention Center, the Dulles Expo Center in Northern Virginia and the Hampton Roads Convention Center could be used to make space for 1,800 hospitals beds if Virginia hospitals are overwhelmed.
"We've started to pivot away from those recognizing that if things continue on this trajectory, there may never actually be a need for that significant build-out of the convention center," Avula said.
There's still a large capacity of beds and ventilators in hospitals, he added. Throughout the last week, only 25% of the state's ventilators have been needed. The number of patients confirmed as having the virus who've been hospitalized and discharged passed the 1,000 mark Friday, according to the Virginia Hospital & Healthcare Association.
"It feels like a calm before the storm," Avula said. "Hopefully that storm will never come."
Earlier this week, researchers at the University of Virginia predicted that cases in the state will peak this August and could overwhelm hospitals throughout the state.
Avula said he's still trying to understand some of the underlying premises in that model. He suspects cases will peak in either late May or early June.
"There's still some details I don't quite understand about the model. But as I talk to more people who've been looking at this, I think we'll likely see it peak a little bit earlier than originally projected," he said. "The good news is that peak will be significantly lower."
Avula said more widespread testing will make it easier to predict the full impact of the pandemic.
What remains predictable, Avula said, is that the disease is likely to continue harming African Americans and elderly residents in retirement homes and long-term care facilities at a much larger rate.
African Americans have made up 64% of the 201 confirmed cases in the city, while whites make up about a quarter of them, despite both races accounting for nearly half the population.
In Henrico County, which has 532 confirmed cases, 50% of them are African American, although black people account for about 30 percent of the county's population in 2018 U.S. census estimates. White people account for about 36% of the county's cases. The data for about 10% of Henrico's cases remains unknown.
Of the 74 confirmed COVID-19 deaths in the county, black and white people each make up 45% of the fatalities.
Walk-in testing for low-income and predominately minority communities in the city and Henrico will begin Tuesday to help combat the disease and improve understanding about its spread.
Avula said the sites will be announced within 24 hours of each testing event.