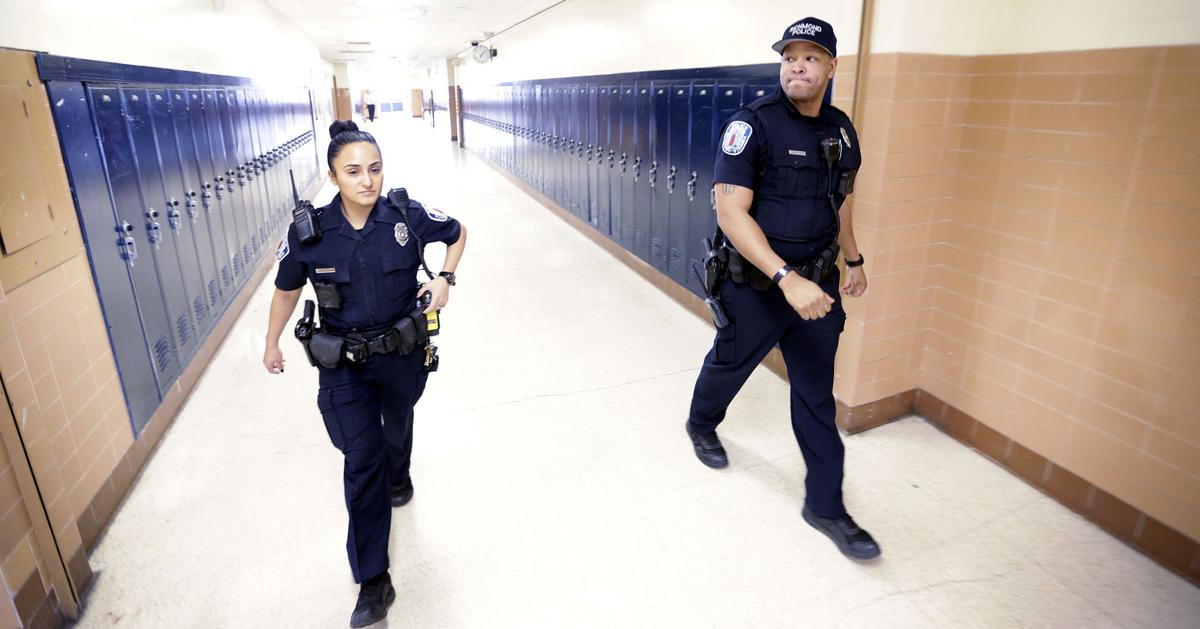 As school districts across the country end their relationships with their local police departments, Richmond Public Schools won't be taking any action on whether to keep school resource officers in schools until at least September.
Instead of the Richmond School Board taking a hasty vote Monday night to sever ties with the Richmond Police Department, Richmond schools Superintendent Jason Kamras' administration will engage in a 90-day review to examine RPS' relationship with RPD. The review will include data gathering and student focus groups, as well as a public hearing.
The conversation is one that has been taking place nationwide in the aftermath of the killing of George Floyd by Minneapolis police. The Minneapolis School Board severed ties with the city's police department on June 2.
The Richmond Police Department has faced criticism after a June 1 incident in which officers tear-gassed a crowd of peaceful protesters. Since then, Kamras and School Board members have said it was necessary to re-evaluate the school system's relationship with the city's police department.
According to a presentation read during Monday's board meeting, school resource officers made 121 arrests in Richmond schools during the 2018-19 school year. Most of them were on charges of drug possession, weapon possession and assault.
Stakeholders have argued that the money used to pay police departments can be better spent on counselors. However, RPS does not pay for SROs outside of overtime, which cost the school system about $48,000 last school year.
The discussion is one that was pushed by School Board members Scott Barlow and Kenya Gibson. Barlow has not made it clear where he stands on SROs in schools but did ask for it to be on the board's agenda, saying he feels it necessary to hear from the public on the matter.
Gibson, however, has expressed her desire to end the SRO relationship for good. In an online post on Medium, she said it's necessary to end the memorandum of understanding and place more mental health resources in schools.
School Board member Dawn Page said she wants to make sure that she is not playing into political games as the board considers taking action.
"It's important that we hear from our students," she said in an interview. "I agree we need to really look at the data. Also, we need to hear from our students. I see this as trying to promote your political campaign at the expense of our children. I want to get a comprehensive analysis and hear from our students and hear their thoughts."
The School Board, meanwhile, also discussed COVID-19 reopening scenarios after receiving feedback from parents.
Last week, Gov. Ralph Northam announced his guidance for reopening schools in three phases, with the final phase allowing for in-person instruction with social distancing measures in place.
Kamras suggested four reopening scenarios for Phase Three:
One option, which the parents and teachers who were surveyed were most comfortable with, included having half of students come to school in the morning and the other half in the afternoon. There would be a cleaning break in between.
Another option is alternating days, with half of students coming in on Mondays and Tuesdays and the other half on Wednesdays and Thursdays. There would be cleaning on Tuesday evenings, and Friday would be a virtual instruction day. Parents and teachers were both comfortable with this option.
A third option is alternating days, with half of students coming on Mondays, Tuesdays and Wednesdays and the other half on Thursdays, Fridays and Saturdays. Cleaning would occur on Wednesday evenings. Many parents and teachers said they were not comfortable with a Saturday option.
The final option is alternating weeks, with half of students coming in one week and then doing a virtual learning week, with the other half doing the opposite.
The School Board did not vote on any decisions Monday. Reopening is expected to be discussed more in depth at the board's next meeting on June 29.