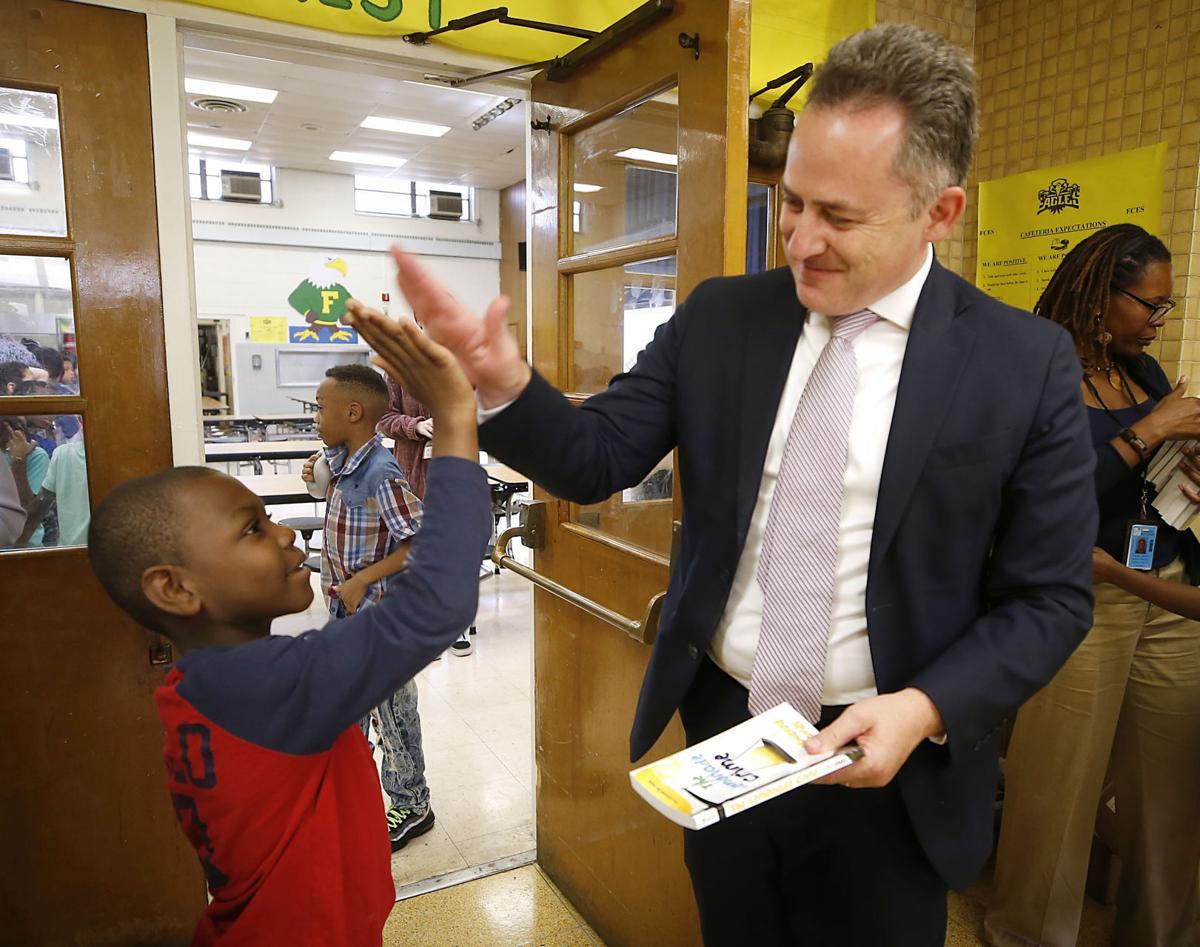 After spending hours listening to parents, staff and teachers' fears about returning to school as the number of COVID-19 cases in Virginia ticks up, the Richmond School Board decided Tuesday to have fully virtual learning in the fall.
The board voted 8-1 to forgo in-person instruction for the fall semester. The lone no vote was cast by Jonathan Young of the 4th District.
Superintendent Jason Kamras gave the board five plans from which to choose:
Plan A called for a hybrid option with two days of in-person instruction, and three days of virtual instruction. This option also would allow for students with greater academic needs (intensive special education needs, recent immigrants) to attend school five days a week.
Plan B called for either a fully virtual option or a full in-person option. Parents would be able to choose for their children.
In Plan C, middle and high school students would attend school virtually, and only elementary school students would be able to attend school in person.
Plan D would only allow students with high needs to attend school in person five days a week. This option would be available for about 5% of students. Everyone else would have to attend school virtually.
Finally, Plan E allows for a fully virtual first semester for all students. This is the plan the board adopted.
The board told Kamras on Tuesday that the administration would need to provide updates on virtual learning at every upcoming board meeting.
The Richmond Education Association had called for 100% virtual instruction. The teachers group detailed its position in a letter last week drawing attention to poor air quality and open classroom designs that the group feared would put students and staff at greater risk.
Kamras said in an interview before the meeting that he supported in-person learning for high-needs students, but during the meeting he switched his support to full virtual learning.
Scott Barlow, the 2nd District School Board member, said before the meeting that it was a challenging decision.
"It's tough knowing that virtual instruction does not replace the work that our teachers can do with our students in the building. It's pretty well-documented that having students out of the classroom for a period of time is not good for their educational development."
Barlow said in an interview that he understands high-needs students would be at risk of falling behind in a virtual-only plan.
"No matter which option we choose, a certain number of our students are more likely to have an adverse impact," he said. "Our Black and Latino students are more likely to suffer from infection risks. Many of our higher-poverty students are more likely to be adversely impacted by not being able to go to school, and there's overlap between those two groups."
There has been an uptick in new COVID-19 case numbers in Virginia. Richmond's Black and Latino community have been particularly hard-hit by the virus. Latinos make up about half of confirmed COVID-19 cases in the city while being only 7% of the population.
Young, of the 4th District, said before the meeting that he could not support any reopening plan that doesn't allow for any in-person instruction.
"By no means should anyone be naive about the limitations of virtual learning," he said in an interview. "I really am so concerned for our kids and for the future. We have to acknowledge all of the threats and try to account for differences in science."
Even if the School Board had decided to vote for any sort of in-person instruction, Gov. Ralph Northam could close schools again. He has said that if the state can't stay in Phase Three of reopening, which allows for in-person gatherings of up to 250 people, there's no reason to let kids go back to school.
State direction is something that 3rd District School Board member Kenya Gibson wanted.
"I really do think this is a decision that should be made by the state," she said before the meeting. "I think there is a certain disinterest in taking on that liability, and now this decision has been pushed down to us. So here we are making decisions that I think should be regional, larger decisions."
Northam's warning about closing schools again came the day after a School Board meeting during which Dr. Danny Avula, the director of the Richmond and Henrico County health departments, discussed evidence showing that meeting for in-person instruction might not cause a spike in cases.
In the Centers for Disease Control and Prevention's "Readiness and Planning" tool for K-12, the Richmond Public Schools reopening scenario fell under its "more risk" category for the spread of the coronavirus. It calls for 6 feet of social distancing, mask wearing for all students and staff, and consistent handwashing.
The Virginia Department of Health calls for 3 feet of social distancing, which School Board members had expressed discomfort with. The World Health Organization also only calls for 3 feet.
RPS has a history of facilities issues, which includes sinks that don't work and bad ventilation. This was outlined in a petition started by two RPS teachers that urged the School Board not to take a reopening vote on July 9, the date for which it was originally scheduled.
RPS has also had to close a number of food distribution sites and a computer distribution site due to positive cases of COVID-19.