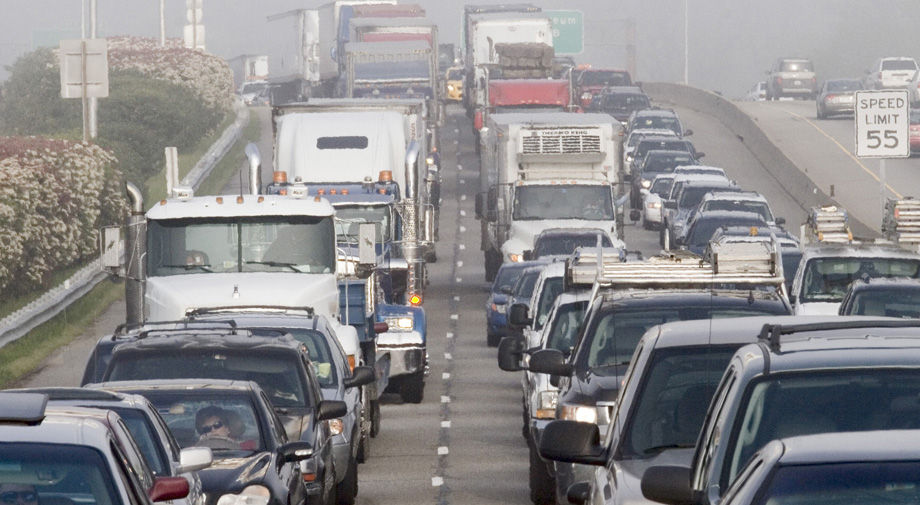 CHARLOTTESVILLE Raise the gas tax, lower the income tax, and pay for it by eliminating tax credits and exemptions — that's the three-pronged solution to the state's transportation dilemma proposed by state Sen. John Watkins, R-Powhatan.
Watkins briefed members of the Senate Finance Committee this week on the sweeping transportation funding proposal, which he will roll out publicly today at a meeting of the Mayors and Chairs of Virginia's Urban Crescent at J. Sargeant Reynolds Community College in Henrico County.
The centerpiece of the plan is a 5 percent tax on gasoline at the wholesale level that would add 14 cents a gallon at the pump. Watkins pitched the tax as a "toll assessment" that would raise about $734 million and avoid the increased use of tolls proposed by Gov. Bob McDonnell to pay for road construction.
The gasoline tax, now 17.5 cents per gallon, hasn't been increased since 1986 and is not indexed for inflation. Virginia's gasoline tax is less than half of the 37.5-cent-per-gallon tax imposed on fuel in North Carolina; about 16 cents less than the rate in West Virginia; and 6 cents lower than the rate in Maryland.
Watkins said the state no longer can afford to wait to raise money for transportation, with more than $3 billion in road construction money diverted to maintenance in the past 10 years and funding expected to run out in 2017.
"This is an issue that is affecting economic development and quality of life in the commonwealth of Virginia," he said Thursday. "If you want tolls, there's not a dime's worth of difference between this and a toll."
Watkins intends to propose legislation in January that would:
• impose a 5 percent tax on motor fuels at the wholesale level that would translate to 14 cents per gallon at the pump;
• lower income tax rates in the three lowest state tax brackets to offset most of the fuel assessment's effect on working Virginians;
• eliminate various transportation-related tax credits and sales tax exemptions to fill the revenue gap created by cutting income tax rates;
• impose a $102 annual assessment on electric and hybrid vehicles; and
• prohibit tolls on existing highways unless they are approved by the General Assembly.
Together, the fuel tax and electric vehicle assessments would raise almost $736 million a year for highway maintenance and construction as well as local transportation needs and rail operations.
The income tax cuts would save taxpayers more than $518 million, which Watkins said would offset the higher gas taxes for Virginians, but not for motorists from out of state. He estimated that 30 percent of the higher taxes would be paid by non-Virginians.
Watkins has discussed his proposal with the governor's office, which has favored use of tolls on existing and new highways, and money from the state's general fund budget to pay for transportation instead of raising the gas tax.
"We are evaluating Senator Watkins' proposal as well as others," Transportation Secretary Sean Connaughton said Thursday. "The governor is working to develop a consensus on transportation funding for the upcoming session."
Connaughton also repeated McDonnell's recent remark to legislators that he would ask them "to do some things this session, without fail and without delay, to do what's necessary" to protect transportation construction funds from being used to make up the state "maintenance deficit."
Watkins' approach was welcomed by Senate Minority Leader Richard L. Saslaw, D-Fairfax, who said Thursday that "I think it's a good idea."
Saslaw opposes any attempt to use general fund money to pay for transportation projects, citing the need to restore eroding state aid for public education.
"I'm not for taking money out of the general fund, and neither is anybody else in the Senate," he said.
Senate Finance Chairman Walter A. Stosch, R-Henrico, applauded Watkins' effort.
"He's attempting to consider and address not only transportation needs but also tax reform at the same time," Stosch said.
Leaders in the House of Delegates, who also have been briefed on the proposal, question whether such a comprehensive and complex package can succeed with so little time before the assembly convenes Jan. 9 for a 45-day session.
"There's a real question of 'Can we get there from here by session?' " said Del. S. Chris Jones, R-Suffolk, who strongly opposes McDonnell's proposed use of tolls to finance major public-private highway projects in Hampton Roads. "There's a lot to consider."
House Majority Leader M. Kirkland Cox, R-Colonial Heights, said the Watkins plan would be among a number of "competing proposals" to address transportation funding in the upcoming legislative session.
"That's difficult to have something with a lot of moving parts. … If one part gets pulled, then how does it look?" Cox said.
Senate Republicans held a caucus meeting immediately after Watkins outlined his plan Wednesday afternoon, but caucus Chairman Ryan T. McDougle, R-Hanover, said there was little discussion of the proposal.
"John has worked very hard on this," said McDougle, whose district includes a number of localities along Interstate 95 that strongly oppose McDonnell's proposal to put tolls on the highway. "Transportation is clearly an issue that many in Virginia have an interest in."
Local government leaders in the urban crescent that extends from Northern Virginia through Richmond to Hampton Roads have pressured the governor and legislators to act soon on funding for road construction.
The Richmond Regional Planning District Commission voted last week to support indexing the gas tax, which Watkins proposed unsuccessfully last year.
The Virginia Association of Counties Steering Committee informally endorsed the Watkins plan in principle Sunday at a meeting at The Homestead.
Neal Menkes, director of fiscal policy at the Virginia Municipal League, said most legislators treat transportation funding as "the leper in the room."
"John Watkins is the only one willing to walk over … and treat the condition," Menkes said. "Everyone else ignores it."