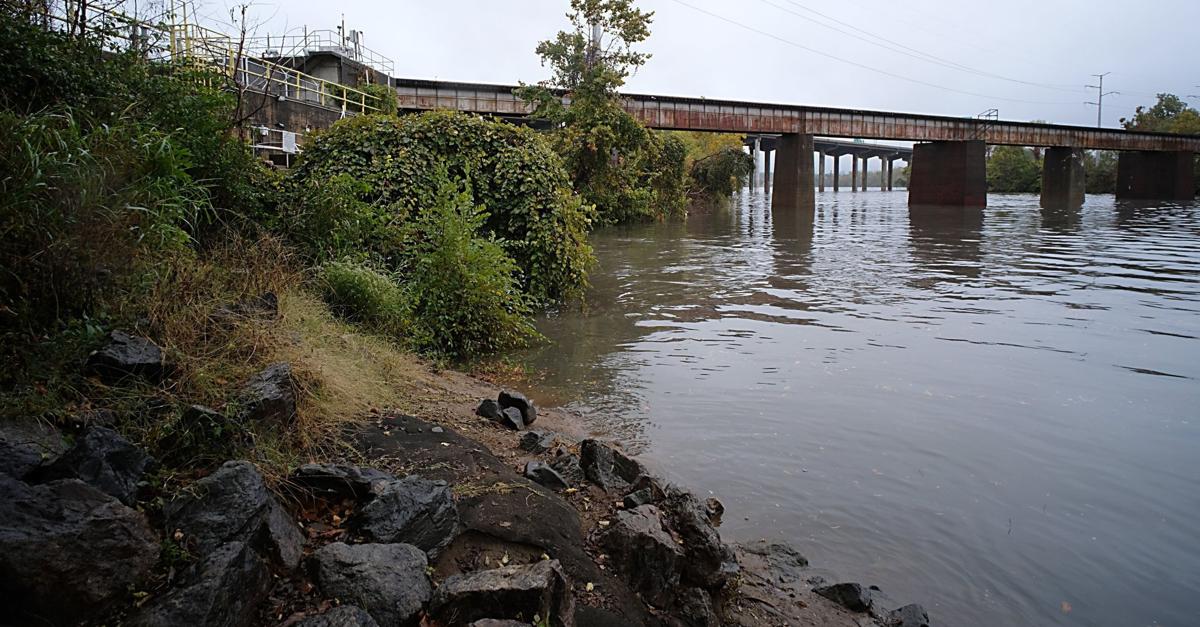 Richmond's outdated sewer system floods dozens of times each year, sending sewage into the James River and making it unsafe for swimmers and tubers.
The state has given the city a deadline of 2035 for overhauling the sewer system, but Mayor Levar Stoney has asked for help from the state, saying it will cost nearly $900 million. Until then, residents can use a new map from the city's Department of Public Utilities to determine in real time whether any pipes have overflowed and which parts of the river are mixed with human waste and bacteria.
"It's real data in real time available whenever the residents want it," said Grace LeRose, a policy adviser for the utilities department.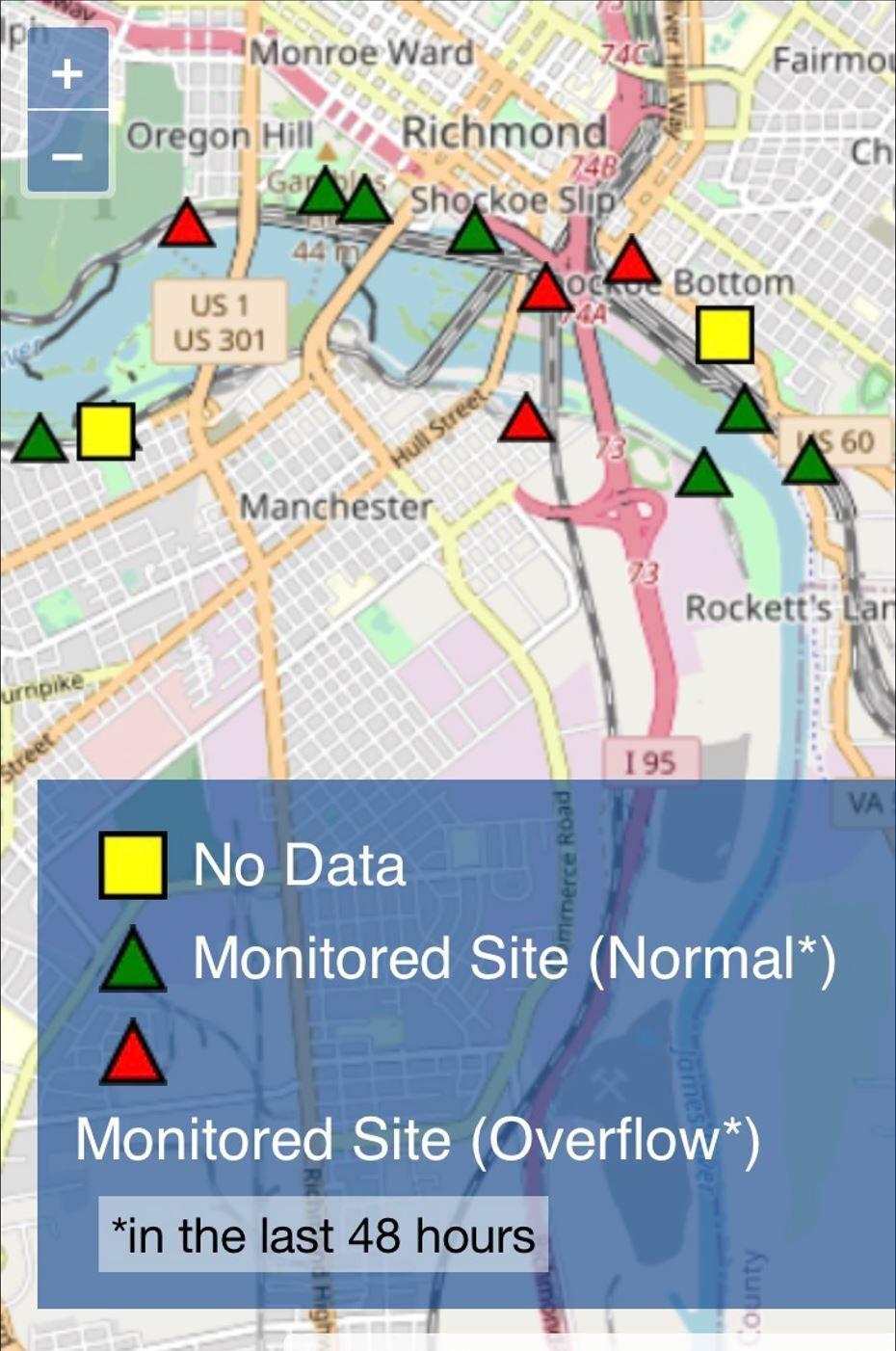 Rainfall wasn't understood
The city's sewer system is more than 60 years old, and it combines stormwater with sewage beneath a third of the city. After significant rainfall, the system overflows, which happens 50 to 60 times a year if there's a normal amount of rainfall. One inch of rain is typically enough to overflow the system.
In the past, the utilities department had to make educated guesses about the sewer system and the health of the river. If it rained one-tenth of an inch at the airport, the department assumed the system overflowed.
But since installing the gauges, meters and sensors in 2018, it learned that rain doesn't fall on the city evenly. When Scott's Addition flooded this past summer, it barely rained at all in South Side, meaning those pipes didn't overflow.
"Rainfall was not very well understood," LeRose said.
The sewer system's experts came to learn that some pipes will overflow while others won't, and the upstream portion of the river can be safer than downstream. Their tools predict how likely a pipe is to overflow and how long the overflow lasts. The intensity of the rain matters. A half-inch of rain in 30 minutes will cause an overflow, but a slow, gentle rain may not.
On the publicly accessible map, a red triangle indicates there has been a recent overflow. A green triangle means there hasn't, and a yellow square means there isn't current data. Each pipe is numbered and labeled with the letters CSO, which stands for Combined Sewer Overflow.
The department has been gathering data on which sewer pipes overflow since 2019. Last month, it made real-time status updates available to the public.
One day in October, CSO 11 at the base of Hollywood Cemetery had overflowed from a recent storm. So had six other pipes downstream. But all the pipes upstream from Belle Isle were clear, meaning that part of the river was safe for entry.
The department recommends rivergoers stay out of the James two to three days after an overflow at any point downstream from the spill. The map shows if a pipe has overflowed in the past 48 hours and when it occurred.
In July, a sewer line in Goochland County ruptured, sending 300,000 gallons of raw sewage into Tuckahoe Creek, which feeds into the river. The Virginia Department of Health advised against entering the water for almost a week.
Sewage contains fecal bacteria, including E. coli, and swallowing it can cause stomach illness, vomiting, diarrhea and nausea. Touching it can infect the ears, nose, throat and skin.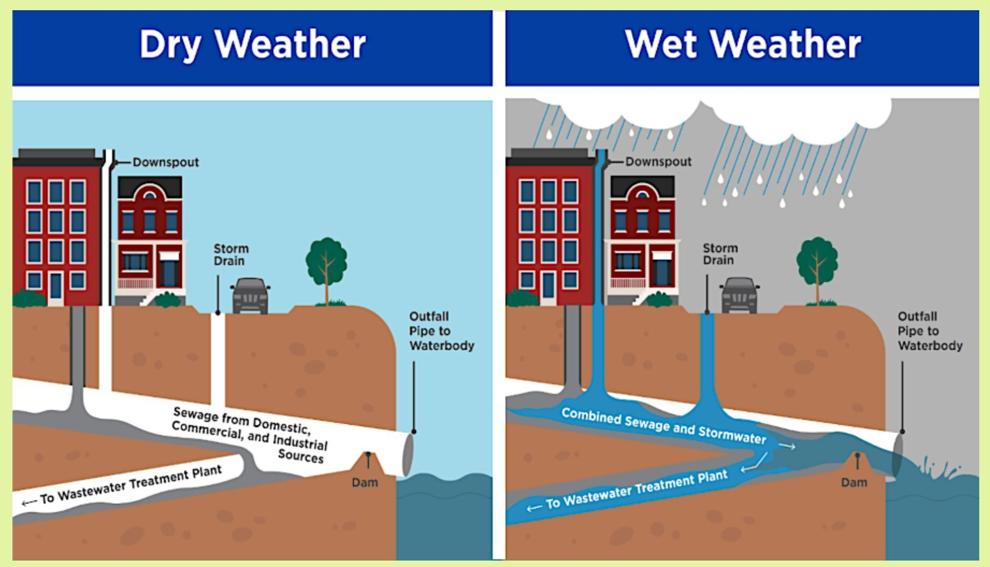 Upstream is cleaner
With data telling experts which pipes overflow often and which don't, they've learned that upstream is often cleaner than downstream. CSO 20, located near the Powhite Parkway, rarely overflows, LeRose said. Neither does CSO 33, which is located in Byrd Park.
But CSO 6, which is downstream, near South 14th Street, is a frequent offender. The volume of water there is huge, LeRose said, with more than 70 million gallons of water flowing through the pipe on a rainy day. Capitol Hill and Church Hill both drain into Shockoe Valley. Even some water from Henrico County ends up there.
Climate change is seemingly dumping bigger, more concentrated storms on Richmond, said Pat Bradley, deputy director for the utilities department. In 2018 and 2020, Richmond experienced near-record rainfall, causing the sewer systems to overflow more often. Mother Nature dumped 63.7 inches of rain on the city in 2018, the highest total since the 1880s. Two years later, the city received 63.5 inches.
Yet the James has gotten cleaner over time, Bradley said, thanks to numerous pollution control projects by the Department of Public Works and other organizations that advocate for a healthy James River, including RVAH2O and the James River Alliance. Authorities have cracked down on industrial sites near the water and on farms letting cows graze in streams.
The James was helped significantly when the capacity of the city's water treatment plant was nearly doubled, a project completed in 2020. It can now treat 140 million gallons of combined sewage and stormwater per day, LeRose said.
Last year, Gov. Ralph Northam signed into law a bill requiring cities to develop plans to mitigate sewage spills as they wait for newer systems to be built over the next 15 years. Lynchburg and Alexandria also have combined systems.
The sensors allow the utilities department to better manage its current system, closing off pipes with capacity when possible, creating 180 million gallons of storage space. Richmond will spend less than $50 million on the interim plan, while Alexandria will spend between $300 million and $600 million building tunnels and a larger storage basin, LeRose said.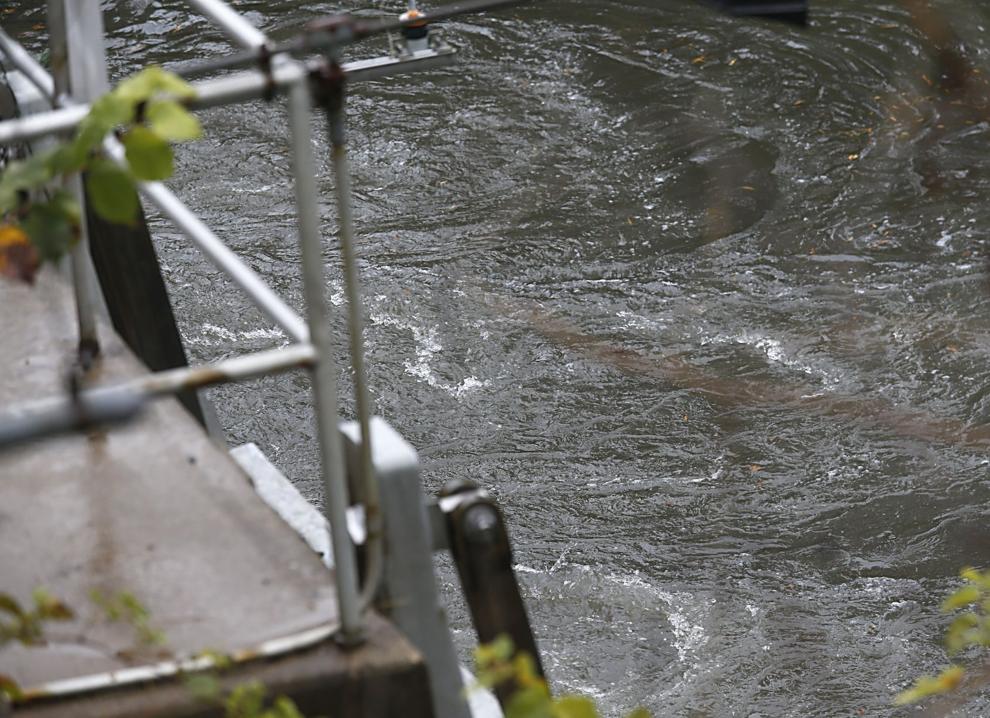 Rafting tours
Much of the pollution takes place near 14th Street, which is where RVA Paddlesports ends its rafting and kayaking trips.
When the boats draw near this segment of the river, the guides tell their guests not to jump in the water even if there hasn't been a recent overflow, said Patrick Griffin, the company's founder. On days when the sewers have overflowed, the smell wafts into the air. If there's been a recent spill, RVA Paddlesports still runs trips.
Extra information about river contamination will inform more people and lead to fixing the problem, Griffin said. City residents should embrace paying their stormwater utility bills, he said, because that money eventually will pay for a new system and a cleaner river.
But overflows won't stop anytime soon. Apartments are being built along the south bank of the James, with more toilets and more water going into the pipes. Without large-scale improvements, the new meters and sensors can only do so much, he added. "It's good, but it's not a fix."