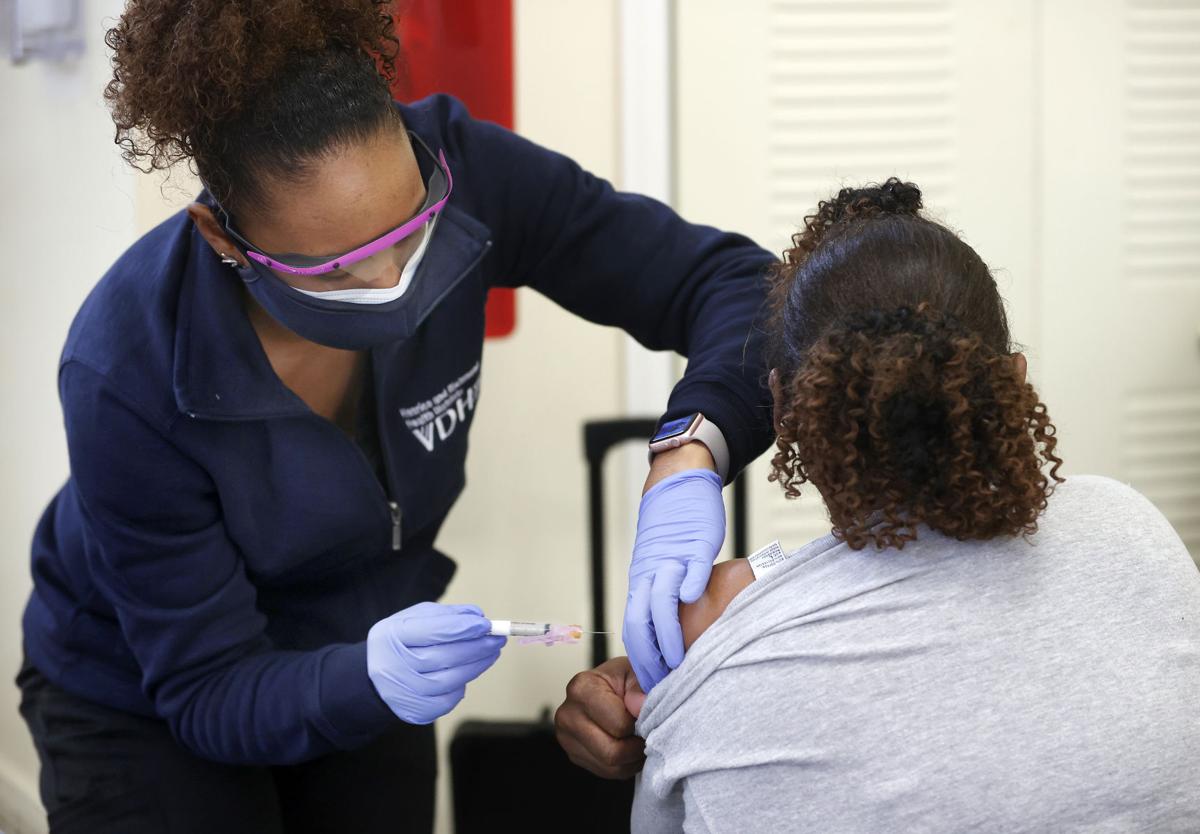 This isn't the first epidemic Thelma Fields has survived. The 78-year-old lived through polio outbreaks that infected thousands, a round of influenza in the 1960s and the swine flu contracted by 22 million Americans in 2009.
But Fields wasn't a 15-minute drive to the nearest vaccination site like she is now. That's if she could find an appointment and a ride. The journey by bus to access a life-saving vaccine would take anywhere from 45 minutes to an hour, even though the majority Black and Latino 23225 ZIP code Fields lives in has had more than 1,000 cases since vaccinations began in December. That's the third-highest number of infections in the city of Richmond.
And in the past situations, her friends weren't dying — not like this.
"Some people have been in the hospital for three, four months," she said. "I've had family members who died, because I have a lot of nurses in the family, you know? And then they tested positive."
Then an opportunity came Friday for Fields to have fewer people to worry about. Residents of the predominantly Black independent living facility that Fields has called home for 17 years — where most of her neighbors are over the age of 65 and have underlying medical conditions — would be receiving their COVID-19 shot.
The move marked a pivotal moment in Richmond and Henrico Health Districts' race to fix the gap that left the hardest-hit neighborhoods without vaccination sites starting this week.
Its mobile clinic, a compact white cargo van with the ability to store COVID-19 vaccines, traveled to seven independent living facilities owned by the Richmond Redevelopment and Housing Authority. A permanent vaccination site in South Richmond will be up by March.
By Friday, 254 residents who otherwise wouldn't have been able to get the medicine were vaccinated a few steps from their homes. Fields was one of them.
In her purple scrubs, Iesha Williams moved past her on Friday morning to check on those being monitored for allergic reactions. Then she eyed the mini-vaccination clinic set up in the lobby of Fox Manor Apartments and sprinted back to the van parked outside for an additional bottle of hand sanitizer.
A public health nurse with the local health departments, Williams runs the mobile clinics and was a critical part in planning how to make sure Black and Latino residents weren't left behind in the vaccine rollout.
The mobile team has a major role in widening access, she said, but she knows there's more to be done.
"We don't have as much of equitable resources as we would like to have," Williams added, referring to the chronic, decades-long underfunding of public health. "Acknowledgment is so important. Acknowledging the disparities in populations and acknowledging the limited resources and doing what we can to be able to help fight through all those things."
As of Monday, the latest available data, figures provided by the local health districts show that 20% of Richmond's vaccinations are of people over the age of 70. Only 14% of people vaccinated are Black.
This is a striking under-representation of the city's COVID deaths — 73% are 70-plus and 52% are Black residents.
Similarly concerning scenarios are unfolding throughout the U.S., with Black and Latino communities in low-income areas severely trailing behind wealthier and whiter residents getting disproportionate access to the limited supply.
In a national analysis from Politico released Friday, white Virginians are being vaccinated at 2.2 times the rate of Black communities. This is the ninth-highest in the country. Virginia also tops the list for having the most counties with disparities that leave Black residents farther from vaccination sites.
Major barriers include the technology-heavy process. To combat this, Richmond-Henrico Health Districts shifted to relying heavily on faith leaders and community health workers to distribute vaccine information and make appointments for those without internet access. The localities are also expanding call center capacity.
Angela Fountain, director of communications for RRHA, said the housing agency has gone door to door in its independent living facilities since in-person interaction and flyers placed on doors work best.
Briefly on Friday morning, Fields spoke of the frustrations she felt before the mobile clinic was an option.
"But that doesn't matter now," she said, as she prepared a selfie for her daughter to show they were one step closer to being safe around each other.
Then the lifelong Richmond resident clicked on Facebook to tell her friends she was OK.
(804) 649-6103
Twitter: @sabrinaamorenoo