The day after pepper spray was deployed on a large crowd of protesters outside Richmond police headquarters and a woman was arrested, Police Chief William Smith said his officers had shown "great restraint" as protesters threw rocks and other objects at them.
But the police department's account of what happened as hundreds massed outside headquarters Sunday night and Monday morning was sharply contradicted by one eyewitness.
The witness, Jimmie Lee Jarvis, has been attending and recording several recent protests in Richmond and reviewing video of the events. He said that although the large crowd was angry and hurling obscenities at the police on Sunday night, he did not see anyone throw anything at officers until after they released pepper spray into the crowd.
"It turned violent," Jarvis said. "But the first act of violence was from the police."
The police department released its description of the protest at about 5:15 p.m. on Monday, about 90 minutes before a crowd of about 200 people began to march from Monroe Park to City Hall for the 18th day of demonstrations in the city.
The source of much of the anger among protesters over the past two nights has been fueled by an incident on Saturday night when an officer drove an SUV into a crowd of protesters blocking his path at the Robert E. Lee statue. The event prompted Mayor Levar Stoney to ask the city's top prosecutor to investigate the incident and the police department to place the officer on administrative leave.
Jarvis said that the police department's account of how the protest unfolded outside headquarters on Sunday night into Monday morning "was inaccurate on almost every level."
In the police statement, Smith said he will hold his officers accountable for their conduct during the continued demonstrations, but he said that under no circumstance would he "allow violent protest to continue to harm our community."
"This demonstration escalated into rioting and violence that lasted throughout the night and into the early morning hours," the chief is quoted as saying in the news release issued Monday afternoon. "Last night's actions far exceeded what is considered to be lawful First Amendment activity. Organizers were intent on provocation and creating mayhem by throwing rocks and other objects at the officers on duty, who showed great restraint in response to these attacks."
According to the statement, several city vehicles, including dump trucks, were damaged significantly. Several privately owned buildings in the area also were vandalized and "numerous dumpster fires were set with the intent to destroy public and private property."
"The escalating violence prompted multiple declarations of an unlawful assembly, which was broadcast to the crowd several times with instructions to disperse," the news release said. "After warnings were disregarded, a pepper spray fogger was deployed."
One person was taken into custody after crossing the police line after repeated warnings not to do so, the news release said. When a Richmond police officer tried to stop her, the suspect struck the officer in the head with a bullhorn, the authorities said.
Michaela G. Hatton, 22, of Richmond, was charged with felony assault on a law enforcement officer and conspiracy to incite a riot. During the booking process, Hatton refused to provide her personal information, as required by law, the police statement said. At her hearing Monday, the judge banned her from any actions tending to incite criminal activity.
Hatton's attorney, Sara Gaborik, declined to comment on Monday.
Richmond police said three officers were injured during the clash. Virginia State Police and Henrico County police officers also provided support.
On Monday night, the state police posted the following on their Facebook page: "Among the #VSP injured, was a sergeant who was transported to VCU Medical Center to be treated for a leg injury after being struck by a large piece of asphalt thrown at him by a protester. A trooper was struck in the head with an object. Fortunately, his helmet took the brunt of the impact and he suffered only a minor injury."
Jarvis, who was outside the police department from about 8:45 p.m. Sunday until 2:45 a.m., acknowledged that the crowd was hostile and said he could not see everything that happened from his vantage point.
But he said he saw officers "very eagerly deploying pepper spray at people who were not doing anything" other than angrily yelling and cursing at them.
"I saw many protesters who were vomiting, crying," Jarvis said. "I saw people kind of collapsing on the ground."
After the pepper spray, Jarvis said, he saw people throwing water bottles, a jug and water balloons, most of which missed officers, although a full can of soda or beer struck an officer's shield. He also saw people throwing broken bricks or cinderblocks at windshields of dump trucks.
He also said he saw two officers grab the woman to arrest her and that her bullhorn "made a connection with an officer," but he described it as a glancing blow off the officer's forearm. She then was pepper sprayed directly in the face, he said.
Jarvis also said that more than two hours later, at about 1:30 a.m., police released tear gas cannisters into the crowd, and some of the demonstrators threw them back at officers.
The police statement noted that the chief understands that the overwhelming majority of protesters are peaceful and lawfully exercising their rights.
"We fully support peaceful demonstrations, but we will not tolerate the violent assault of police officers, the threats to law-abiding members of our residential and business community or the willful destruction of city and private property," Smith said.
"I expect my officers to remain patient and professional during this trying time, and will hold accountable those who do not uphold this standard. But demonstrators must practice non-violence, and under no circumstance will I allow violent protest to continue to harm our community."
As demonstrations continued into Monday night, the group of about 200 people marched from Monroe Park along Franklin Street to City Hall. Once they reached City Hall, organizers spoke of the importance of defunding police and emphasized the importance of unity and supporting black and LGBTQ communities.
During the evening, organizers started call-and-response chants demanding justice and for protesters to say the names of victims of police brutality.
As they left City Hall and made their way along Main Street, organizers chanted "Say their name." To which the crowd responded: "Which one?"
About 200 people or more later gathered outside police headquarters, with some shining laser pointers toward officers.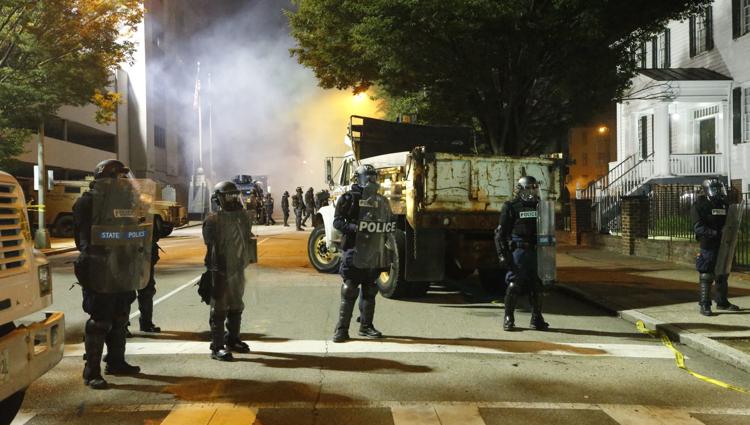 20200615_MET_PROTEST_JW02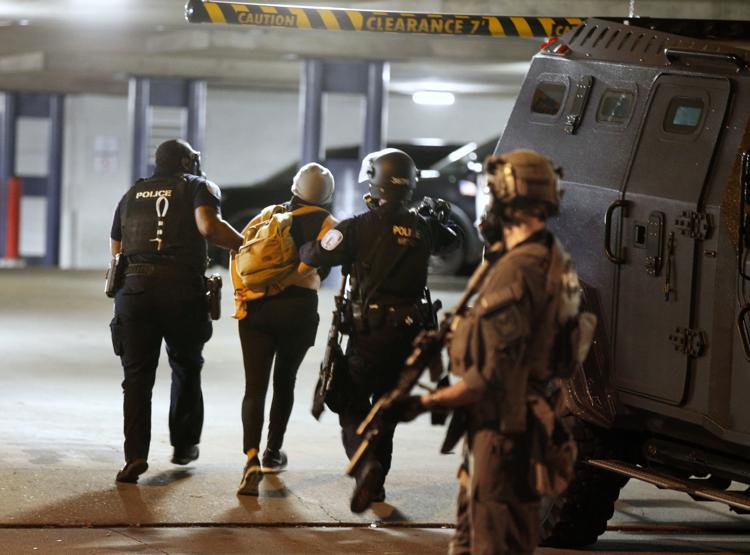 20200615_MET_PROTEST_JW01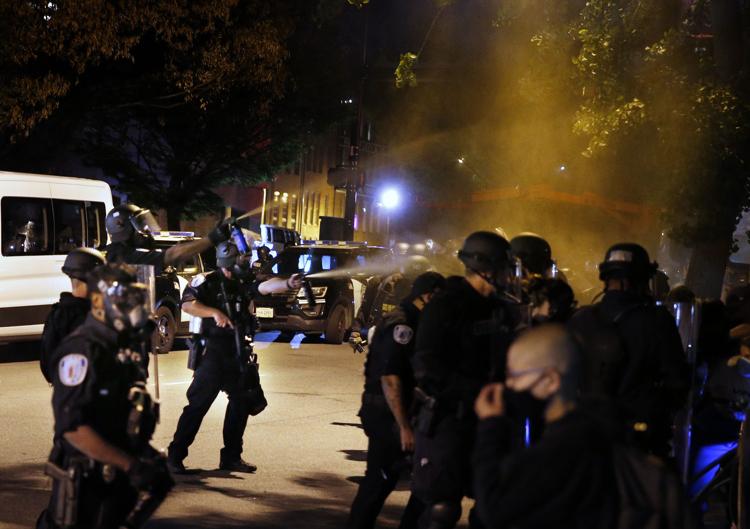 20200615_MET_PROTEST_JW03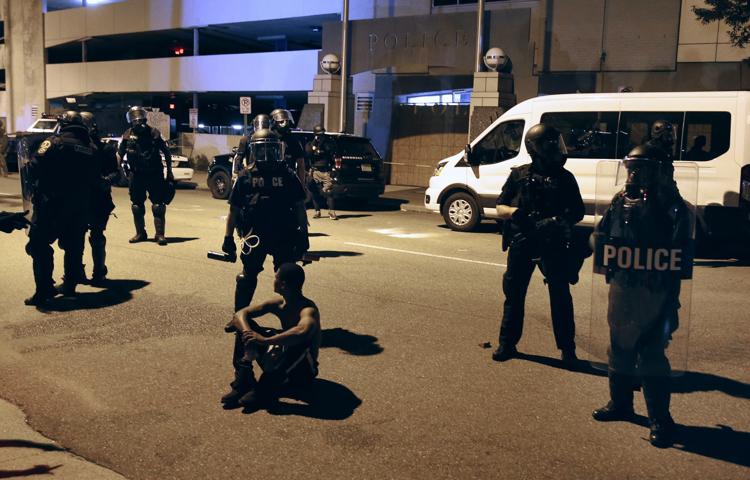 20200615_MET_PROTEST_JW04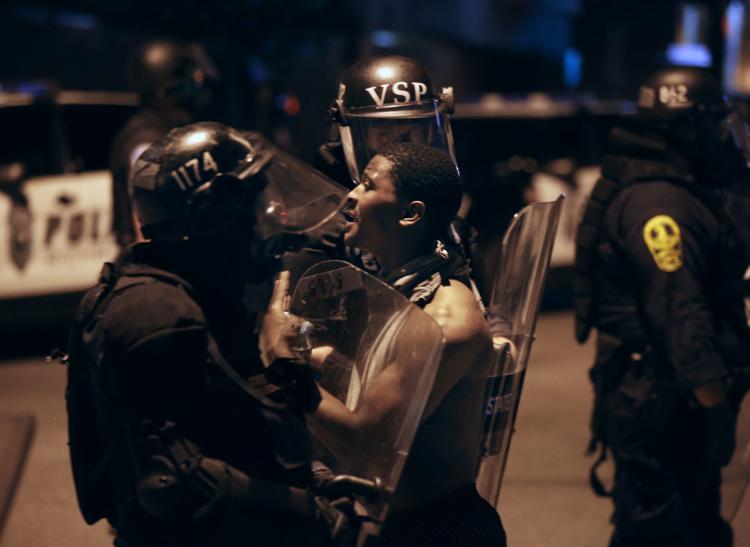 20200615_MET_PROTEST_JW05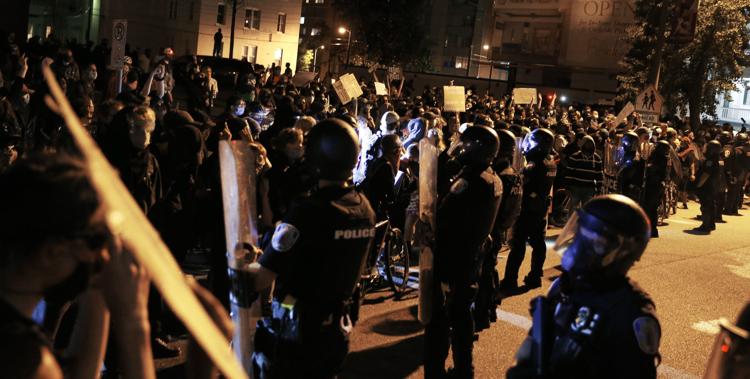 20200615_MET_PROTEST_JW06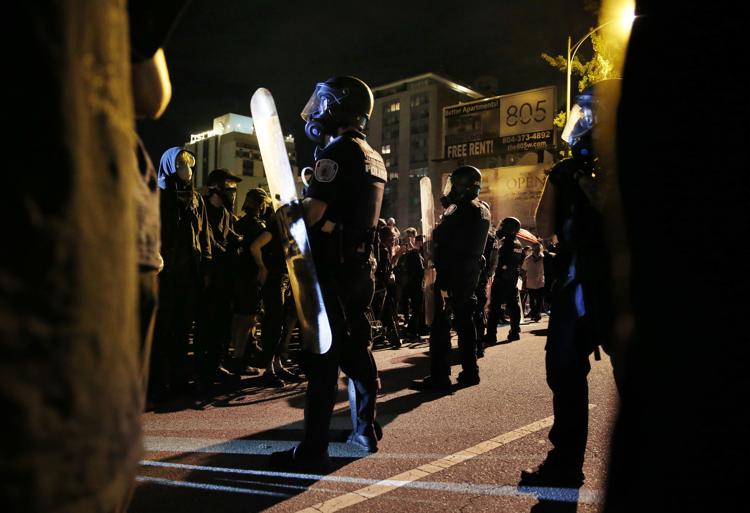 20200615_MET_PROTEST_JW07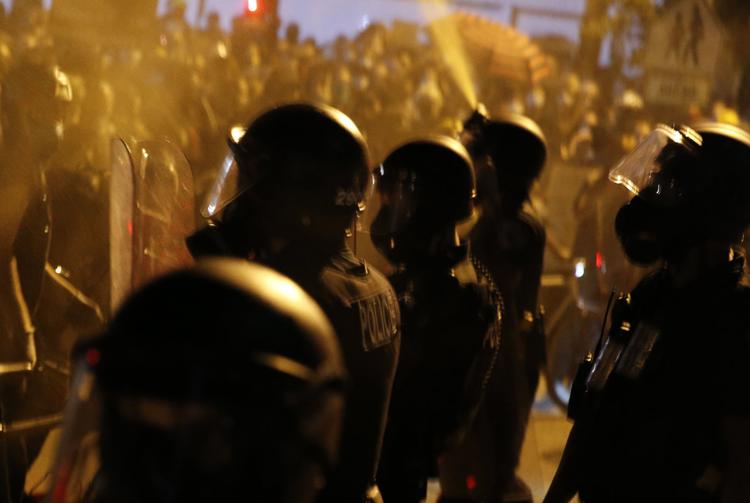 20200615_MET_PROTEST_JW08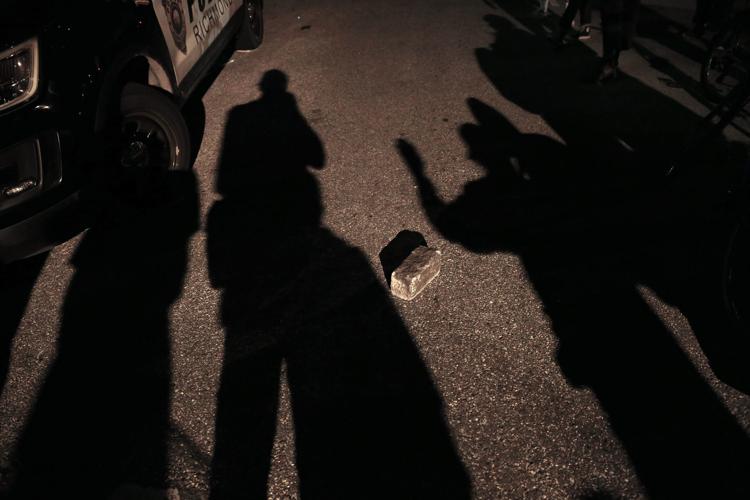 20200615_MET_PROTEST_JW09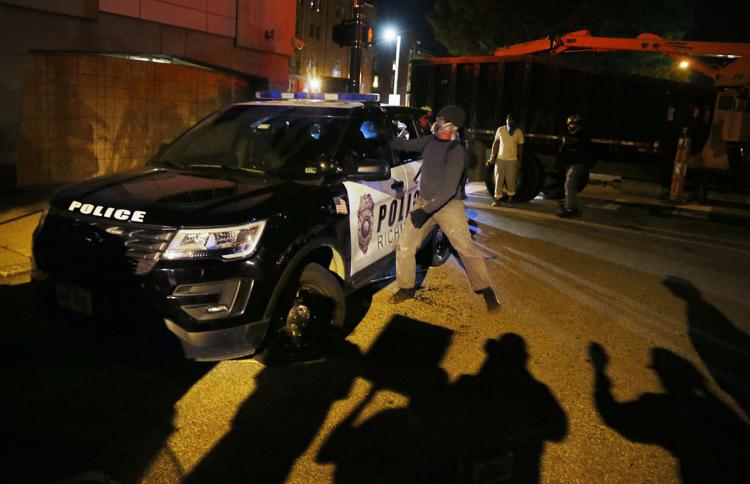 20200615_MET_PROTEST_JW10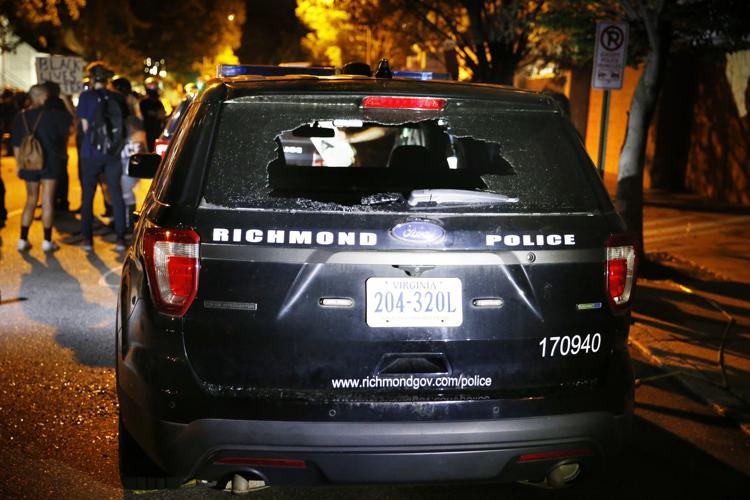 20200615_MET_PROTEST_JW11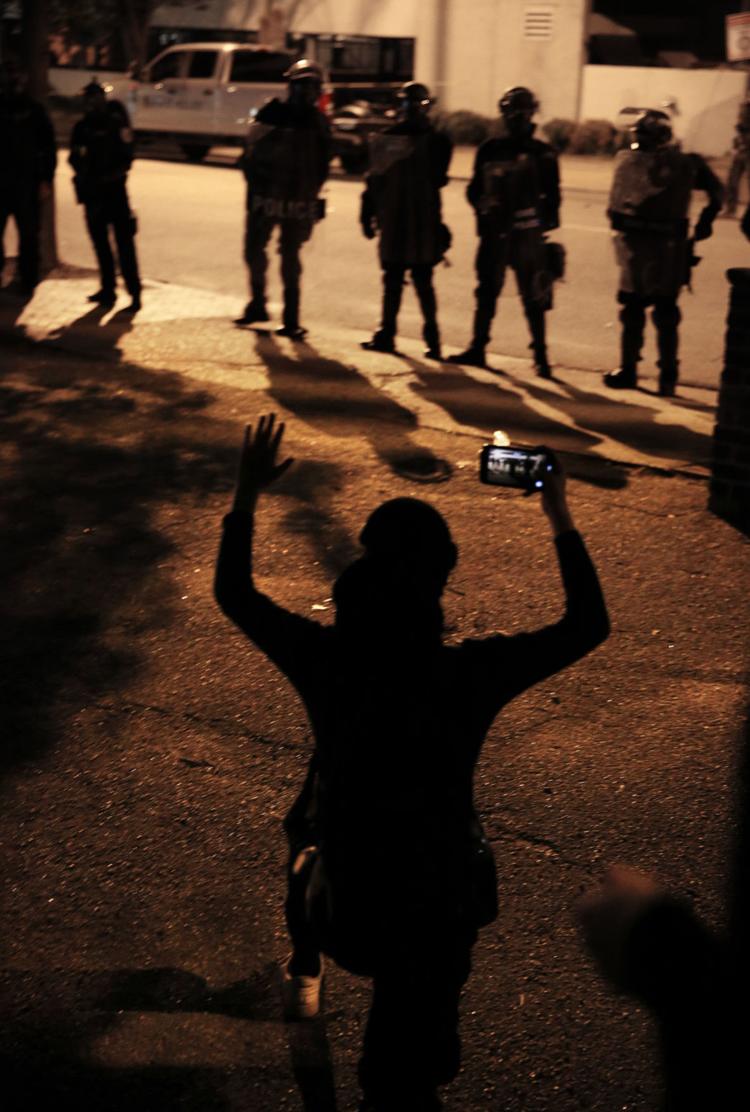 20200615_MET_PROTEST_JW12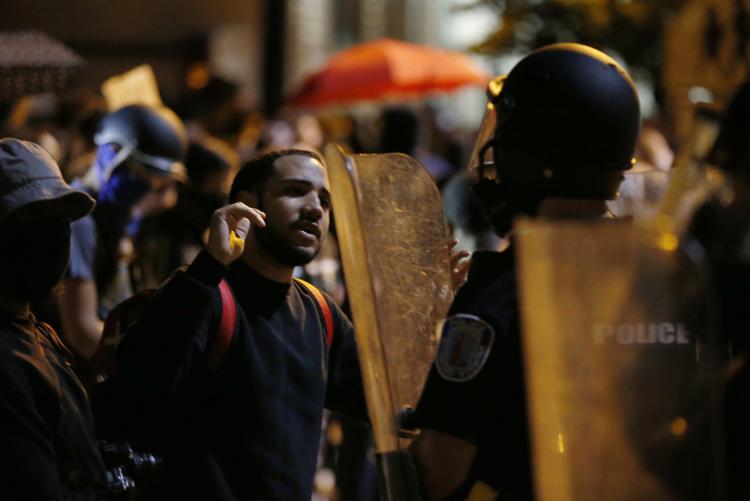 20200615_MET_PROTEST_JW13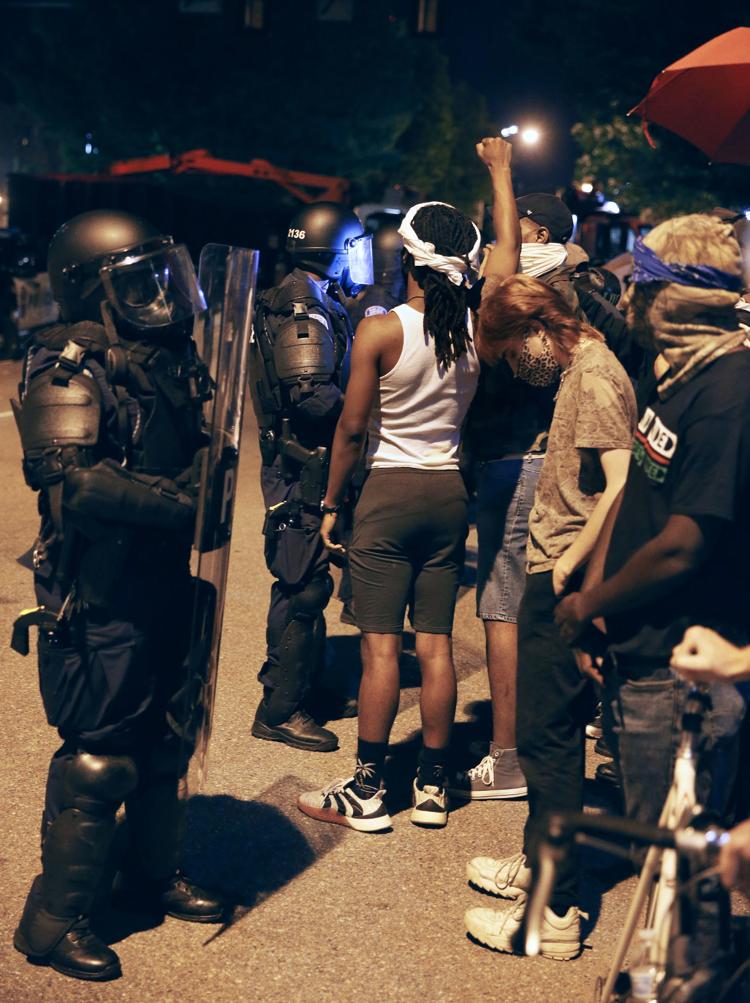 20200615_MET_PROTEST_JW14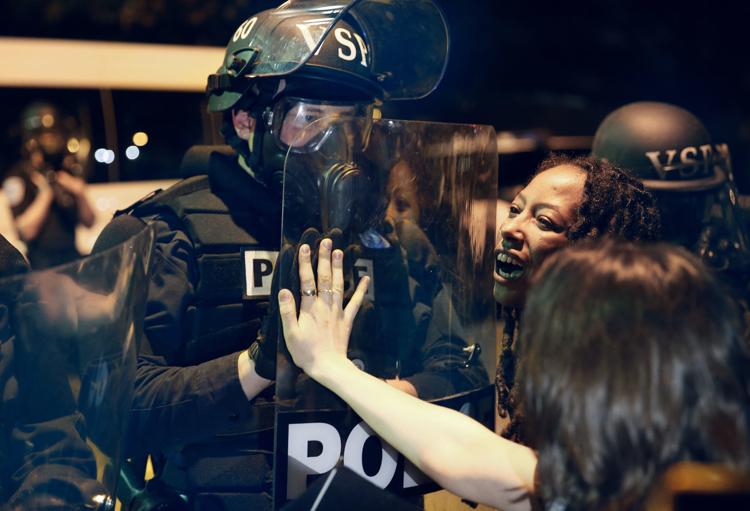 20200615_MET_PROTEST_JW15
20200615_MET_PROTEST_JW16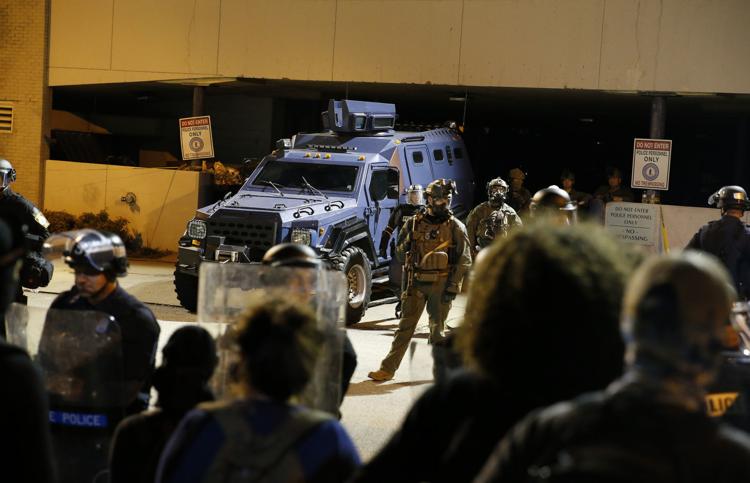 20200615_MET_PROTEST_JW17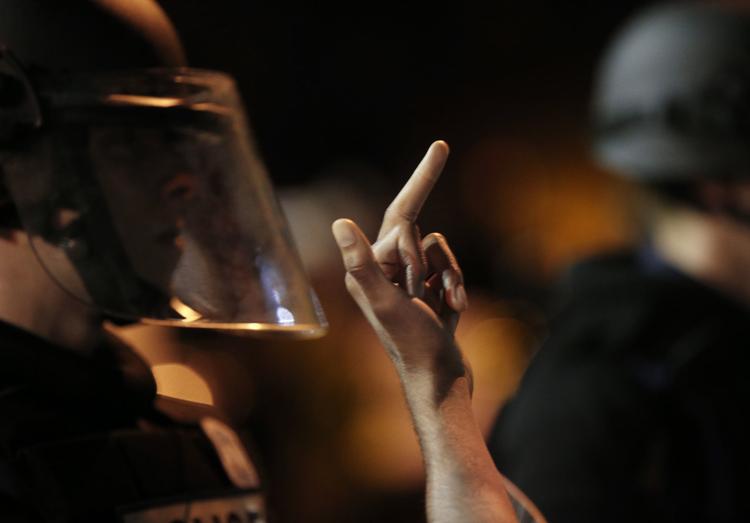 20200615_MET_PROTEST_JW18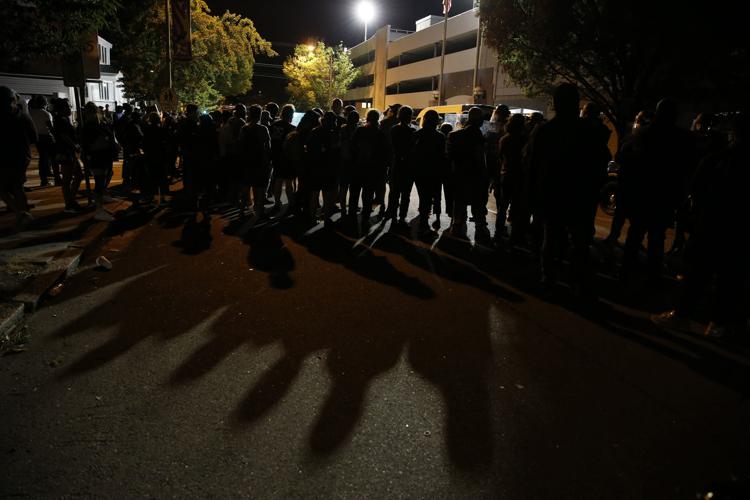 20200615_MET_PROTEST_JW19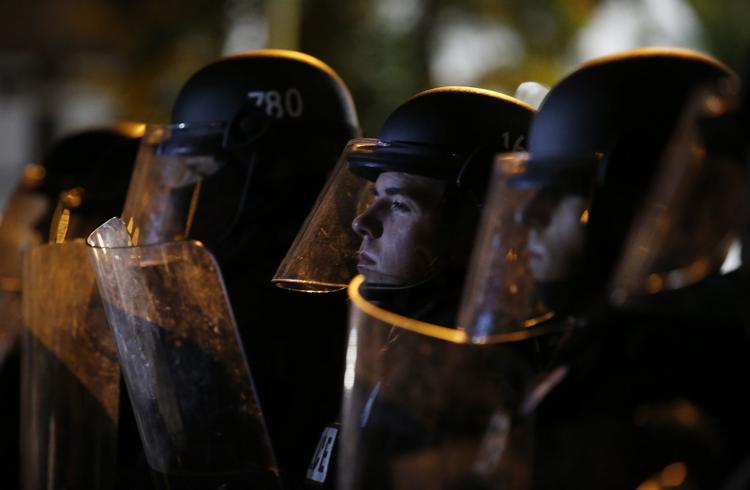 20200615_MET_PROTEST_JW20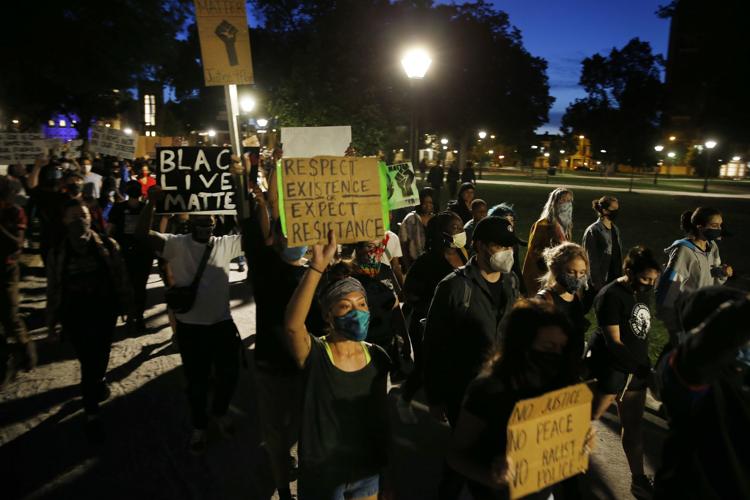 20200615_MET_PROTEST_JW21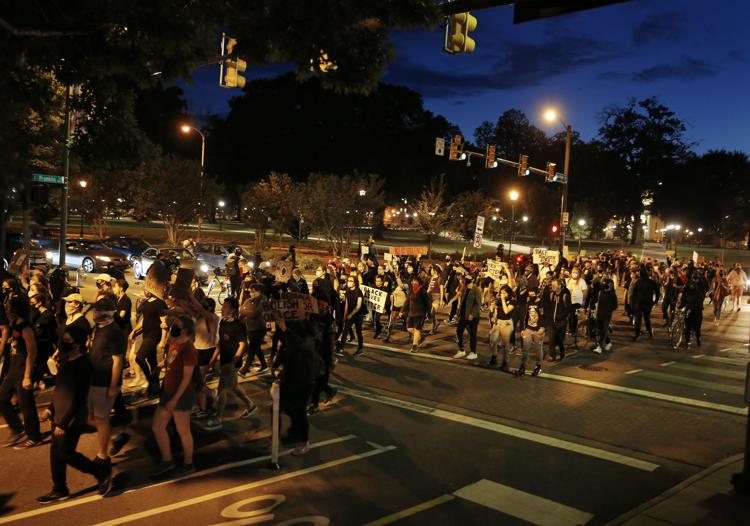 20200615_MET_PROTEST_JW22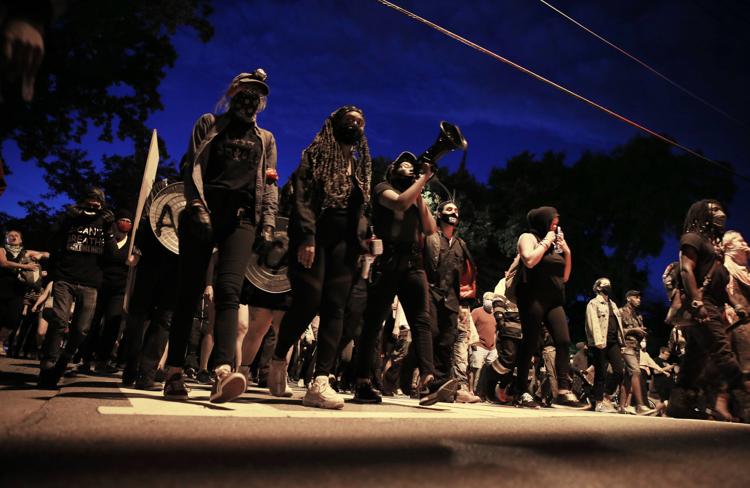 20200615_MET_PROTEST_JW23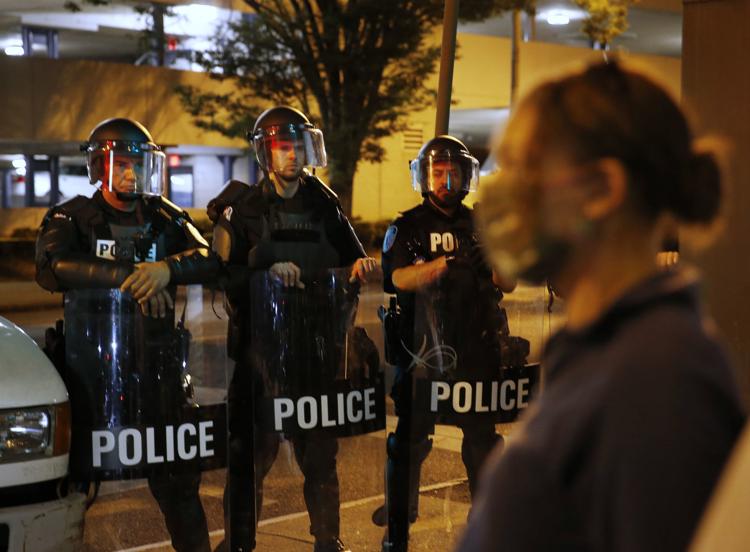 20200615_MET_PROTEST_JW24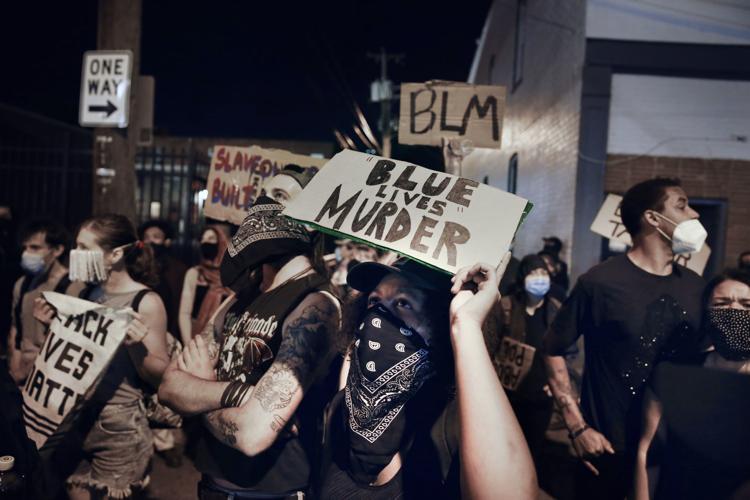 20200615_MET_PROTEST_JW25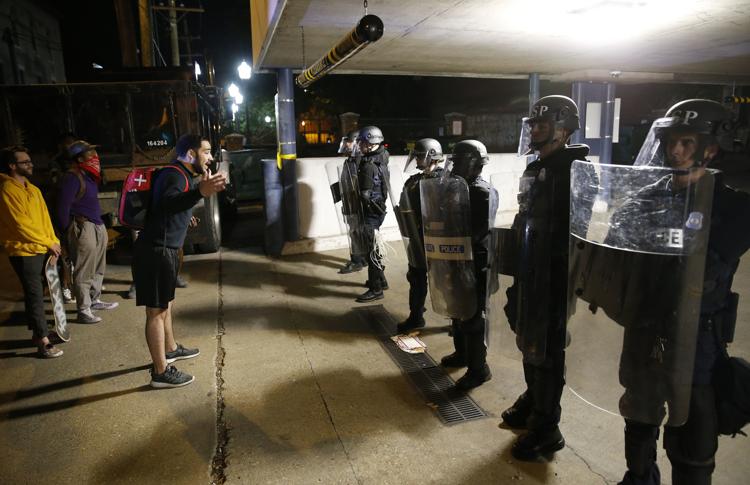 20200615_MET_PROTEST_JW26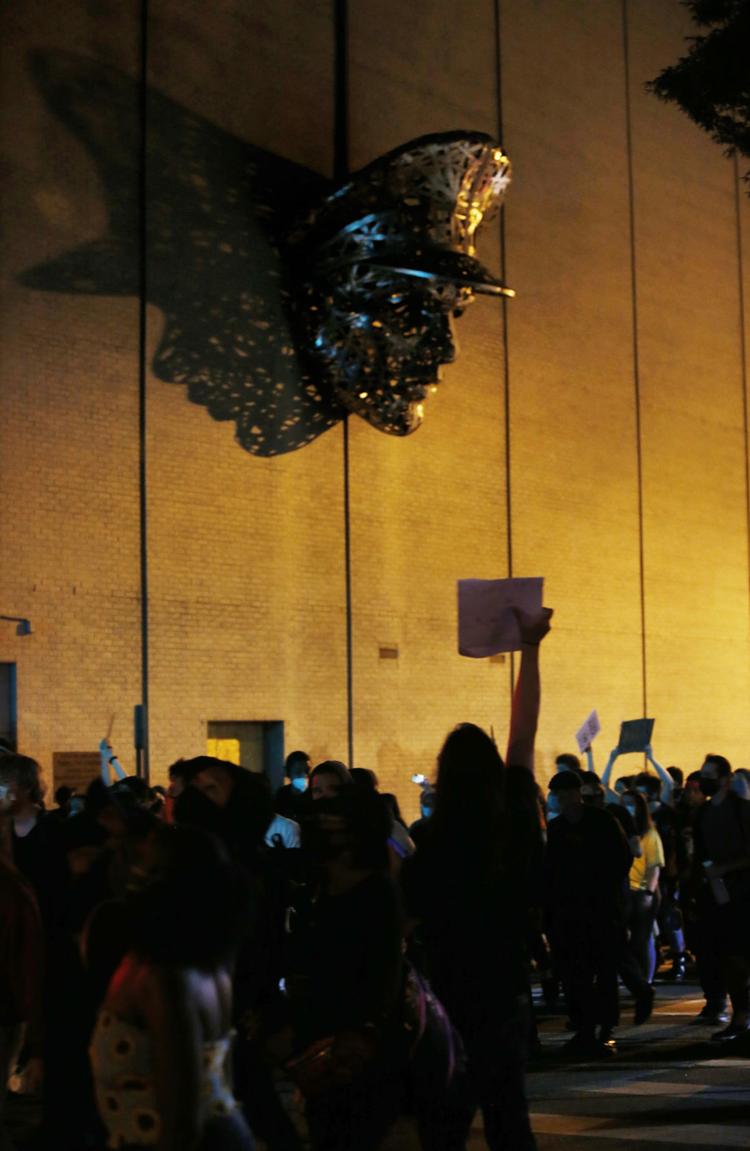 20200615_MET_PROTEST_JW27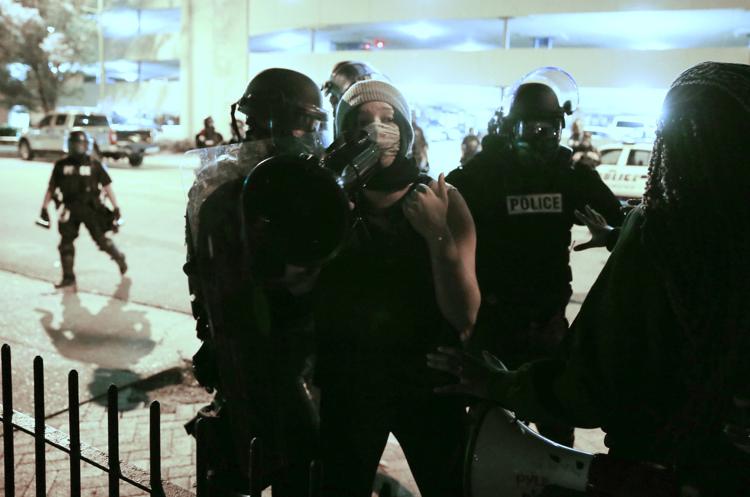 20200615_MET_PROTEST_JW28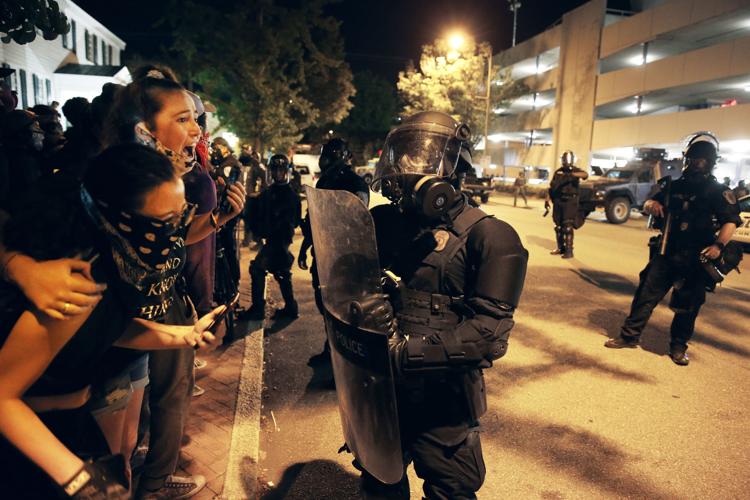 20200615_MET_PROTEST_JW29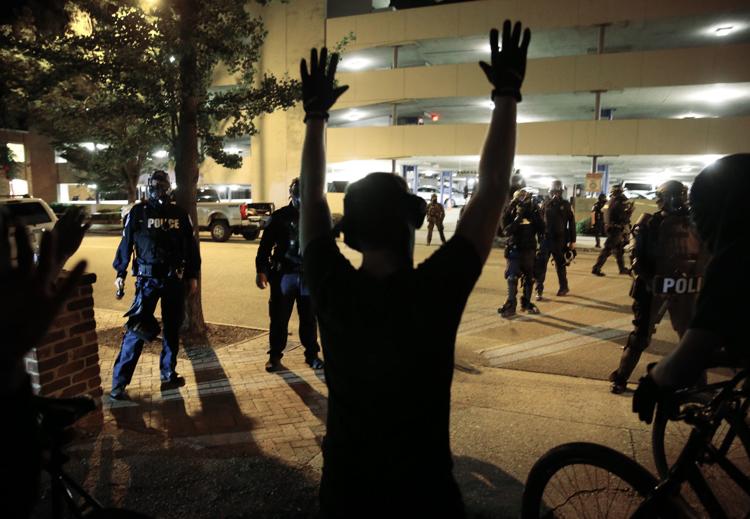 -- HIDE VERTICAL GALLERY ASSET TITLES --
(804) 615-8198
Staff writers Lane Kizziah and Ali Sullivan contributed to this story.