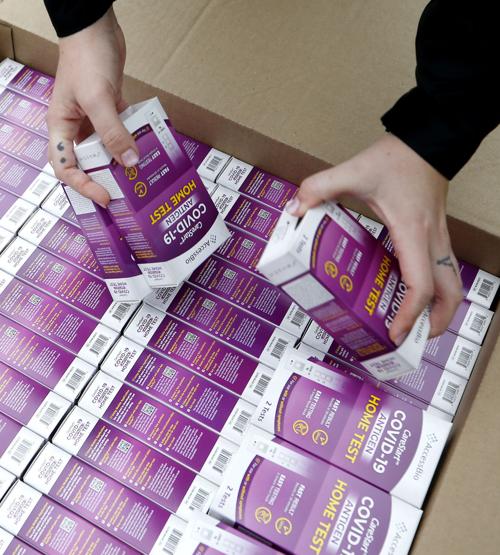 Richmond Public Schools expects 160 teacher vacancies across the school district and plans to tap staff in its academic office to fill vacancies as school resumes on Thursday.
RPS, along with other neighboring districts, has been closed due to hazardous weather conditions caused by snowfall this week. The district had been preparing for a cautious return to school after the Christmas break because of a surge of COVID-19 cases. However, hazardous road conditions and the threat of freezing rain postponed those plans for most of the Richmond area.
Now, after passing out thousands of COVID rapid tests on Sunday, RPS is expecting teachers to be out sick, as well as a shortage of bus drivers. Delays are possible in transporting kids to and from school.
RPS Superintendent Jason Kamras acknowledged that with a surge of COVID cases, mostly caused by the highly contagious omicron variant, families have asked RPS to go virtual for the next few weeks. Kamras has made clear that he supports schools remaining open as much as possible.
"While I understand this inclination, I want to note that I intend to do everything possible to keep our doors open," Kamras said. "Even with omicron, we are in a very different place than last year. Vaccines are widely available for all staff and nearly all students — and have been for quite some time."
RPS is suspending all after-school or extended day activities on Thursday, since many community partners also face staffing shortages. And although the district is slated to be open on Friday, a threat of hazardous weather looms.
Given the possibility of closure because of the weather forecast, Chromebooks will be distributed to everyone on Thursday, to transition to virtual learning.
As mandated by state law, Virginia's schools can't close unless working conditions are so severe that schools can't safely operate.
School systems in other states across the country have closed because of the rapid spread of the omicron variant. In Virginia, SoVaNow reported that Mecklenburg County Public Schools closed for the remainder of the week because of a rise in COVID cases.
Henrico County schools spokesperson Eileen Cox couldn't provide a number of vacancies offhand, but said the district is prepared to deploy central office staff to cover teacher vacancies.
Chesterfield County also did not provide a number of vacancies. But spokesperson Shawn M. Smith said throughout the pandemic Chesterfield schools had experienced periods of higher absenteeism, during which the school system relied heavily on substitute teachers.
Hanover County schools are closed on Thursday.