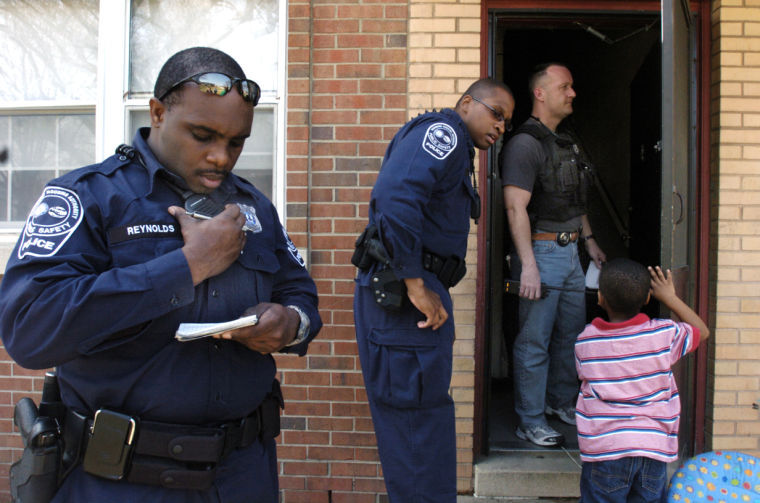 The Richmond Redevelopment and Housing Authority said Monday it is disbanding its seven-member police force.
The city's public housing agency issued a release saying the move takes effect today. The agency did not immediately say what would happen to the RRHA officers affected by the move.
A reporter who went to the agency's office was not allowed inside and was told that RRHA officials were not available to elaborate on the decision.
Monday's announcement is the latest move in a saga that began in October with the firing of Police Chief Hal Hazelton, who subsequently filed a lawsuit against several current and former RRHA officials.
Monday's release said the agency conducted a review and concluded that RRHA residents would be better served by the agency "deploying its resources in a manner more consistent with its core mission of providing housing services rather than providing ancillary security services."
The RRHA said it had "advised local government officials of this strategic change in the deployment of our services and have taken measures to assure our residents will continue to enjoy the benefits of dedicated security service and protection."
The RRHA did not say what those measures are, but the move is not expected to have a significant impact on the operations of Richmond police. The department already has some 700 members on the force and devotes considerable energies to working in the city's public-housing projects, which are frequent targets for criminals.
A spokesperson released a statement by Richmond Mayor Dwight C. Jones, who said RRHA's "success is essential to our overall efforts to mitigate poverty in the city of Richmond.
"Perhaps this is an opportunity for them to refocus on their core mission," Jones said.
Some longtime residents of Gilpin Court, near RRHA headquarters, said Monday that they're not particularly troubled by the decision. They said they've seen little community policing by RRHA and that they'd rather see Richmond police increase its presence in the area.
"Richmond police come faster," said Semaja Ellis, who can see the RRHA central office from her home.
Ellis' neighbor, Dominique Neblett, echoed the sentiment.
"Richmond police stay on this block … coming back and forth, but I don't see RRHA police," Neblett said.
After Hazelton was dismissed last October, Paul Kiniry, a longtime Richmond police captain, was named to temporarily lead the RRHA force while the agency reviewed its police operations. Kiniry is to remain with Richmond police as a liaison with the housing communities.
Hazelton filed suit in February against three agency officials and a former board member, saying they engaged in a conspiracy to punish him for being a whistleblower for alleged internal wrongdoing.