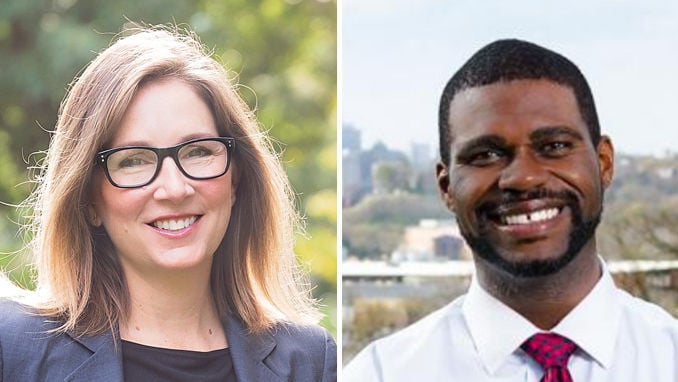 This week marks the second in a series of weekly questionnaires the Times-Dispatch will publish with responses from Richmond City Council candidates running in each district.
The two candidates seeking election to the 2nd District seat: Katherine Jordan and Tavarris Spinks. (Ashley Jefferson also qualified for the ballot but has withdrawn from the race.)
We asked each candidate to answer five questions, with a limited word count. Their responses to each appear below in alphabetical order by last name. Answers were edited for length and clarity.
QUESTION: What is the most important issue facing residents of the 2nd District, and what do you plan to do about it if elected?
Jordan: The answer depends on where you're standing in the 2nd. Like the city overall, our district has neighborhoods that are thriving, and those that feel left behind. And that's separate to a year which has been the most challenging Richmond has seen in my lifetime.
With COVID closing our schools and businesses, I would continue the task of reopening Richmond in a safe and responsible manner. I would also embrace the larger challenge of uniting and leading our city through this period of civil unrest. The 2nd is eager to recapture our optimism and vitality, to see improved city services, and ready to lead in healing our long-standing racial inequities. This will require fighting for new revenues through increased efficiencies, more equitable state and federal funding and community supported smart growth.
Spinks: As a 5th generation Richmonder in my twelfth year as a resident of the 2nd District, I know how dedicated my neighbors are to improving our community and the city at large. The issues that are important to this district surround fixing broken roads and sidewalks, creating more affordable housing, fully funding our schools, and mitigating climate change.
But it concerns me deeply when my neighbors share their experiences interacting with the city government. Residents are incredibly frustrated with the city's inefficiency and unresponsiveness and I share their frustration. That's why I will fight for a more transparent and accountable government where our residents' voices are heard, and their concerns are expeditiously addressed.
QUESTION: Do you support raising the city's real estate tax rate to fund improvements to Richmond Public Schools? Why or why not?
Jordan: No. We need more money for schools, but raising taxes during a pandemic is a non-starter. My focus will be evaluating the city's budget and operations for increased efficiency, fighting for our fair share of state and federal money (example: the per pupil funding formula gives Richmond the short end of the stick compared to our neighbors), and growing our revenues through community supported economic development.
Spinks: I'm committed to fully funding Richmond Public Schools and ensuring students, teachers, families, and staff have all the resources they need to thrive. But increasing the city's real estate taxes before exploring all the other funding options at our disposal is not the way to do it.
I believe it is incumbent upon City Council to work with the Richmond Education Association, other advocacy organizations, and the Richmond Delegation to lobby the General Assembly to explore additional funding mechanisms from the State like the diversion of revenue from state sales taxes. In addition, City Council should work with the Delegation to reevaluate the local composite index which is the formula by which State funding is determined. By exploring these and other outside funding sources we can enhance the RPS budget at no additional cost to Richmond taxpayers.
QUESTION: Do you support the use of tax dollars to build a new downtown arena? Why or why not?
Jordan: No. There are more compelling priorities. The city is approaching two upcoming years when multiple low-interest General Obligation (GO) bond issues will be paid off and there are other areas we should consider investing in over an arena.
A) School construction and deferred maintenance needs
B) Implementing Richmond 300 and the James River Master Plan which involve new public infrastructure (parks, roads, utilities) and projects like reconnecting Historic Jackson Ward and building mixed-use, city-led developments that can address housing strategies.
C) The planned museum and memorial park in Shockoe Bottom commemorating Richmond's role in the slave trade.
These opportunities would appeal to current residents and businesses, attract new development, address housing needs and grow our tax revenue. Outside of bond projects, I would advocate for increased teacher and first responder pay.
If we want improved outcomes in our public education and public safety, we must be competitive with the counties and private sectors — this issue is endemic to city departments, where we invest in training staff, then struggle to retain them.
Spinks: No. Ultimately, I view Navy Hill as an incredibly expensive lesson. In addition to the staggering amount of our tax dollars that were used to plan and promote the project, the process further corroded the public's already waning trust in the City Government.
Before we even begin to discuss another large public project, leaders must reckon with the damage that has been done to the public trust. I will take meaningful steps to repair our relationship with residents who are rightfully vigilant about the purported cost-benefit ratios of large development projects.
I believe Richmond can and should make bold investments, but the community's interests and concerns must be prioritized from day one. I'm committed to ensuring Richmonders are heard, their needs are met, and barriers to their success are lowered. Our community wants fully funded schools, repairs to our broken roads and sidewalks, an increased supply of affordable housing, and meaningful investments to mitigate climate change.
As the 2nd District representative, I will be an advocate for my hard-working constituents and that very much includes protecting tax dollars from being squandered on major investments that do not contribute to the city's well-being.
QUESTION: If elected, what legislation or policies will you propose to promote racial equity?
Jordan: Over a quarter of our residents and nearly half of all children live below the poverty line. This overwhelmingly and disproportionately affects our Black and brown communities. Richmond needs to address the racial wealth gap created by the devastating effects of redlining, over-policing and underfunded public education. I believe in the city's Office of Community Wealth Building and will continue to support its work to reduce poverty in Richmond by 40% by 2030. I will also support the following measures:
- Pursuing aggressive minority participation, training, and job opportunity goals in economic deals; Increasing real world workforce development/ training/ and apprenticeship programs; Establishing tax incentives to businesses that hire those who live in poverty or locate in these areas; Reforming the criminal justice system and reimagining public safety; Fighting for equitable funding for our schools; Investment in transportation systems and affordable housing; Implementing RVAGreen2050 and the NetZero 2050 resolution which aim to "green line" historically red-lined neighborhoods.
Spinks: I'm running to build a better Richmond where everyone has the opportunity to thrive, and promoting racial equity informs all of my policies. Housing, education, and environmental justice are the three biggest areas where public investment will not only improve the lives of marginalized communities but will also create robust avenues for generational wealth building.
QUESTION: Do you believe Mayor Levar Stoney deserves a second term? Why or why not?
Jordan: The voters will decide that in November. Whomever is elected, I will use my experience as an urban design professional, neighborhood leader, and former Richmond Public Schools parent to work collaboratively and constructively on behalf of the 2nd district.
Spinks: My focus from day one of this campaign has been earning the support of voters in the Second District and their concerns are my priority. I look forward to working on behalf of my constituents with whomever the City decides to elect in the Fall.