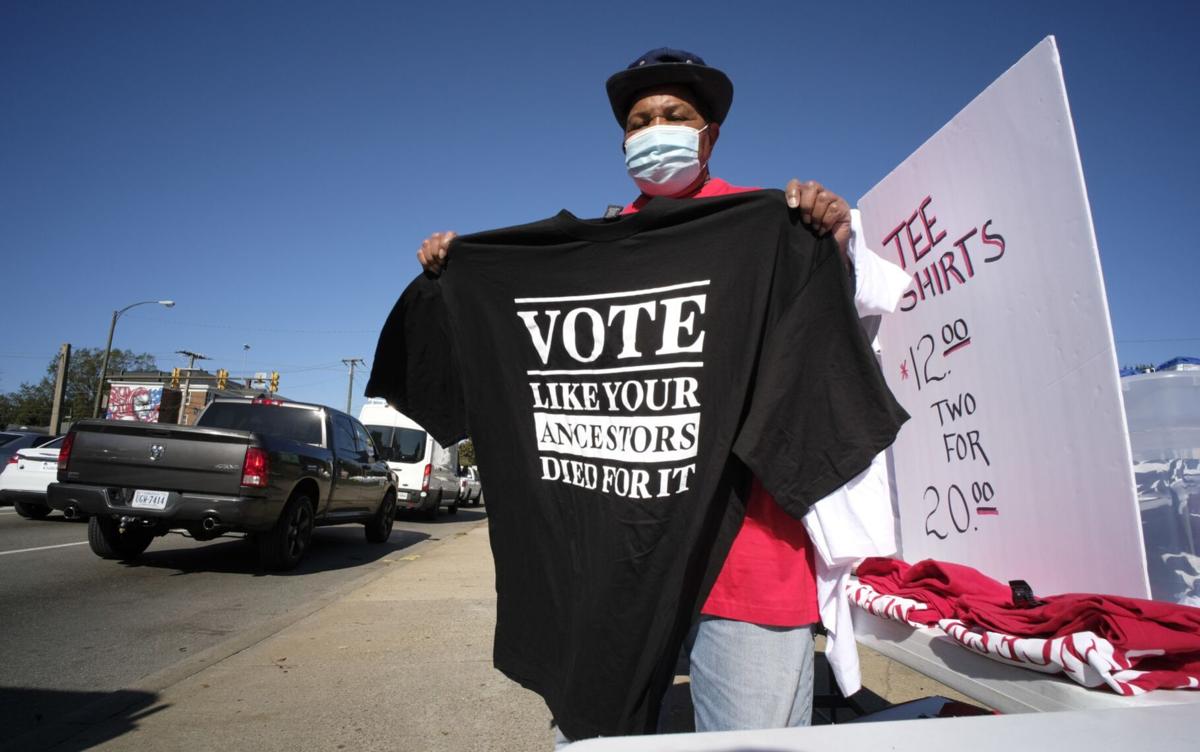 Despite the mounting frustration of local voters and politicians, Richmond officials say it's unlikely they will open any additional early voting sites until two weeks before the Nov. 2 general election.
Early voting in Virginia started Friday, including at the city's new election office on Laburnum Avenue. While the city's website said City Hall and the Hickory Hill Community Center in South Richmond would also be open for early voting, residents have been unable to cast ballots at either location.
General Registrar Keith Balmer, the city's chief of elections, and other local officials say it was a mistake to not open the other sites sooner, but the city attorney has advised that they must stick to a previously advertised plan to begin early voting at the other two locations on Oct. 17, said Electoral Board Chairman Jim Nachman.
"It does not look like we're going to be able to change anything," Nachman said in an interview.
The Electoral Board is scheduled to meet Thursday. While several officials said they planned to talk about how they can open the other voting sites sooner, Nachman said they are now more likely to discuss alternative options for the meantime, including shuttle service to the city's election office 10 miles away from the community center on East Belt Boulevard in Hickory Hill. (Shuttle service is already available from City Hall to the election office at 2134 W. Laburnum Ave.)
The alternative remedy and advice from the city attorney is unlikely to please local politicians who have been upset that their constituents will not be able to vote near their homes until next month.
The frustration comes amid a heightened national discourse over voting rights and access, which civil rights activists say must be protected and improved, particularly for communities where Black people have historically been disenfranchised.
"The right to vote is foundational to our democracy. That right is forfeit if citizens don't have the access and opportunity to make their voices heard at the polls," Richmond Mayor Levar Stoney said in a release imploring election officials to address the situation. "There are simply no valid excuses for waiting one month into the early voting period of a statewide election season before making this access available to our citizens."
The Electoral Board and voter registrar are technically independent of city government, which means the mayor is unable to control its decisions or actions.
"The mayor thinks the registrar and the board should explore every option available to see if there is a way to remedy the situation or at least provide expanded access prior to [Oct. 17th.]," Jim Nolan, the mayor's spokesperson, said in an email.
Del. Betsy Carr, D-Richmond, said in a letter to the city Electoral Board that state lawmakers last year voted to make voting easier and more convenient.
"Instead, this snafu with Hickory Hill has complicated my constituents' ability to exercise their constitutional right," Carr said in the letter. "Citizens already experience many barriers to voting — transportation, COVID-19 precautions, work, childcare, etc. — so it is disconcerting to see another voting avenue limited unnecessarily, with little public communication and at the last minute."
"Instead of simplifying and expediting voting, this has complicated it for Richmond."
The Richmond NAACP and City Councilman Michael Jones, who represents the 9th District in South Richmond, have also raised concerns about Hickory Hill not being open yet for early voting, calling on the Electoral Board and Balmer to open it as soon as possible.
"It is unacceptable that residents of Richmond's South Side should have to wait an additional 30 days to have an early voting site option accessible within a reasonable distance," Jones said. "This is a classic example of voter suppression and yet another case of disenfranchisement of our South Side communities."
In an interview Tuesday, Balmer, who was appointed as registrar by the Electoral Board last spring, said his decision to not open Hickory Hill for early voting sooner was a mistake.
Several people have noted that Hickory Hill had been open for early voting six weeks before the June primary. Balmer said he had no role in that decision, as he was appointed after the Electoral Board had made the decision with an interim registrar.
"What I didn't take into account was ... that voters would have the same expectation," he said. "I see now how changes from one election to another can affect voters."
Balmer said he decided to open the Hickory Hill and City Hall locations closer to Election Day after reviewing state election data that showed in-person voter turnout increases closer to Election Day.
Nachman said there had been recent discussions with Balmer and other election officials about making sure the satellite voting sites would also be open early. Balmer, however, said he misunderstood how soon they wanted them open.
Nachman said the city's attorney has advised that they cannot open any other satellite voting locations sooner because of legal notice requirements.
According to state code, registrars must post a public notice either online or in a newspaper with details about in-person absentee voting no later than 55 days before an election. A legal notice about early voting in the city, including details about the Oct. 17 opening date for the Hickory Hill and City Hall locations, ran in the Times-Dispatch earlier this month. The code section goes on to say that "any such notice shall remain" in the general registrar's office and on an official government website during the absentee voting period.
"I wanted to get these places up and running as soon as possible, but it may not be possible without violating the statute," Nachman said.
Balmer became the city's top election official this spring after the Electoral Board fired former longtime registrar Kirk Showalter in February. Showalter, who had been the city's voter registrar since 1995, came under fire last year after Democratic Party officials and several local candidates raised concerns about her management of the election office during the 2020 general election.
"This is a big job," Balmer said. "While I certainly know a lot, I've still got a lot to learn — so I'm going to chalk this up to growing pains."