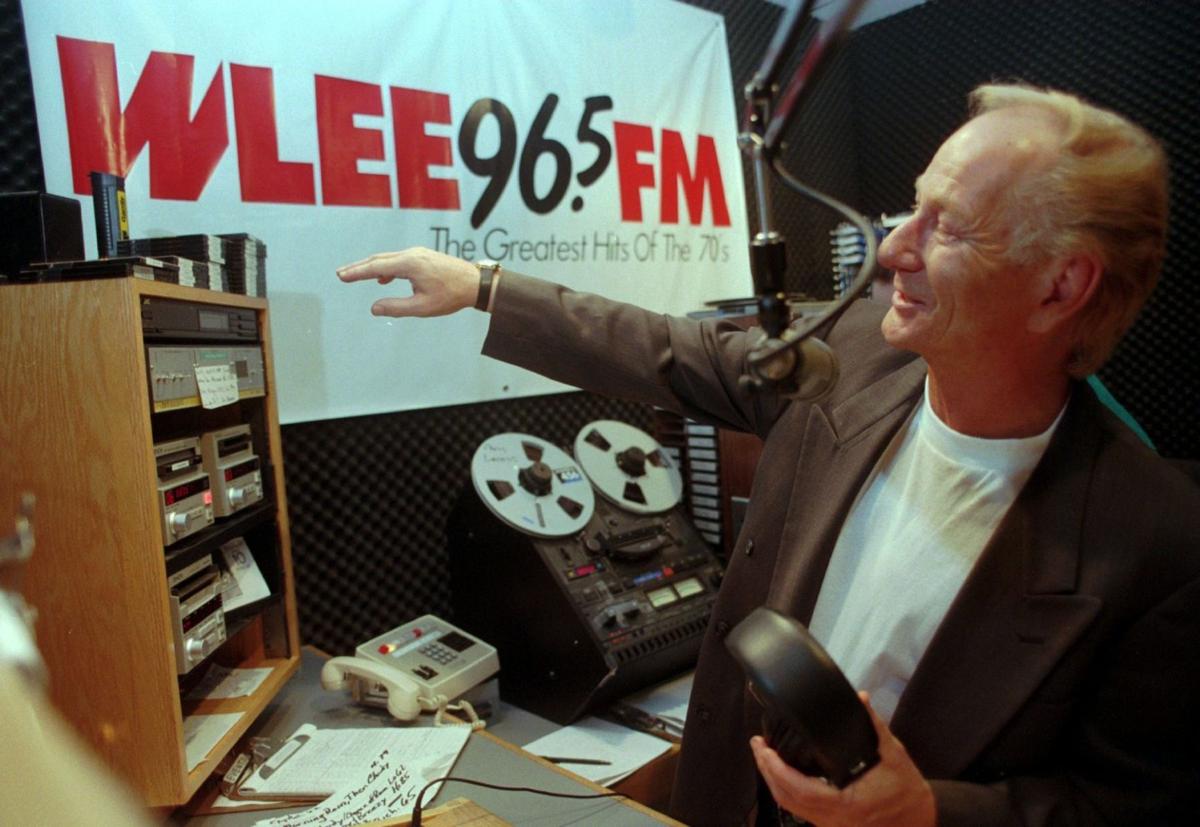 Maxwell Ronald "Shane" Gibson, the growly voiced, philosophical disc jockey who took Richmond radio by storm in the early 1970s and developed a devoted following of young listeners with his nighttime rock music show on WLEE-AM, has died at age 78.
Gibson left Richmond in 1973 for the airwaves of Buffalo, N.Y., where he became known as "The Cosmic Cowboy" and even dabbled in politics. Gibson, who worked radio gigs all over America, earned Billboard magazine's disk jockey of the year honors and induction into the Buffalo Broadcasters Association Hall of Fame.
He wound up back in Richmond in the 1990s for a brief return to radio before working as a golf instructor.
He was residing in Henrico County at the time of his death on Monday.
Gibson was described as a "true Richmond radio legend," said Randy Scott, former program manager and on-air personality at WLEE-AM, who hired Gibson.
"We were looking for someone different who could enhance our evening audience ratings, who went beyond the usual disc jockey patter and would stand out," said Scott, who featured Gibson in a 2017 documentary, "Remembering WLEE 1480 AM," now on YouTube. "Turned out to be my best hire. Shane was a self-described maverick who attracted the largest evening audience in WLEE's history with his unusual style.
"To this day, he and Harvey Hudson are the most remembered names in the station's long history."
Gibson, who dubbed himself on-air as "Shane Brother Shane," had an "innate ability to connect with his audience," said Doug Riddell, who worked in local radio in the early '70s.
"There was a mystique about Shane that conveyed a sense of empathy for his followers — they were far more than listeners," Riddell wrote on his Facebook page. "He was one of them. He wasn't like all of the other glib, time and temperature disc jockeys. He related to them. He was their guy. That was Shane Gibson's gift."
According to his biography on the Buffalo Broadcasters Association Hall of Fame website, Gibson began his radio career in 1962 in Los Angeles, moved after a year to Montana where he worked for several stations across the state, then crisscrossed the country for jobs in North Carolina, Washington state and Utah before his stint in Richmond.
In Buffalo, according to a story in the Buffalo News, he worked on Buffalo radio at several stations during the 1970s and 1980s. A 1980 profile in the paper cited his "deep wacky voice doing its thing between songs, sounding as if it will break into a torrent of maniacal laughter at any moment."
After he left radio in the late 1980s, he ran his own advertising agency and entered the political arena, according to the Buffalo News obituary, "putting on a coat and tie and keeping his signature black cowboy boots."
He was the endorsed Republican and Conservative candidate for Buffalo Common Council in 1990 and 1991, according to the newspaper, losing both times to Democratic incumbent. In his second campaign, he garnered 46% of the vote in a district where Democrats outnumbered Republicans three to one.
Besides his foray into politics, according to the newspaper, Gibson also raced his Chevrolet Chevelle, nicknamed the WYSL Missile (after one of the stations where he worked), rode a motorcycle off an 85-foot cliff and leaped through a wall of flame.
After his return to radio in Richmond in 1995 at WLEE-FM lasted less than a year, Gibson turned to golf and a few years later became a PGA teaching pro at Glenwood Golf Club in eastern Henrico.
"I had always played golf like the recreational version," Gibson said in a 2004 interview with the Richmond Times-Dispatch. ""You can credit the Buffalo Sabres [of the NHL] for getting me interested in golf more seriously. When I was working in Buffalo, they got me to play in a golf tournament. I hit some bad shots, but then I hit some pretty good shots. I got to thinking about what if I applied myself."
He eventually dedicated himself to golf, he said, playing 54 holes a day in all kinds of weather, though he never forgot his past.
"I will always be the King of Rock 'n' Roll," he said of his disc jockey days to the late sportswriter Vic Fulp.
Gibson is survived by his spouse, Kimberly Perry; three children and four grandchildren. Services will be private.