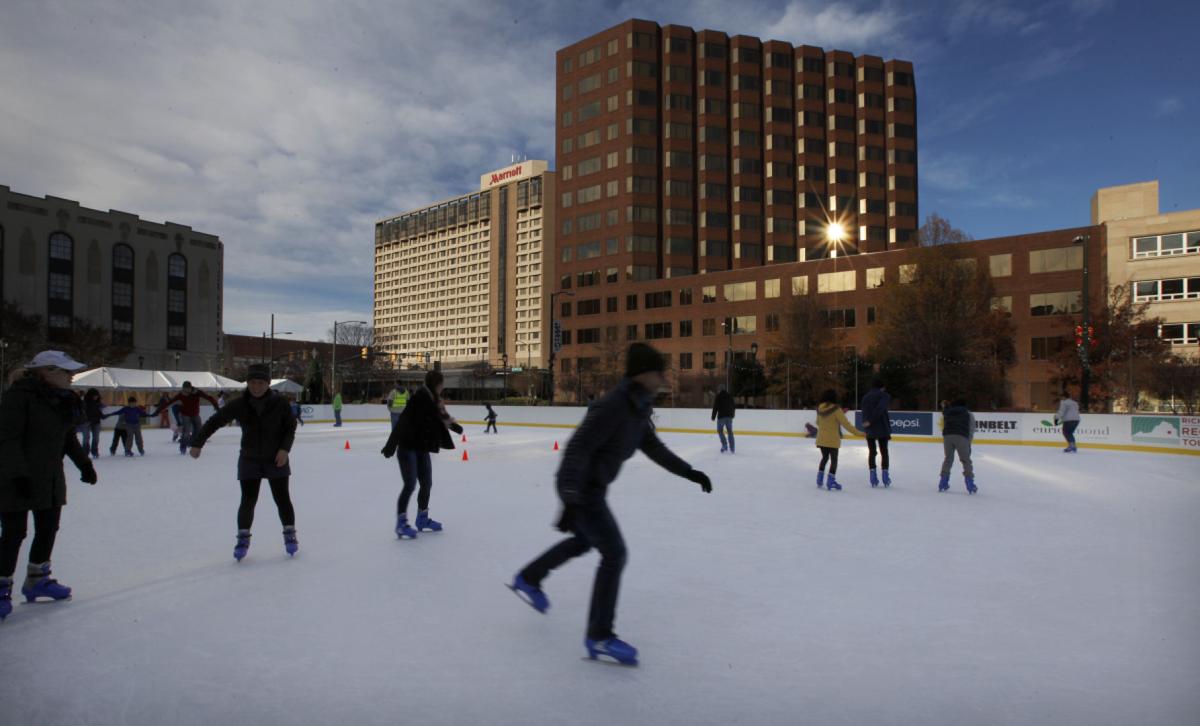 Claire Davis, 15, held on to the side of the ice rink as she carefully skated forward.
Her mom, Sonia Davis, shouted from outside the rink that standing up straight will help her balance.
Claire's cousin, Dylan Kropp, 11, swiftly skated to her aid, took her hands and gently pulled her away from the side of the rink.
Claire and Dylan were the first visitors Friday on opening day at RVA on Ice, the seasonal ice rink at Sixth and East Broad streets downtown. The rink is scheduled to be open until Jan. 4.
The rink first opened in 2010 and is managed by SMG Richmond. This season's opening day drew visitors from across the area and out of state.
Claire, who traveled with her family from Chapel Hill, N.C., to visit relatives in Richmond for the holidays, said it was the first time she had been to an outdoor rink. She and her family had been staying at the Hilton Garden Inn on the next block.
"We just came and asked if it was open," Claire said.
Davis said Dylan had wanted to do something fun and athletic for his 11th birthday.
"This is much more fun than the museums," she said.
Mabel Kropp, meantime, stood outside the rink and watched her son skate effortlessly.
"I don't dare put the skates on," she joked.
Christmas music played as skaters circled the rink. A fire pit made of stone bricks attracted parents and children who wanted to warm up.
George Kushner and a friend's son, Khonyah Smith, 10, of Richmond huddled by the fire with their hands wrapped around cups of hot chocolate, taking a break from skating.
Kushner drove from his home in King William County to take Khonyah to the rink. Khonyah said he fell only three times.
Peter Zetts of Richmond took his 6-year-old daughter, Saige, to the rink Friday. He said he has seen the rink in years past, but this is the first time he has visited RVA on Ice.
Zetts said he has not skated much, but his daughter is a rollerblader.
"She's going to be holding me up," he said.
(804) 649-6580
Twitter: @Chuang2012