In the early morning hours Wednesday, members of the Virginia Department of General Services combed through the grassy area around the Robert E. Lee statue on Monument Avenue and confiscated the tents, books and a broken basketball hoop that had been left there for the past week.
But crews let a large forest green sign on the western corner of the grounds remain undisturbed. It reads "Welcome to Beautiful Marcus-David Peters Circle, Liberated by the People MMXX."
Maybe officials left the sign because of its size and weight — it's nearly 8 feet long and anchored in the ground with wooden posts.
Or maybe it's because of the widespread acceptance the name has gained among visitors in the past month for the area that has become Richmond's hub for protests against racial prejudice.
"Our crews went in after law enforcement cleared the property and worked in darkness to quickly remove the items we had requested people not place on the grounds," said Dena Potter, spokesperson for the DGS. "The signs and memorials were left in place, at this time."
Protest organizers have unofficially renamed the grassy area around the statue for Marcus-David Peters, a Black man who lost his life in 2018 when he was shot by a police officer.
Peters' sister, Princess Blanding, said she loves the idea of naming the circle for her brother because of how organically it came about.
"I love it, and the reason why I do is the family had no idea this was going to happen," Blanding said. "We love it so much because it was done by the community."
The commonwealth owns the land around the statue and gets the final say if Peters' name will be officially adopted. Gov. Ralph Northam has pledged to take down the Lee statue, but the effort to do so is locked in a legal battle that could take months to settle. A spokesperson for the governor said Northam hasn't made a decision on whether to publicly adopt the new title.
"He is looking forward to discussions about how to make the area more welcoming, inclusive and representative of Virginia," said Alena Yarmosky, the governor's press secretary.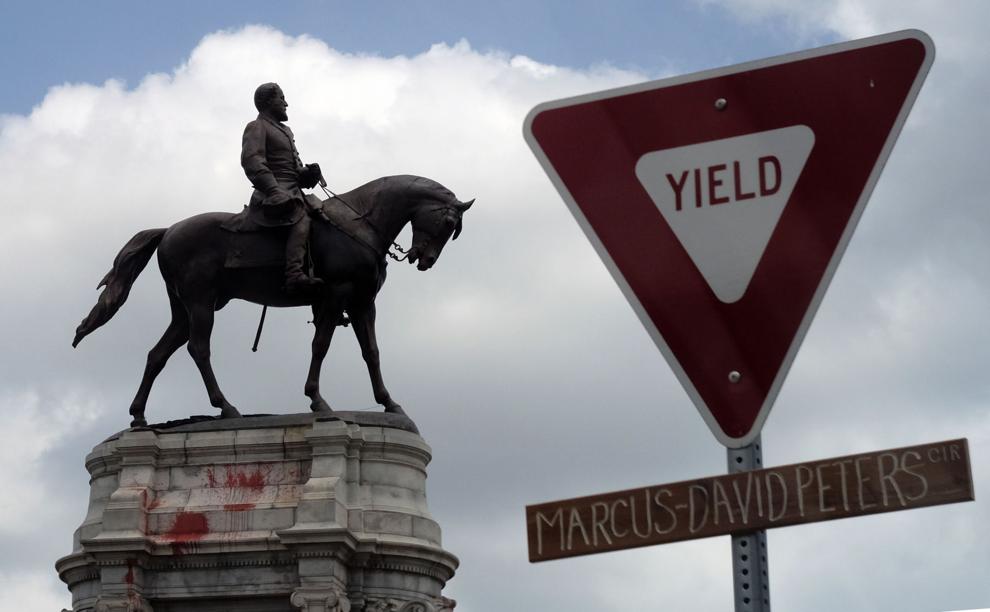 Griffin Green, who lives in the Richmond area and visited the statue last weekend, spent several seconds gazing at the sign. He didn't immediately recognize the name Marcus-David Peters, but he was familiar with the man's story once he was told.
Peters, a biology teacher at Essex High School, was experiencing a mental health crisis when he was seen unclothed and unarmed, running onto Interstate 95/64 in downtown Richmond, where he was hit by a car and then rolled on the pavement. His psychological state was later described by his family's lawyer as "excited delirium."
When Peters stood up, lunged at and threatened to kill an officer, the officer unsuccessfully attempted to use his Taser on Peters before shooting him twice in the abdomen. Peters died later that day at VCU Medical Center. Blanding has said repeatedly that her brother needed help, not death. Michael Herring, the city's commonwealth's attorney at the time, ruled the officer's action a justified shooting.
Richmond Mayor Levar Stoney now supports a "Marcus Alert," which would require mental health professionals to be first responders to a mental health crisis, not police officers, who would serve as backups.
In early June, about a week after George Floyd died in police custody in Minneapolis, the first sign appeared near the Lee statue. It was small, written on white plastic, stuck into the ground with wires and read "Welcome To Marcus-David Peters Circle."
There was later a second white sign in purple ink and red hearts and then a larger green professional-looking sign. But it didn't last long. It was removed and soon replaced by the sign that stands there today.
It looks similar to the work of a certain local sign maker, multiple individuals have said. But when the man was contacted by The Times-Dispatch, he declined to say if the work was his. Earlier this week, purple, red and white violas were planted around the sign's base.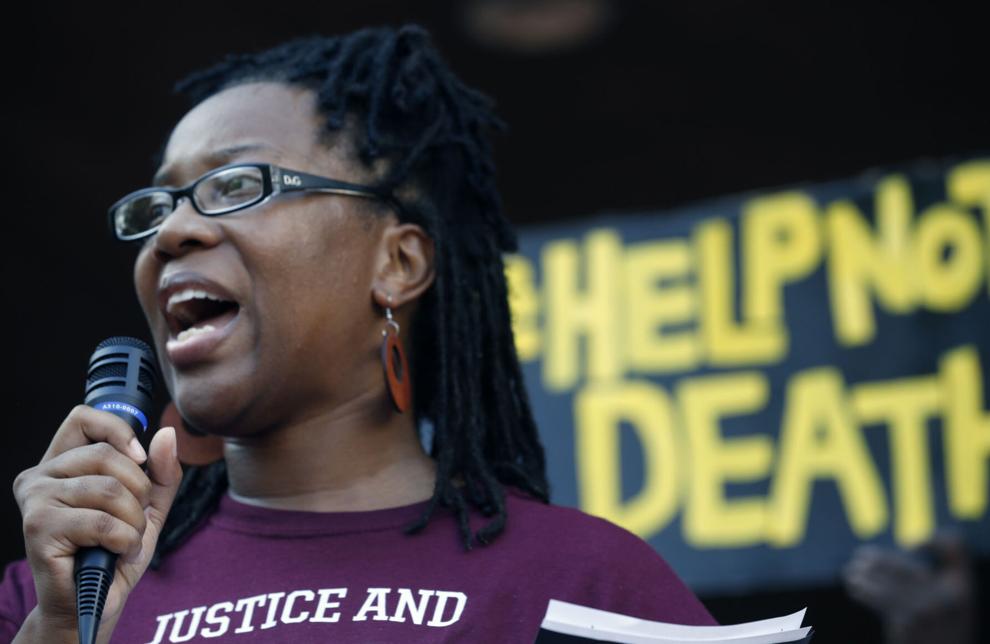 Because many still do not know Peters' name, his uncle, Jeffery Peters, comes to the Lee statue nearly every day and places a large photo of Marcus on the ground leaning against the statue. In the photo, Marcus is smiling, his head shaved, a black beard wrapping under his chin.
Next to the photo is a white sign that says "My Name Is Marcus-David Peters" and tells the man's story in four dense paragraphs, written in the first person.
"This October, I should be turning 27 years old," the story begins. "I miss my family, I miss laughing and playing with my nieces and nephews, I miss cracking my corny jokes," it continues.
Blanding has asked that her brother's case be reopened. To her, it doesn't add up: How can her brother's death spur a potential remodeling of how mental health crises are addressed and still be considered justified? she asks.
"We can't bring Marcus back. We know that," Blanding said. "But we can fight for a better tomorrow for everybody."
PHOTOS: Protesters March VCU for fatal shooting
Protesters came together, June 22, at VCU Compass to speak and march to the presidents office to honor and protest against the university silence on the fatal police shooting of graduate Marcus-David Peters. Peters graduated in 2016 with honors and worked as a resident assistant at VCU.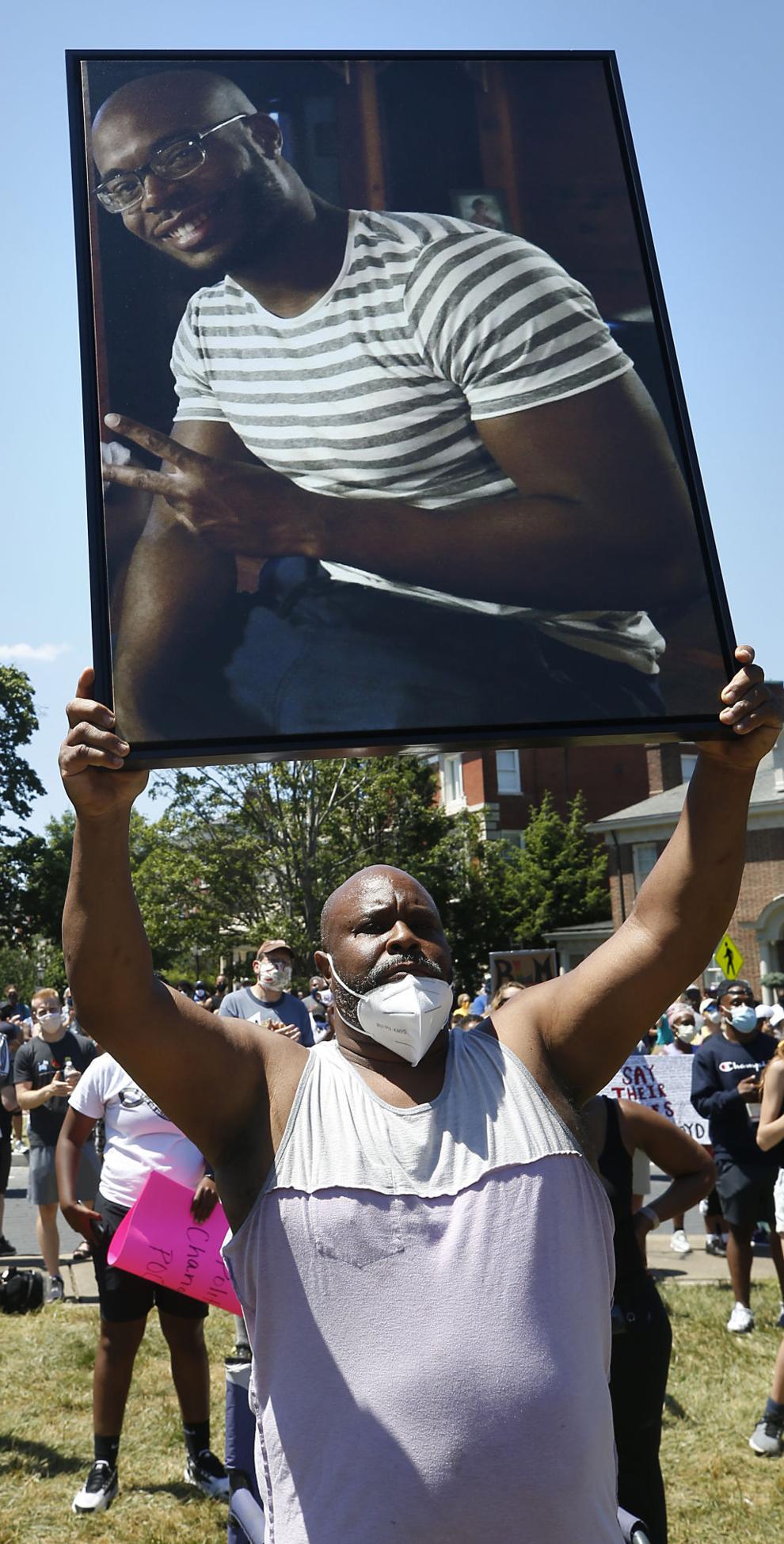 PHOTOS: March for Marcus-David Peters
Staff writer Ali Sullivan contributed to this report.