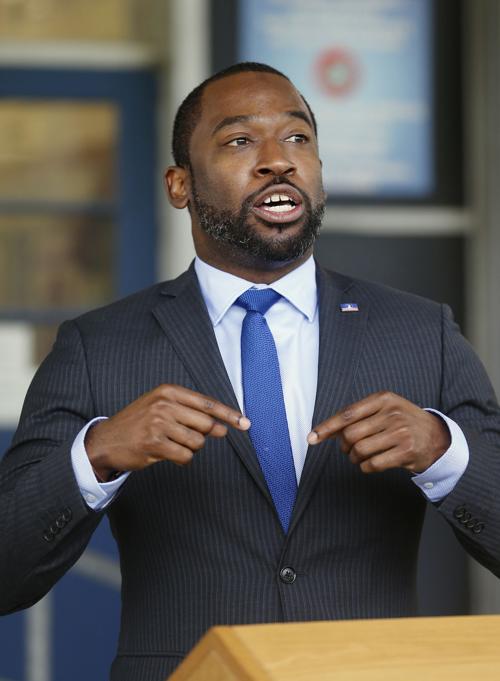 On Monday, Richmond Mayor Levar Stoney will outline his spending plan for the $77 million federal aid package the city received last spring to assist its recovery from the COVID-19 pandemic.
The mayor declined to share details about the special budget in a news conference Thursday, but said it will reflect his administration's priorities, Richmond City Council requests and the views of recent survey respondents, the majority of whom said the city should focus on housing supports, public health, child care, city parks and clean water.
"It's vital for the administration and council that we incorporate these rescue priorities into our proposed spending plan," said Peter Breil, director of the city's Department of Citizen Service and Response, which conducted the survey earlier this summer.
Out of the nearly 2,000 people who answered the survey, which was conducted online and at public events from July 27 to Aug. 9, 78% said they live in the city. About a quarter of all respondents said they had suffered a job loss, loss of income, reduced hours or some other employment challenge. (The results of the survey can be found online at rva.gov/arp.)
The $77 million is half of what the city is slated to get under the American Rescue Plan Act that President Joe Biden signed earlier this year.
"We asked what you want to do with this money because we wanted to understand your priorities, how the pandemic has affected you, and what you would like to see us build back better," Stoney said in Thursday's news conference. "We're using these funds to create a draft spending plan, which I look forward to presenting to the Richmond City Council at their informal meeting next Monday."
The first allotment arrived in May, just as the City Council finalized a $772.8 million annual budget for the year that began on July 1. The legislative body and administration officials, however, decided not to incorporate the aid into the budget, choosing instead to create a special budget later to decide how the money should be spent.
The council has remained divided since then on a resolution to earmark approximately $30 million for public housing redevelopment, homeless services, improvements to the Southside Community Center and a few other projects.
Seeking to break the impasse, council members recently submitted funding requests totaling $355.8 million for consideration by the mayor and the council body. The total of all the requests is $355.8 million.
Some of the proposed items include:
$5.5 million for a 10% bonus for "frontline" public safety employees;
$7.7 million to establish the Health Equity Trust Fund;
$16 million to cover budgeted city expenses in case of revenue losses due to COVID;
$7 million for the Economic Development Office for business recovery supports;
$8 million for transitional and homeless housing;
$3 million or $8 million for workforce development programs;
$1.5 million for structural repairs in Forest Hill Park; and
$15 million for the Southside Community Center.
At Thursday's news conference, Stoney said he has recently met with each council member to talk about their individual priorities and to discuss his ideas.
"We hope that ... we can essentially find a true consensus on our spending priorities as a city," he said.
In a phone interview after the news conference, 9th District Councilman Michael Jones said he was pleased after his discussion with Stoney, noting that the mayor had said he plans to invest $10 million in the city's Affordable Housing Trust Fund.
Jones, who was out of town Thursday, said he did not remember what other plans the mayor had shown him.
"The mayor is committed to equity and investing in neighborhoods and communities that have historically been divested from," he said. "He seems supportive of that perspective."
Jones said the council has yet to collectively review all of the funding requests that members submitted earlier this month, but said he expects the legislative body will continue to consider those alongside the mayor's spending plan in the weeks to come.