James Anderson, 43, has been out of work since April of last year. Two months ago, the unemployment checks abruptly stopped coming and he has no idea why. When he contacts the unemployment office to ask, no one picks up.
He has two children, ages 8 and 10. He's two-and-a-half months behind on his rent, three months behind on his utilities, and his bank account is overdrawn.
"I'm so behind on bills, I feel sick," Anderson said. The web designer and SEO specialist lost his job when his contract with a Norfolk construction company was canceled due to the pandemic. He has a cellphone with limited minutes that he saves to contact the Virginia Employment Commission. But when he calls, he can't get through to a live person. "I'm worried there is something wrong with my claim because I haven't received anything."
Nearly 1.5 million Virginians have filed for unemployment benefits since the start of the pandemic and more than $10.9 billion has been paid in claims since March 15, according to the VEC. But many are still waiting for relief.
In Virginia, where the state unemployment office has been overwhelmed by the unprecedented spike in claims and phone calls, Anderson's experience has become the norm. Even with eight times as many people answering phones in the call center as a year ago, the agency answered only one in three of the 397,463 calls it received over the course of one week this month.
At the beginning of the pandemic in April, 464,883 Virginians had filed for unemployment benefits. By June, that number had doubled to roughly 822,300 initial jobless claims. For the week ending Feb. 20, 1,469,655 Virginians have filed unemployment claims.
"That's more claims than we've had in the past 10 years," said Joyce Fogg, a spokeswoman for the VEC. "It was mind-boggling. We didn't have the staff at that point."
Before the pandemic, the VEC had 82 people in its call centers. Now, almost a year later, it has 157 staffers in its call centers, plus 520 contractors for a total of 677 staffers in the VEC call centers. But it's still not enough.
Issues with filing and the agency's ability to keep up with the demand have been apparent throughout the pandemic. At the start of April, Gov. Ralph Northam acknowledged that the VEC's website was strained and claimants were having issues filing. He pledged to upgrade the website, expand server capacity and boost call center staff by 20%.
But problems continued, and the persistent complaint from Virginians trying to file claims was that it was impossible to reach anyone at the agency.
By July, that message reached politicians. More than 40 state legislators urged the VEC to "modernize and streamline" its processes in a letter signed by 34 members of the House of Delegates and nine state senators. The letter, sent to VEC Commissioner Ellen Marie Hess that month, said they had heard from more than 10,000 of their constituents about delays in unemployment claims.
U.S. Rep. A. Donald McEachin had sent a similar letter the week before.
Summer turned to fall and, in October, Virginia Mercury was the first to report that the state ranked worst in the nation for quickly processing claims that require a staff review. A month later, the Legal Aid Justice Center, Legal Aid Works, the Virginia Poverty Law Center and other pro bono partners sent a letter to the VEC asking it to fix the problems or face a class action lawsuit.
December finally brought some relief for people waiting in the backlog as the state began paying unemployment benefits to some of the tens of thousands of people whose claims had previously been on hold — in some cases for many months — because they were awaiting a staff review.
But issues with reaching someone at VEC by phone — and issues with the website — continued. And there were other issues, too. Virginia was one of the last states in the country to begin paying expanded benefits. The agency admitted to accidentally overpaying 35,000 workers early in the pandemic and this month was named in a complaint for accidentally paying out more than $40 million in unemployment funds to people who submitted claims on behalf of prison inmates.
So far this year, the state continues to rank among the lowest in the nation for quickly processing claims that require a staff review. It moved from last, to second to last.
"The communication system of the Virginia Employment Commission is broken," said John Polisar, who has been out of work for nearly six months and unable to get in touch with the VEC during that time, in an email.
Polisar, who lives in Northern Virginia, drove to Fredericksburg in the fall to finish his unemployment application at an open VEC office because he was having issues with the website and couldn't reach anyone by phone.
"(T)he system is one where one — literally — cannot get to a human, to a person. It's broken in a time of statewide need, and the situation needs an appraisal and rectification ... [This] is a tragedy, people waiting months, half a year, longer for benefits — and they — cannot connect."
Five months later, he is still waiting to hear if he will receive benefits.
Thomas Nixon, 58, said he was fired from his job as a maintenance technician in Richmond in December after he said he complained about being harassed on the job by another co-worker.
He filed for unemployment, received a letter that he would be receiving benefits in the amount of $385 per week, but then, nothing happened. No money came in. He called the VEC, but he couldn't get through. He tried to find a VEC office where he could speak to someone in person, but both VEC offices in Richmond on Broad Street and Cary Street are currently closed and have been through most of the pandemic.
He headed to Chesterfield County to a Virginia Career Works center on Turner Road where dozens of out-of-work Virginians have been lining up on Tuesdays and Thursdays to talk to a live person. Nixon waited his turn in line but when he got inside, he wasn't able to talk to someone face to face. Instead, there were three telephones where he could wait his turn to talk to a live person.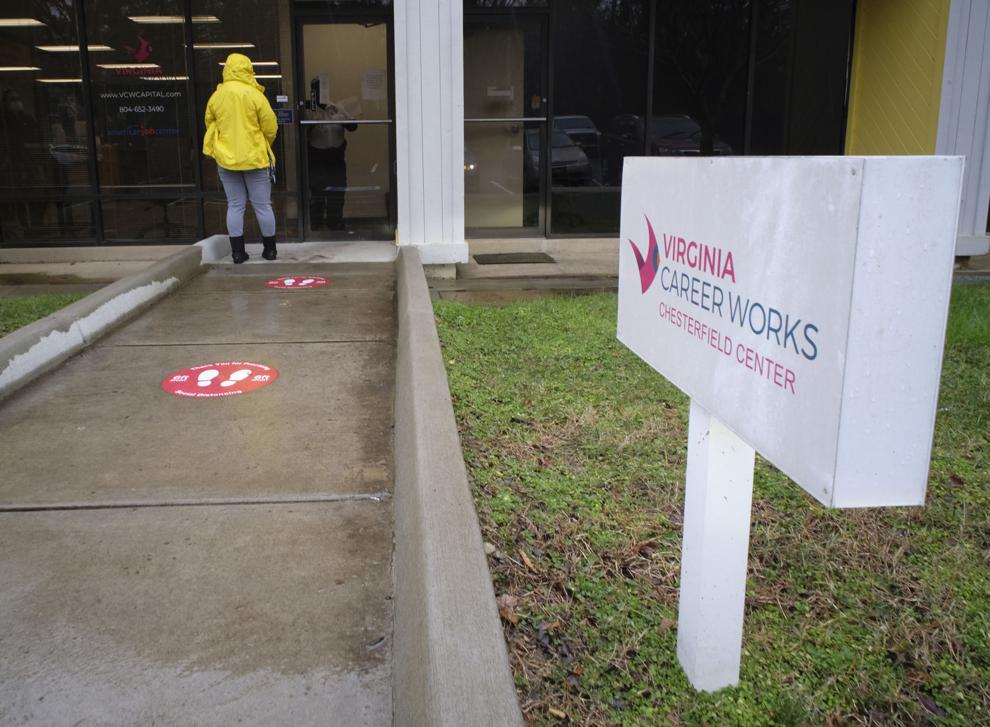 He found out his claim was being reviewed and that he had to wait for a letter from the VEC before he would receive any benefits.
Since it was reported in the fall that a backlog of 70,000 to 80,000 cases were awaiting review, the VEC has been working frantically to reduce that number. The backlog is now down to 8,000 cases.
Nixon is still waiting to hear from the VEC. In the meantime, he's living out of his truck.
He stops by his goddaughter's place to take a shower and sometimes sleeps in a friend's garage for a night or two. He's trying to find a job, but it's difficult not having a permanent place to stay. Meanwhile, he waits for word about his benefits.
"It's hard. I've been working all my life," Nixon said. "I'm trying to get unemployment. But it's not as easy as it looks."
From February to December last year in the Richmond area, the number of people in the workforce dropped about 5%, which is roughly 35,500 people, according to the U.S. Bureau of Labor Statistics. Statewide in Virginia, the seasonally adjusted labor force was down 3.9%, or 173,618 people, for the same time period.
"That is about the lowest level we've seen in the Richmond area since 2016," said Patrick Clapp, a local economist with Chmura Economics & Analytics.
On Friday, a new VEC call center opened in Grundy in the southwestern part of the state. The 44,000-square-foot call center joins two other existing call centers: another in Grundy and one in South Boston.
Improvements have also been made to the VEC's website at vec.virginia.gov and an app was launched in the fall at getgov2go.com to make it easier to file a claim. But thousands are still experiencing problems filing claims.
It's so difficult to get in touch with unemployment offices that Reddit has become "America's unofficial unemployment hotline," according to a recent story in The New York Times. The lively thread sees daily posts from Virginians asking advice and offering tips and strategies from people trying to get in touch with their unemployment office.
"We are very concerned about serious problems that remain in Virginia's unemployment system," said Pat Levy-Lavelle, an attorney with the Legal Aid Justice Center, via email. "Claimants often have tremendous difficulty getting information about their cases. Some people who we expected would have gotten resumed payments are still waiting. And many people are waiting long periods of time for issues on their cases to be adjudicated.
"In the meantime, bills are piling up, and families across Virginia are suffering badly."
The budget for the VEC fiscal year 2020 was $5.6 billion. For fiscal 2021, it's been raised to $7.2 billion. The VEC itself has 1,620 employees.
But according to former House Speaker Kirk Cox, R-Colonial Heights, raising the budget won't fix the chronic problems at the VEC. Along with other Chesterfield officials, he sent a letter to Gov. Northam last spring expressing his concerns, followed by a phone call to the VEC commissioner.
"We were told, 'We'll work on it.' But now we're in February and it's gotten no better," he said.
"They've had 8 to 10 months to come up with a system to get back with people," he said. "If they can't even call people back after three to four months, you've got some real systemic problems in the way the agency is run."
Northam's office said it's working on the issue with funds carved out in the latest budget to address technological and staffing needs at the VEC.
"Due to historically low unemployment over the past several years, Virginia's system simply wasn't equipped to handle the flood of claims we received at the start of this pandemic," said Northam spokeswoman Alena Yarmosky in a statement. "The Virginia Employment Commission has paid over $10 billion to working Virginians, but it's clear there's much more work to do. That's why Governor Northam proposed $15 million in his budget for new technology and customer service staff at the VEC — this will go a long way towards modernizing the system and ensuring Virginians can quickly and efficiently get the support they need."
Lester Baccus, 55, is a privately employed social worker in Richmond whose income has drastically dropped due to the pandemic and loss of business. He applied for pandemic unemployment assistance, a program aimed at helping self-employed and gig workers, but hasn't received any benefits.
When he calls the VEC to try to find out what's going on, his calls won't go through.
The federal government also extended a Pandemic Extended Unemployment Compensation program offering up to 11 additional weeks of benefits for Virginians whose benefits ran out. The VEC has issued payments for 66,000 such claims. The PUA program has been extended through March 14.
But according to a study by The Century Foundation, about 10.6 million people will lose their benefits by mid-April and won't qualify for more aid through other programs.
The House approved a $1.9 trillion pandemic relief bill that was championed by President Joe Biden. The measure — which would extend and enhance jobless benefits through Aug. 29, including a $400-a-week boost to benefits, up from the current $300 — now moves to the Senate.
But in the meantime, out-of-work Virginians struggle to get their checks.
"I'm on the verge of eviction," Baccus said. "It has really been a trying time. Virginia is poor when it comes to unemployment, and so many people are suffering."
(804) 649-6151
Twitter: @collcurran
Staff writers Karri Peifer and John Ramsey contributed to this report.