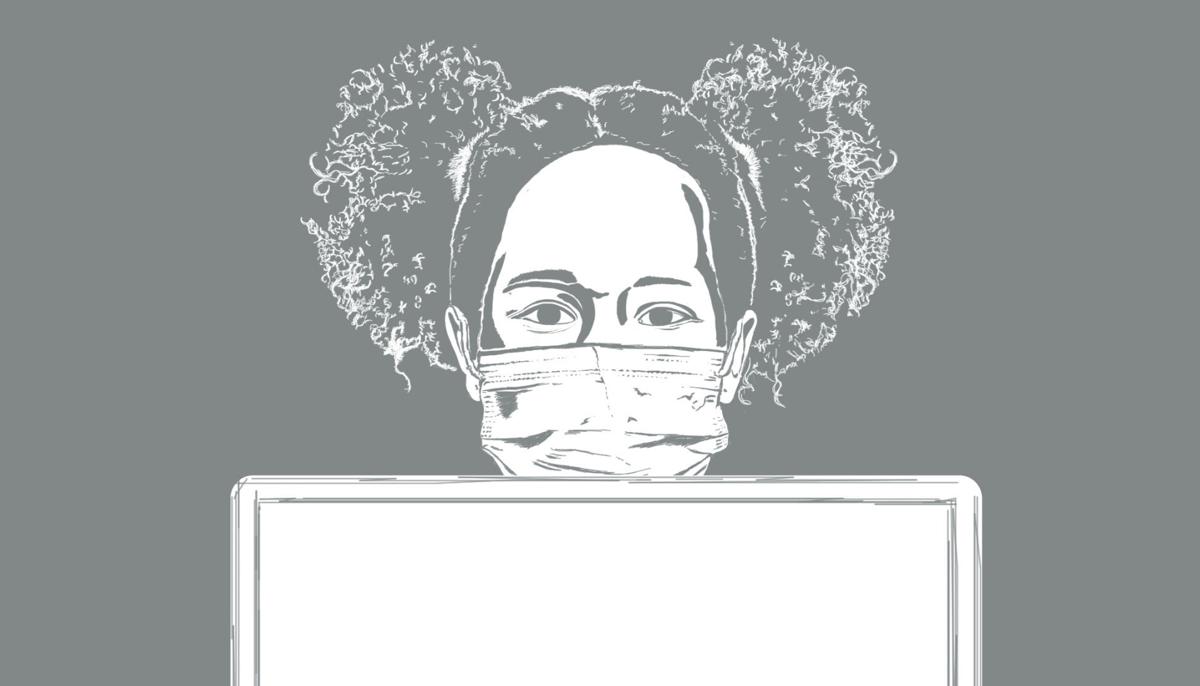 The five words were strung together in group chats on school-issued laptops. Emails. Homework assignments. Repeatedly, the monitoring system alerted administrators of the chilling digital trail Richmond Public Schools students were leaving behind in virtual learning.
Then, came six words, flagged at least once.
"I have access to a gun."
Since the outbreak, depression and anxiety have run rampant across the U.S., with an August Centers for Disease Control and Prevention study indicating that 1 in 4 young adults have seriously considered suicide in the past 30 days. Black and Latino respondents were at least twice as likely than any other group to report the same.
Now Richmond — a city with a nearly 21,000-student school system that's 76.4% Black or Latino — is seeing an alarming surge among kids that childhood trauma experts fear an already cracked and underfunded mental health system is not equipped to handle.
"If you had asked me 18 months ago [before the pandemic], I would have been more clear cut," said Angela Jones, RPS' director of student and family services on what grades are seeing the most reports of self-harm and suicidal ideation.
"Most people might have said 'I expect to hear that out of high school.' We're seeing it in very young ages. … We have a population of very young kids expressing some scary things about wanting to harm themselves."
The Richmond school system said it doesn't track the specific number of instances self-harm is mentioned, but that anecdotally there's been an increase.
Jones said teachers, parents and students' writing assignments have also identified recurring expressions of depression, grief and anger as children's access to friends is continually limited — feelings only heightened after the killing of George Floyd, when RPS students saw the faces of Black lives lost to violence projected across hundreds of cities and thought of their own communities.
"Where was the rage for us?" they'd ask Jones.
For Richmond kids, the emotional toll of isolation, constant fear and loss students are experiencing is coupled with a pandemic that's swept through Black and Latino families at disproportionately high rates, spiking hospitalizations and forcing funeral arrangements.
In Richmond alone, Black and Latino residents are nearly 85% of COVID hospitalizations. Across the country, they're three times as likely to be infected as their white peers.
Meanwhile, many of their parents are on the frontlines as cleaning staff, construction workers and child care providers, risking their health to support their families.
In August, gunshots rang out roughly every 18 hours in Richmond — the city's deadliest month since 2017. Then came September, when students sat in what space they had, turned their computers on for virtual school, and silently carried the weight.
"It is deeper for our kids who are seeing things happen every day that aren't making the news, or they're losing friends or losing family members," Jones said. "They're scared of having to make a choice between joining the friction or going against it."
The pandemic layered the trauma where trauma was already most severe, said Robert Bolling.
As CEO of ChildSavers, a nonprofit that focuses on trauma-informed therapy for children in low-income areas and whose patient population for school-based services is 91% Black, Bolling knew what they were up against — the invisible toll kids would have to bear.
"We are dealing with children who had, by the time they turned 9 years old, experienced significant traumatic events in their lives," Bolling said, noting that many of these include poverty, neglect, abuse, sexual assault or witnessing violence. "Toxic trauma happens when a kid experiences that four times in their lives. Our children average six."
In 2018-19 data from the National Survey of Children's Health, nearly 61% of Black or Latino children in Virginia experienced at least one of these traumatic events. That was 1.2 times the national average for the same groups.
The lingering effect of childhood trauma can fuel substance abuse, chronic illnesses such as heart disease or cancer, and early death, according to the National Child Traumatic Stress Network — a pattern the pandemic threatens to worsen.
In recent weeks, Dr. Danny Avula, director of Richmond and Henrico Health Districts, said he's seen at least eight teenagers hospitalized after a suicide attempt while working overnight shifts at a local hospital. They were awaiting bed placement at Virginia Treatment Center for Children or Tucker psychiatric facilities in Richmond.
"The heartbreaking part of that is that every psychiatric facility for kids in the state of Virginia was full," Avula said. "There was just nowhere."
Nationwide, children with thoughts of self-harm are waiting days in emergency rooms because there aren't enough psychiatric beds, according to a recent Associated Press report.
In Virginia, the state is faced with a critical shortage of behavioral health workers for children that predates the pandemic, and while private facilities exist, there's only one state-run psychiatric hospital for kids, which has 48 beds and is located in Staunton.
Since 2016, ChildSavers has joined forces with RPS to help with efforts that continue to lag far behind statewide: addressing the cycle of trauma and poverty that interrupt student lives in neighborhoods like those in Richmond's East End.
Once schools went virtual, a shift Bolling said left many students' "safe place" in jeopardy, the partnership expanded with $500,000 of federal COVID-19 relief aid to Boushall Middle, Carver Elementary and Blackwell Elementary, widening access to mental health services for Latino students in South Richmond and bringing the total number of RPS schools the nonprofit helps to 10.
In October, ChildSavers was averaging 18 referrals per week — a need that increased their waitlist to nearly 100 kids by November.
The nonprofit provides frequent one-on-one virtual therapy sessions — sometimes two to three times a week. It boosts training for teachers and administrators to help distinguish when behavior is driven by trauma, since depressive symptoms can result in acting out, has immediate crisis response teams and uses technology such as "Minecraft" or creates YouTube playlists that serve as therapeutic work for younger kids.
Like adults, children are complex, said Kristin Lennox, a ChildSavers school-based therapist and bilingual clinical social worker. In sessions, students process what that means with statements such as:
There's a worry monster that sits on my shoulder.
Sometimes my stomach is really heavy, like I'm about to throw up.
I don't know how I'm meant to succeed in a world like this.
"It's really challenging to learn when you're constantly worried about your safety," Lennox said, noting that being unsuccessful in virtual learning has seared students' self-esteem.
"And it's not because the schools aren't doing what they need to do or the teachers aren't doing what they need to do. It's the lack of socio-emotional contact. … It's the safety of their communities, the safety of their family."
Though nine months in, data regarding the pandemic's impact on children is staggeringly scarce.
RPS worked to mitigate the hole left in losing school meals by distributing food to families using its bus fleet, efforts that continue nine months into the virus.
The city's public school system also partners with Richmond Behavioral Health Authority, which provides crisis response and mental health services; Greater Richmond SCAN, whose mission is to prevent child abuse and neglect; family liaisons; and a combination of psychologists, social workers, violence-prevention specialists and on-the-ground guidance counselors.
Superintendent Jason Kamras' RPS Direct Newsletters also link to resources in the area almost daily. But it's tough without students walking into school every day, Jones said.
"We can't see what we can't see," she said.
This came after students publicly shared the trauma of having SROs at RPS, where School Board data showed the majority of arrests in the 2019-20 year occurred in schools like MLK Middle, Huguenot High School and Boushall Middle. Its student populations average to about 95% Black or Latino.
As of this week, no decision has been made.
But the need for mental health services is intensifying, and experts say access for Black and Latino families is increasingly difficult due to long standing barriers: stigma, mistrust in the health care system, language, cultural competency, and insurance.
The fall General Assembly special session restored a portion of the budget — roughly $74 million — to expand the state's mental health system and ease the strain. More than $6 million is for the Virginia Mental Health Access Program, which specializes in mental health services for children.
But addressing deep-rooted inequities will take more than money, Bolling said. The state needs sweeping measures.
This includes loan forgiveness programs for medical professionals working in under-resourced communities, Bolling said; investing in more people of color in the health care industry; financing therapeutic work; and widening the panel of clinicians credentialed under Medicaid so underserved communities can access more mental health services.
"The theme behind equity is that everyone is not on equal footing. ... When you address the issues that are facing the people with the greatest challenges, you create a society that is much better," Bolling said.
"That's the story we've got to tell."
If you or someone you know is having thoughts of suicide, call The National Suicide Prevention Lifeline at (800) 273-8255. The Richmond Behavioral Health Authority Crisis Line is (804) 919-4100.
(804) 649-6103
Twitter: @sabrinaamorenoo