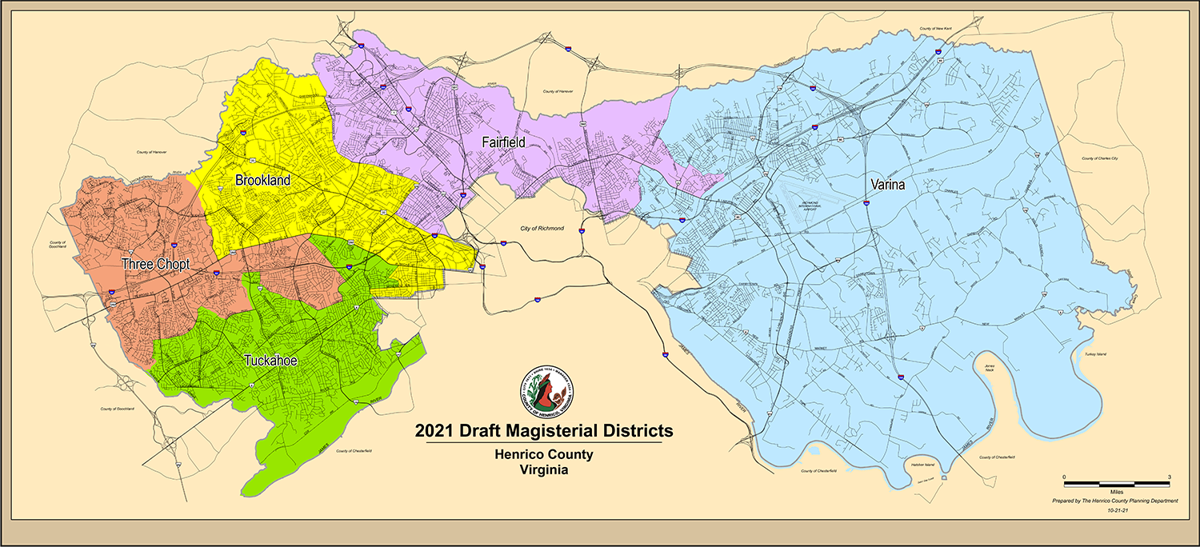 As Henrico County redraws its boundary lines for the next decade, residents are raising questions about the county focusing on maintaining Black districts instead of increasing diversity throughout the county. Their concerns come a month after Chesterfield approved maps that residents said were unfairly drawn.
While Chesterfield's proposal appeared to clearly benefit the board's Republican majority, it is less clear whether Henrico's population shifts would similarly solidify incumbent power. Henrico's proposal required an extensive number of shifts compared to Chesterfield's because of the shape of the county.
County Manager John Vithoulkas said political affiliations were never considered in drawing the lines.
"There's nothing political about math," Vithoulkas said. "It goes back to division, and then you got what is your perfect district. It started east from Varina to Fairfield, Fairfield to Brookland, Brookland to Three Chopt and Three Chopt to Tuckahoe."
The Board of Supervisors, a Republican majority board, is slated to vote on the county proposal Dec. 14.
Residents provided input, alternative proposals and concerns during a public hearing earlier this week. The second and final public hearing is Dec. 14.
Boundary line adjustments, known as redistricting, are legally required every 10 years after the latest census data is released to ensure the county is sliced up into similarly sized pieces so a vote in any district carries similar weight.
Henrico's population increased by nearly 30,000 people, from 306,935 residents to 334,389 residents. The growth was largely in the county's residents of color.
Despite relatively flat growth, Henrico's white population still makes up the majority of the county residents.
The ideal population size for each district is roughly 66,900 residents, but the law allows them to range from about 64,000 to 70,000.
After receiving the 2020 census data, Henrico officials were not surprised to find the vast amount of growth in the west end, primarily in the Three Chopt District, while also finding the least amount of growth in the eastern sections of the Fairfield and the Varina Districts.
But in butterfly-shaped Henrico County, no part of Three Chopt touches Varina, so it's not as simple as taking from the most populous district and giving to the least.
"The only place that Varina can add population from is Fairfield because it has no other district line that is shared within the county political boundary," Joe Emerson, Henrico's planning director, said in an interview. "So it has to eat from Fairfield and then Fairfield, in turn, was a little bit low on its population … so it had to take population from Brookland."
Two key components officials considered when drawing news lines were the population results of the 2020 census and the county's African American population, Vithoulkas said. Fairfield, the county's historically minority-majority district, and Varina are maintaining their majority Black populations, while also having the lowest total populations among districts.
Monica Hutchinson, a Fairfield resident and the 1st vice president of the Henrico chapter of the NAACP, said in an interview that the county uses the Black community as a scapegoat to justify its redistricting proposal.
"They only want to focus on the Black community because we have two Black elected officials [on the Board of Supervisors]. They don't want to focus on our AAPI [Asian American Pacific Islander] community. They don't want to focus on our Hispanic community, because then questions would arise of what are you doing to protect the interest of that voting bloc? How are you representing that voting bloc?"
Three Chopt, which has the highest Asian population, would dip from 19,655 Asian residents to 18,464. All other districts besides Fairfield would see a slight increase in their Asian populations. The Hispanic populations in Varina, Brookland and Three Chopt decreased.
"We want the Black voters and voters of color to be centered, not the elected official. And that means we want to make sure that our voices are being heard, that the power of the people is being valued and respected," Hutchinson said.
In a statement, the Henrico NAACP stressed that district lines should reflect the growing diversity in the county because "the more diverse a district is allowed to be, the more representatives have to value the preferences of all residents."
"The Henrico NAACP is concerned that Henrico County has placed too high a value on protecting majority-minority districts and incumbents, and too little of a value on one resident, one vote," according to the Thursday statement.
To craft the updated Henrico districts, all five county supervisors met individually with county officials to provide feedback on the boundary lines, Emerson said.
"They know their communities," Emerson said, using an example of if the proposal had split a neighborhood, the supervisor would be able to spot it and say it needed to change.
"We made every effort not to disrupt neighborhoods and communities in trying to balance this plan," Emerson said.
During Tuesday's public hearing Supervisor Frank Thornton, who represents the Fairfield District, said it is important for him and colleagues to listen to their residents.
"I think what I'm really hearing is that the process properly could be improved," Thornton. "I do think we need to take a good look at this."
Thornton said many of the questions he's heard from residents deal with the 2020 census itself, as people share concerns about the quality of the census data.
Hutchinson finds it disturbing that the supervisors provided input in drawing their district's lines.
"Board of Supervisors have no business drawing their lines. It's just wrong because you're taking the power out of the people's hands," Hutchinson said.
The public hearings aren't letting residents make a change, Hutchinson said, rather "you [the county] don't actually have us sitting at the table from the very beginning … the community interests aren't protected at the table."
Between public meetings, two public hearings and online engagement, Henrico officials feel confident with the residential input during the redistricting process.
When creating the draft proposal, county officials split, moved and merged voting precincts to bring districts as close to the ideal population size as possible.
Lakeside, which is currently split between Brookland and Fairfield, was an area of focus for the county, so the precinct could be in one district as much as possible. In doing so, a new voting precinct is being proposed.
Built out of a portion of the existing Lakeside and Johnson precincts, both located in Brookland, the new precinct, set to be called Holladay, would be located at Elizabeth Holladay Elementary School. The remaining pieces of Lakeside are set to move into Fairfield.
Hutchinson said Brookland's Lakeside pieces moving into Fairfield tend to be more diverse and more Democratic-leaning. In the November gubernatorial election, Lakeside voters overall chose all Democratic candidates on the ballot, whereas, in 2020, voters overall selected all Republican candidates in national and statewide races. In the 2019 election, while voters backed the Board of Supervisors' Republican Chairman Dan Schmitt, they supported all other Democrats in local and statewide races.
"Brookland is too diverse, especially the parts of Brookland that's closest to Fairfield," Hutchinson said. "Brookland is not going to be a Republican district if they drew the lines fairly."
In a special November 2017 election, Courtney Lynch, a Democrat, secured the Brookland Supervisors seat before stepping down a few months later. In 2017, she beat her Republican opponent by 11%.
Fairfield is handing off three small precincts to Brookland — Oakview, Mountain and Randolph — according to the draft plan, all of which would be absorbed into existing Brookland precincts. While all three precincts have overwhelmingly supported long-time Democratic Supervisor Frank Thornton, Oakview voters have voted for Republican candidates for presidential and gubernatorial races in 2017 through 2021, while voting for Hillary Clinton in 2016. Both Mountain and Randolph voters have voted for Democratic governors and presidents in all elections from 2016 to 2021.
The three Fairfield voting precincts are moving over into Brookland to create a "defining line," for Woodman Road, Emerson said. Also, by moving the precincts into Brookland, the Black population increases in Fairfield, Emerson said.
After reviewing the county proposal, Three Chopt resident Noah Page found the districts are not being kept as "politically competitive," as they stand now. On Tuesday night, Page proposed two alternative maps focusing on sections of his district.
Page found that moving a portion of Three Chopt's Innsbrook precinct and all of the Springfield precincts into Brookland moves roughly 3,800 voters, of which most have voted for Democratic candidates in almost every election for the past five years. In the 2020 presidential election, Innsbrook voters backed all Republican candidates, while Springfield voters narrowly supported Trump.
"The last time a Republican and Democrat were running against each other [in a Supervisors race], the race was only by about 1,700 votes," in favor of the Republican candidate, Page said in an interview.
By moving 3,800 voters, most of which are Democratic-leaning, out of Three Chopt into Brookland, that is more than double the voters that determined the 2015 Supervisors election, Page said.
Three Chopt is also proposed to give Tuckahoe portions of its Ridge and Three Chopt precincts, which would move about 600 voters, which voted Republican down the ballot in both the 2020 and 2021 elections, after heavily backing Democrats in recent elections In 2019, the Democratic commonwealth's attorney and sheriff won both precincts, in 2018 Sen. Tim Kaine and Rep. Abigail Spanberger won and in 2017, Gov. Ralph Northam won Three Chopt. In 2016, both precincts voted for Trump.
Page created two alternatives to demonstrate the "numerous ways that the issue of political competitiveness created by the proposed map could be resolved."
Both of Page's alternatives look to move smaller areas of Three Chopt into Brookland than the county's plan, while also swapping areas of Three Chopt and Tuckahoe to maintain the existing balance of Democratic and republican voters in Three Chopt.
When the state eventually finishes drawing their legislative and congressional maps, some of Henrico's precincts could shift if the state splits a precinct on their end, Emerson said.