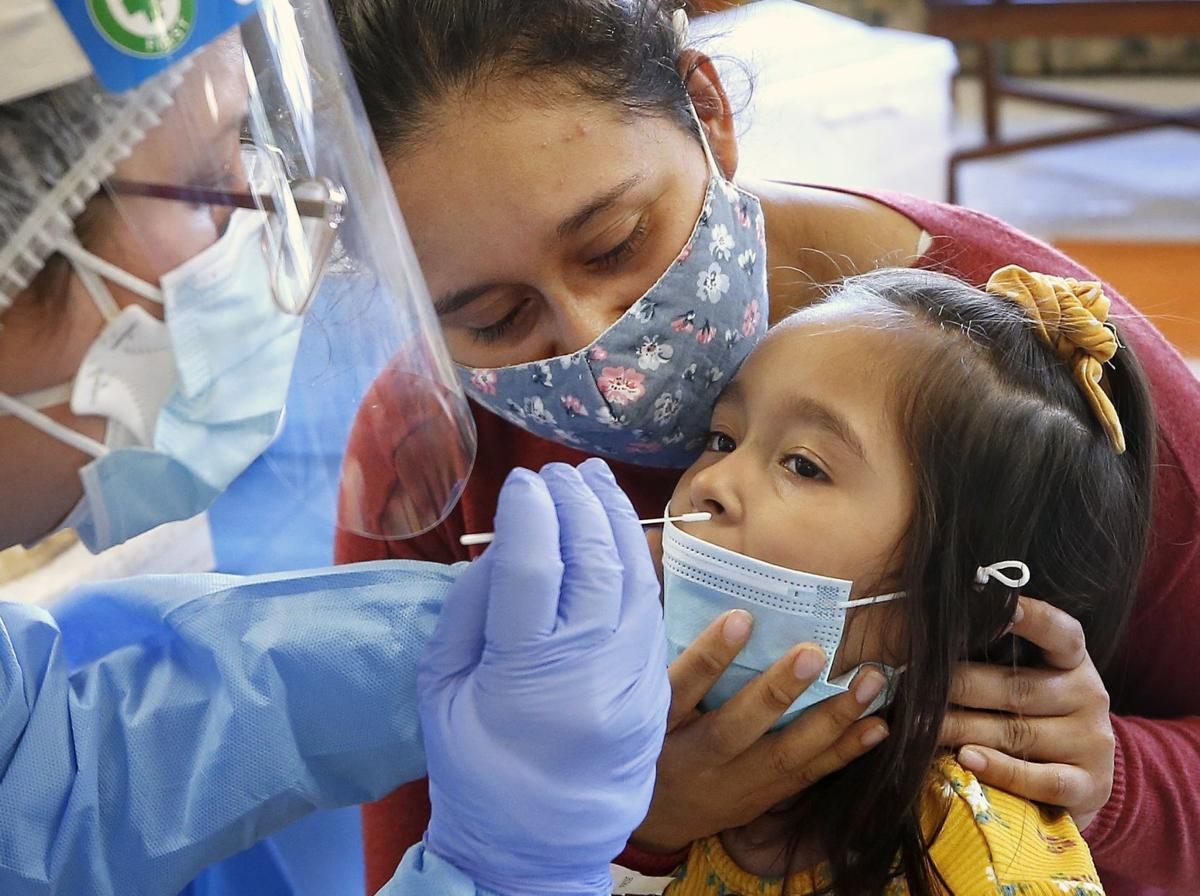 As cases continue to subside from the latest COVID-19 surge, Virginia doctors hope it's the final significant wave, even as they acknowledge the virus is here to stay.
"This could be our last very large surge," Dr. Noelle Bissell, director of the New River Health District, said this week.
Cases in the state have been cut in half since peaking in mid-September, leading many to wonder what path the coronavirus will take next. There isn't universal agreement among health care experts, and the University of Virginia has released multiple, divergent models. But the models all predict COVID-19 will stick around in some form for the next seven months, which is as far as the models forecast.
Thanks to the rising number of people who have been vaccinated and those who have contracted the virus, the percentage of the population with some level of immunity has risen.
"We've greatly increased the number of people who have antibodies to COVID," Bissell said.
Early in the pandemic, experts believed if 75% of the population were vaccinated, a community would reach herd immunity. But because the delta variant is so much more transmissible, even causing infections among the vaccinated, a population will likely need to reach 90 or 95%, Lisa M. Lee, a professor of public health at Virginia Tech, said in August.
Divergent models
Since the pandemic began, the University of Virginia has offered models that predict the rise and fall of cases in the months to come. If Virginia follows its current trajectory, cases will continue declining until March and flatten out at 4,000 weekly cases.
But there's no guarantee the trajectory will continue. Should the state experience a holiday surge, cases could rise to more than 30,000 per week, nearly as high as the state's worst surge, which peaked in January. People traveling during the holidays and spending increased time indoors can lead to greater spread.
Vaccination rates will continue to affect the direction the state takes. If a surge arrives but is combated by a high vaccination rate, the state could experience a rise through the holidays and a drop off in January. Sixty-two percent of Virginia residents are currently vaccinated, a figure that should rise once children under 12 become eligible for the shot.
Models don't project policy changes, changes in human behavior and new or rare events, UVA notes. Seasons, vaccines and variants can affect the number of cases in the state.
But this much UVA is sure of: The unvaccinated population remains large enough to allow additional surges of the highly contagious delta variant.
Dr. Drew Jones, a local pulmonologist, said COVID-19 could follow the flu's pattern, rising in the fall and diminishing in the spring. A yearly COVID booster could become standard along with the flu shot. It's unclear how much immunity the body builds from vaccines and how long it lasts. While it's evident that vaccines largely prevent serious disease, the delta variant can still spread among the vaccinated.
If coronavirus becomes a regular part of the communicable disease landscape, it will be referred to as endemic, said Dr. Laurie Forlano, deputy commissioner for population health for the Virginia Department of Health.
"It's not that it goes away," Forlano said. "But we know where it is, how to control it."
But even if the coronavirus becomes endemic, there are still many questions epidemiologists will have. Will coronavirus affect some countries more than others, the way measles does? How significant and steep will infection curves be? Will coronavirus follow a seasonal pattern like flu? What parts of the population are most susceptible?
The transmission level in Virginia is still considered "high" by the Centers for Disease Control and Prevention. Six states, including California and Florida, were recently downgraded to "substantial." There were 147 cases per 100,000 residents in the past week in Virginia. To be downgraded, the number of cases must dip below 100 per 100,000 residents.
The city of Richmond (104 per 100,000) is nearing that threshold. Chesterfield (147), Henrico (135) and Hanover (180) are not. Fairfax and Loudoun Counties have been downgraded to substantial.
The CDC recommends people wear masks indoors when transmission is substantial or high. As cases ebb and flow, recommendations for masks might continue to change. People will have to get used to regularly updated advice, Forlano said.
"I think we're going to have to get used to some flexible prevention and knowing when to turn those prevention measures on, and when they may not be as important," Forlano added.
Need for vaccines, masks isn't going away
It's likely that people will still have to prove they are vaccinated to enter some businesses or public spaces. Because paper cards can be forged, electronic proof might be necessary, Bissell said. That's why the Virginia Department of Health now allows residents to access their vaccination records online.
What counts as "fully vaccinated" won't change, Bissell added. You won't have to get a booster to be considered fully vaccinated.
Vaccines will be required for visitors arriving to the United States as of Nov. 8, the White House has announced. But international visitors might have vaccines not approved in the U.S. Any vaccine authorized by the World Health Organization will be accepted in the U.S. as long as the recipient has the full number of doses and they're properly spaced out, Bissell said. These include Oxford/AstraZeneca; Covishield, which is the same formula as Oxford/AstraZeneca and produced by the Serum Institute of India; Sinopharm and Sinovac, which come from China.
On Thursday, the CDC approved boosters for Moderna and Johnson & Johnson. It also approved mixing and matching vaccines, meaning recipients of one vaccine can receive a booster in a different vaccine. The CDC will release more guidance next week.
Pfizer said Friday that its vaccine is 90% effective for children ages 5 to 11. Advisers to the Food and Drug Administration will meet next week to decide if the FDA should grant emergency use authorization for the shot in that age group.
Vaccines could eventually be available for infants, perhaps as young as 6 months old, Forlano said.
A standardized health passport could eventually be required for international travel, said Troy Bell, director of marketing for Richmond International Airport. The CDC also requires air passengers arriving to the U.S. from foreign countries test negative before their flight.
Other changes made to air travel could remain, such as electrostatic cleaning on surfaces, touchless systems for processing payment and ordering food and a continued awareness of a person's personal space, Bell said. Travelers currently are required to wear masks, but it wouldn't be surprising for people to continue wearing them after the requirement is lifted.
Many work environments will continue in a remote fashion for the rest of the year. Capital One, which employs 13,000 Richmond-area workers, has said it won't bring employees back to the office this year.
Universities could continue offering classes online, as colleges have learned they can appeal to a broader audience that way. At Virginia Commonwealth University, 42% of classes are online this fall.
It'll still be the best practice for people to test themselves before large indoor gatherings, such as weddings, and to test again five to seven days after, Bissell said. Anyone with symptoms should get tested right away and not attribute the symptoms to allergies or colds. That's a significant issue right now, Bissell said.
Outdoor events will continue to be safer than indoor.
"It's healthier all the way around, emotionally and physically, to be outside," Bissell said.
The simple things, like hand washing, masking indoors and receiving a flu shot will continue to make a difference, Bissell and Forlano said. Washing hands is important for combating hepatitis A, which surfaced in at least 35 cases since August in southwest Virginia.