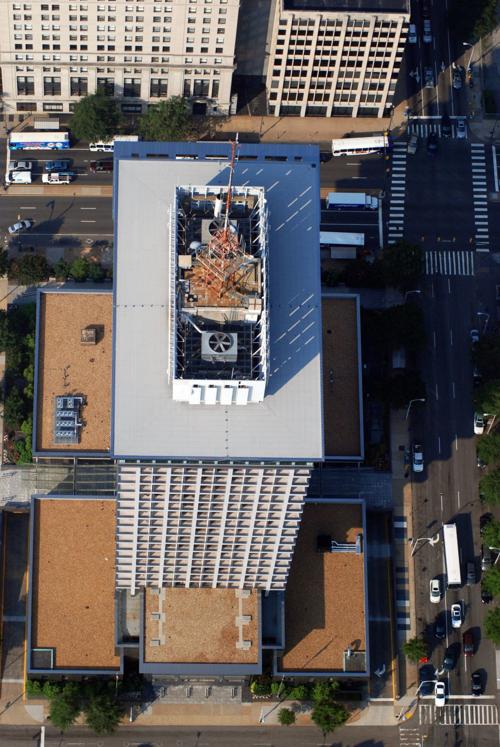 A 33-year veteran of the Richmond Police Department is among three new candidates who filed to run for mayor by a deadline this week.
George Banks, a Richmond native, said he has long considered entering politics after he retires, but felt compelled to run now amid the ongoing protests against racial injustice and police violence, despite having shot a man while on duty earlier in his career.
In an interview Friday, Banks, who is Black, said he will campaign to improve local public schools, build trust between law enforcement and the public, and create more cohesion between the City Council and the mayor's office.
"I think people are not understanding," said Banks, a 59-year-old Church Hill resident, of the recent unrest. "Richmond has grown a whole lot. I think our people are not getting the true message of what Richmond is about."
Outside of policing, Banks founded a nonprofit, the Metro Richmond Tennis Club, that mentors children and teens learning to play tennis.
"We want someone who is going to do the job, be transparent and tell the truth. That's the kind of person I am," he said. "As I saw this going on — the conflict — it's just creating more conflict."
While the Richmond Police Department is facing heightened scrutiny, Banks said he does not believe his career will have a negative impact on his campaign.
In 1995, investigators cleared Banks of wrongdoing after he shot a 20-year-old man suspected to be involved in a drug deal in the 5000 block of Snead Road in South Richmond. The suspect tried to flee after Banks searched him and felt what he thought was a gun.
Banks fired his weapon after the suspect turned with a gun trained on him, according to Times-Dispatch reporting at the time.
Banks wounded the suspect by shooting him in the chest. The suspect was initially charged with possession of drugs and a firearm as a felon, but was convicted on a lesser charge of brandishing a firearm and sentenced to 5½ years in prison for that crime and a prior suspended sentence.
"I'm not proud of it," Banks said. "When kids ask me if I've shot someone, I don't tell them. It shouldn't be glorified."
Banks said the public should not judge him based on a single incident during his career, and asserted that he has done nothing wrong.
"I've always been a community-oriented police officer. I think that's where our police need to focus," he said. "We need to get back to where our community sees our police as part of the community."
Aside from Banks, Michael Gilbert, an adjunct professor at Virginia Commonwealth University, is also running.
Gilbert, 33, is a resident of the Edgehill neighborhood in North Side who is a first-time candidate for elective office.
"In talking with people, they're tired of career politicians, and I am running because it's time we make Richmond a stellar inclusive community for all," Gilbert said in an email.
A former employee of the City of Richmond, Gilbert has also worked as an economist for the Virginia Economic Development Partnership. He is a former chief financial officer for Lamplighter, a locally owned coffee shop. He also founded the nonprofit RideRichmond, a cycling education and advocacy organization. He teaches economics at VCU.
Gilbert said his platform will center on economic and community development, schools, criminal justice reform and human services.
"I will be expanding on each of these in the coming weeks, along with detailed blog posts and budgetary analysis, and elucidate how we can effect substantive and meaningful change in our community, versus simply throwing money at these challenges, patting ourselves on the back, and calling it a day," Gilbert said.
Another candidate, Pauron Wheeler, filed paperwork to run for mayor with the Office of Richmond's General Registrar, as well. Wheeler could not be reached for comment Friday.
Whether all candidates who submitted paperwork appear on the November ballot will be determined by Richmond's Electoral Board later this summer, said J. Kirk Showalter, the city's General Registrar.
Banks, Gilbert and Wheeler bring to eight the number of candidates seeking a four-year term as Richmond's mayor when voters head to the polls on Nov. 3.
Incumbent Levar Stoney, who has held the office since 2017, is running. So, too, is Councilwoman Kimberly Gray, the 2nd District representative on the City Council. Justin Griffin, a small-business attorney, announced his run earlier this year, as did Tracey Mclean, a small-business owner. Alexsis Rodgers, an officer of the local Democratic Committee, said earlier this month that she was joining the field.
To win the election outright, a candidate must get a plurality of the votes in five of the nine council districts. If no candidate wins five districts, the top two vote-getters head to a runoff determined by the popular vote.
(804) 649-6178
Staff writer Mark Robinson contributed to this report.