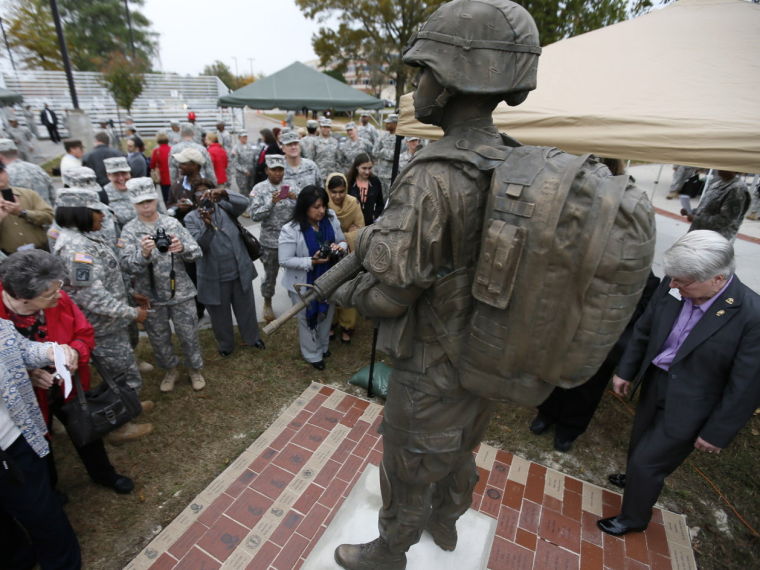 FORT LEE — When Flo Dunn joined the U.S. Army in 1956, the limitations on servicewomen were considerable.
"You had to be 18, you had to have both parents' signature and you couldn't be married," Dunn recalled. "We were second-class citizens, really, as far as the Army was concerned."
But with help from pioneers like Dunn, women have been able to make great strides in the military over several decades. Many previously closed doors have opened, and "these modern-day soldiers have all the opportunities in the world."
"Gracious, I wish I was 18 again, because I would join again and I would be able to jump out of airplanes or be a parachutist or whatever I wanted to be," said Dunn, who served in Vietnam in 1971-72 as the first female officer assigned to the Army's Civil Operations and Rural Development Support unit under the U.S. Military Assistance Command.
Dunn was one of at least 11 female Army veterans from past eras and encompassing several theaters of war to witness the unveiling of the first full-size statue on a U.S. Army post recognizing the service of Army women.
With military fanfare, the statue — constructed from composite resin materials resembling bronze — was made public to several hundred onlookers and invited guests. Two years in the making, it was made possible with private donations to the Friends of the Army Women's Museum Association.
The statue, modeled after a real soldier who served in Iraq, depicts a modern, post-9/11 female warrior — an Army lieutenant equipped with combat gear such as a rucksack, helmet, protective vest and military-style assault rifle. It stands on a pedestal in front of the United States Army Women's Museum, which was moved to Fort Lee after Congress closed Fort McClellan in Alabama, the museum's original home, in 1999.
"What we were looking to do, really, is create a statue that paid tribute to the servicewomen," said Dr. Françoise Bonnell, the museum's director. "And although she represents a woman who might have joined in the last decade or so, we also wanted to make sure that she embodied all of the history — literally the shoulders (of earlier women) that she stands on."
Bonnell said those tasked with designing the statue ran into some difficult choices: Should she be outfitted in combat gear? Dressed in a full-dress uniform? And what rank should she be? "These were big challenges for us," Bonnell said. Organizers decided that one of the biggest changes in recent years for Army women has been their increasing role as female warriors. "And that's why we opted for the warrior equipment and gear," Bonnell said.
To Dunn, who retired from the service as a major after a 22-year career, the statue "means at least we have recognized women in the past 10 or 20 years, since the Women's Army Corp. was disbanded and women soldiers were integrated in with the male soldiers."
"I think it's time we got some good press," said Sonja Reiss, who was part of the first integrated class of WACs at Fort Lee in 1950-52. "Today, I think it's a totally different climate. We were part of the first WAC company officer's course, so they were experimenting to see if we could cut the mustard, coming straight from college graduation into the Army. It was harder than I ever studied before."
Staff Sgt. Kirra L. Olson, a veteran of both the Iraq and Afghanistan wars, said the statue represents an "appreciation" of the Army women who came before her — including Reiss and Dunn.
"These women have given me an opportunity," Olson said. "If it wasn't for the women before me … who knows if there would even be females in the military."