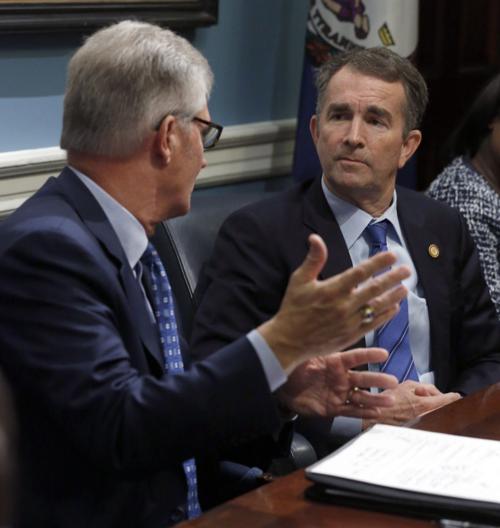 Virginia would have to spend $45 million a week for its share of enhanced unemployment benefits under an executive order President Donald Trump signed last weekend, but the state could draw on other federal aid to cover its part of enhanced payments to people who lost work in the economic crisis.
The executive order, issued after a breakdown in talks between Republicans and Democrats over a new COVID-19 relief package, requires participating states to pay 25% of the $400 weekly benefit, or $100 a week, for each eligible unemployment beneficiary.
The state could use federal aid received under the CARES Act to cover its share, but that would diminish the amount of money the state has to pay for other critical needs related to the coronavirus public health emergency. The state also could use the first $100 of regular state unemployment insurance, but that would reduce the additional benefit to $300 a week.
"At this point, no one is surprised that state governments are being forced to shoulder responsibility for yet another aspect of the country's COVID-19 response — from testing, to supplying PPE, and now unemployment benefits," said Grant Neely, chief communications officer for Gov. Ralph Northam.
"The latest word from Washington has created mass confusion, forcing states to divert precious time and money from actually helping people," Neely said. "Meanwhile, workers are left without benefits and the country's economic future grows even more uncertain."
"Congress and the president need to get together, take action to help unemployed workers, and fast," he said.
The CARES Act included a $600 weekly enhanced unemployment benefit — on top of customary state unemployment insurance payments ranging from $60 to $378 a week in Virginia.
But the final week of eligibility for the enhanced payments ended July 25 and talks among the White House, Senate Republicans and congressional Democrats to extend the benefit broke down at the end of last week.
Trump signed a series of executive orders on Saturday to extend some forms of COVID-19 emergency relief, including one that allows the Federal Emergency Management Agency to use up to $44 billion in disaster relief money for enhanced unemployment payments of $300 a week.
A FEMA spokesperson said in a statement: "President Trump's administration continues to recognize the financial distress affecting families across the country and through this extraordinary executive action ... provides billions of dollars in disaster relief to supplement unemployment benefits for those who have lost wages due to COVID-19."
FEMA said states and territories can request the funding and distribute the money through their regular unemployment insurance system, but Virginia officials say the state would have to set up a different system for receiving the money and transferring it to the Virginia Employment Commission for distribution to people who need it.
Rep. Don Beyer, D-8th, said new guidance from the U.S. Department of Labor would require states to create new systems to administer the benefit, which he said "would crunch employment offices already overwhelmed by historically high application volume."
"It is difficult to project how long this could take, but simply adding a flat amount using existing systems and resources took states weeks or months to set up following passage of the CARES Act," Beyer said Thursday.
Virginia officials say the new payment would require reprogramming of the state's old IT system for distributing unemployment benefits — the system dates to 1985 — to reflect the new benefit, whether it is $300 or $400 a week.
They also worry that they'll have to do it all over again as Congress and the president battle over the legality of the executive orders and a potential legislative solution to bridge the $2 billion gap between the emergency funding packages that House Democrats approved and Senate Republicans proposed.
"We don't even know if the executive order is legal," said Virginia Secretary of Finance Aubrey Layne, who met with FEMA Administrator Pete Gaynor on Wednesday to discuss the issue. "Certainly, if it's the only game in town, we'll take it."