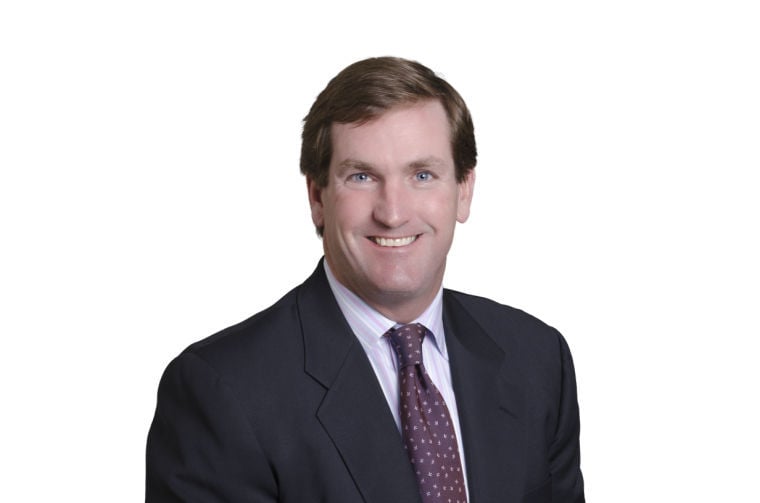 A major benefactor and trustee of the University of Richmond has been caught on tape making sexist and homophobic jokes that are putting his alma mater in an awkward spot.
Paul Queally — whose name is on a 33,000-square-foot addition to the Robins School of Business and will be on a new gateway building for the campus — is quoted in a New York Magazine article as telling the jokes two years ago during the induction ceremony for a secret Wall Street fraternity called Kappa Beta Phi.
Queally did not return a call seeking comment, but he emailed a statement through a representative Wednesday that said the jokes do not reflect his views or values, and that "on reflection" he should not have made them.
The article by Kevin Roose, titled "One-Percent Jokes and Plutocrats in Drag: What I Saw When I Crashed a Wall Street Secret Society," describes Queally's exchange with another private-equity executive during a skit that was surreptitiously recorded at the black-tie event.
According to Roose's article, Queally made the jokes about Hillary Clinton and Barney Frank, a now retired openly gay member of Congress, as part of a skit involving new Kappa Beta Phi inductees, who were dressed in leotards and gold-sequined skirts and wigs.
The article, with accompanying audio, touched a nerve at UR, which has an administrator specifically to oversee programs related to sexual diversity and to support the LGBTQ community.
In his statement, Queally said the event was "a private function where all participants were expected to dress in costume and make silly, outrageous comments. Writers were engaged."
The statement added: "My brief remarks were in the spirit of the event but they do not reflect my views or my values. On reflection I should have said nothing. I understand that people who do not know me or my work may misinterpret what I said. I believe my record in support of education, diversity and economic advancement defines who I am and what I stand for."
Queally, co-president of the Welsh, Carson, Anderson & Stowe investment firm, is a 1986 UR alumnus. With his wife, Anne-Marie, also a UR graduate, he has given the university nearly $20 million. Their recent donation of $10 million will help finance a center for admission and career services that will serve as the new gateway to campus.
At UR, some are now questioning whether Queally's name should be on the welcome center, said Peter Kaufman, a professor in the Jepson School of Leadership Studies.
"It would be a shame to see his name closely associated with the first thing prospective students see when they come to the university," Kaufman said.
Asked for reaction, the university released a statement from Rector Charles A. Ledsinger Jr. that said the board "reaffirms the commitment of each of its members to promoting opportunity, inclusivity, civility and respect."
In his New York Magazine piece, Roose writes that he slipped into the January 2012 event at the St. Regis Hotel in New York as part of research for his newly published book "Young Money."
Before he was discovered and ejected, he observed some of the world's top investors dining on rack of lamb and foie gras and hearing the legend of Kappa Beta Phi, a secret fraternity founded at the beginning of the Great Depression "as a sort of one-percenter's Friars Club," Roose writes.
He quotes the fraternity's leader, billionaire investor Wilbur Ross, as telling the new initiates that the group was started in 1929 by "four C+ William and Mary students." Its crest depicts a "macho right hand in a proper Savile Row suit and a Turnbull and Asser shirtsleeve."
Roose quotes Ross as saying the crest was superior to that of its namesake, Phi Beta Kappa, whose ruffled-sleeve logo Ross called a "tacit confession of homosexuality."
Phi Beta Kappa – actually founded by five College of William and Mary students in 1776 -- is not the only reference to Virginia higher education in the article.
Among those named as members of Kappa Beta Phi is Paul Tudor Jones, the University of Virginia alumnus whose comments at a U.Va. symposium last year were denounced as sexist by some faculty members.
Jones' remark that women lose interest in their finance careers when they have babies was officially disavowed by the university.
The year before, Jones was embroiled in U.Va.'s leadership crisis when he backed the board in its unsuccessful attempt to fire the president — prompting debate over how much influence a major donor might have in a university's direction.
On a different level, that issue also surfaced at UR when the university dropped the men's soccer and track programs to make room for Division I lacrosse.
Amid the dispute, longtime UR backer Bobby Ukrop resigned from the board. Queally was among those supporting the decision to add lacrosse.