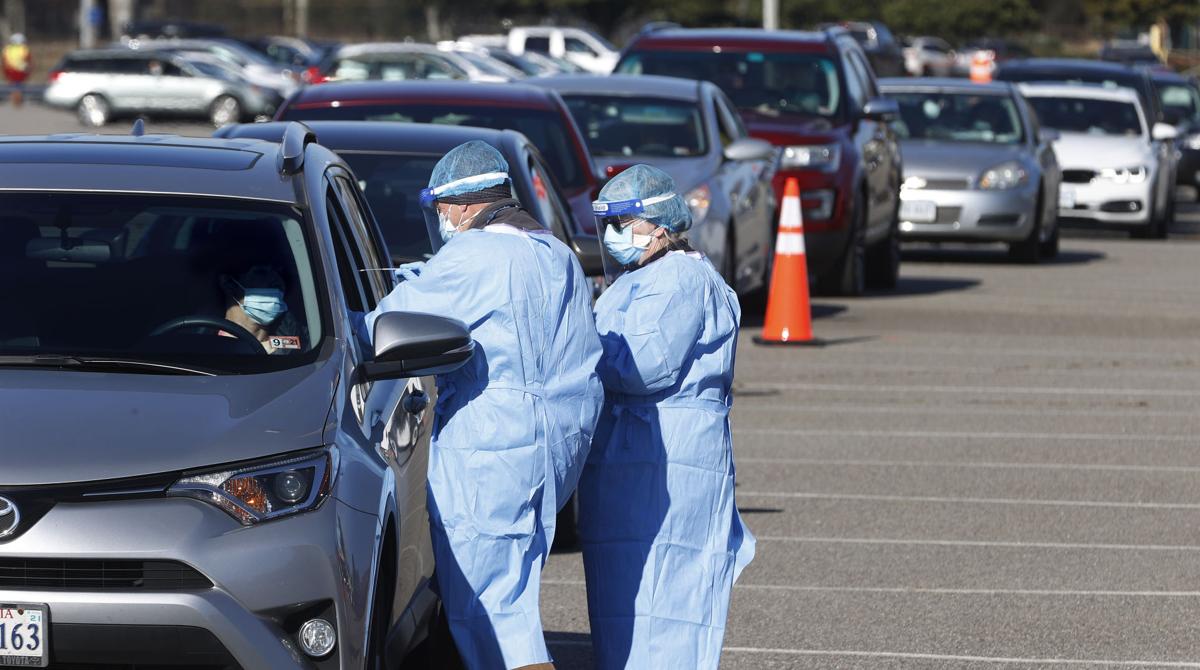 The risk remains substantial even if Virginia reaches 85% of people fully vaccinated — a target researchers called "optimistically high" — due to the growing severity of delta's ability to tear through unvaccinated populations. As of Friday, 54% of Virginians were vaccinated.
Of the various possible scenarios presented, the only trajectory showing cases plateauing to nearly nonexistent numbers assumed a significant increase in vaccinations through Labor Day and zero escalation of variant growth.
The last time there wasn't a rise in delta cases in Virginia was when the state lab had yet to identify the first one.
In Henrico County, delta accounts for 1 in 4 cases caused by COVID strains.
"Vaccination rates are still below herd immunity levels and, with many Virginians returning to normal, the virus has room to run," the report read. "If vaccination rates pick up, the model estimates that over 60,000 cases could be avoided."
While Virginia is averaging the same doses administered per day that it was in January when most residents were ineligible, data on Friday indicated that could soon change with a steady rise past 12,000 for the first time in nearly a month.
But as vaccinations increased, so did the number of new infections every day this week, from 505 on Monday to 1,178 on Friday, which is why the UVA report emphasizes the need to "give vaccines time to have an impact."
A person is not considered fully vaccinated until two weeks after receiving the final dose.
Virginia's seven-day case average remains lower than last year's figures when there were no vaccines available to curb hospitalization and surges. The difference isn't substantial — 865 on Friday versus 1,095 in July 2020 — but last year, there wasn't a delta variant, either.
That doesn't mean vaccines aren't working.
While hospitalizations are on the rise, there is not a dramatic jump in patients. Health care systems aren't decimated as they were when Virginia hit a record single-day increase of nearly 10,000 cases in January. Vaccines were meant to partly curb a repeat of when ICU capacity was pushed past its limits.
But fear that new, more powerful variants could eventually evade the vaccines — and early data showing the chance that vaccinated people could transmit the virus — prompted the Centers for Disease Control and Prevention to recommend additional precautions: have fully vaccinated people wear masks in public indoor settings in areas with substantial to high transmission.
Currently, most of Virginia falls under that category, including Richmond, Henrico and Chesterfield and Hanover counties.
The shift in guidance prompted confusion on enforcement measures, since transmission levels can vary from day to day or week to week. Gov. Ralph Northam on Thursday stopped short of reinstating a mask mandate, updating Virginians on Twitter to say there would be no requirements — only a recommendation to consider wearing a face covering.
Richmond and Henrico echoed Northam's suggestion on Friday, and urged residents to "wear a mask indoors while around others who are not a part of their household regardless of COVID-19 vaccination status."
The local recommendations remain in effect until further notice. Dr. Melissa Viray, deputy director of the Richmond and Henrico health departments, said in a statement that the blanket recommendation would make it easier to follow CDC guidance without looking up community transmission levels.
Nurse manager Amy Popovich emphasized the importance and effectiveness of vaccines — a critical statement as the CDC guidance places further skepticism on public health messaging and reliability of vaccines.
The politicization of masks has also played out nationally.
States like Texas have banned localities from requiring masks and threatened fines if they do. Florida Gov. Ron DeSantis plans to bar school systems like Broward County's — an area with one of the hospitals leading the U.S. in COVID admission — from imposing mask mandates indoors.
Both have among the highest infection and hospitalization rates in the country and less than half its population fully vaccinated.
VDH reports that in the past month, there have been 313 infections, 18 hospitalizations and 1 death among fully vaccinated people.
There were 13,345 cases, at least 440 people hospitalized and 23 deaths in that same time — meaning that breakthroughs are rare and the highest risk is carried by unvaccinated Virginians.
This includes children under the age of 12, who will likely be unable to get a shot until early winter, months into in-person learning.
(804) 649-6103
Twitter: @sabrinaamorenoo