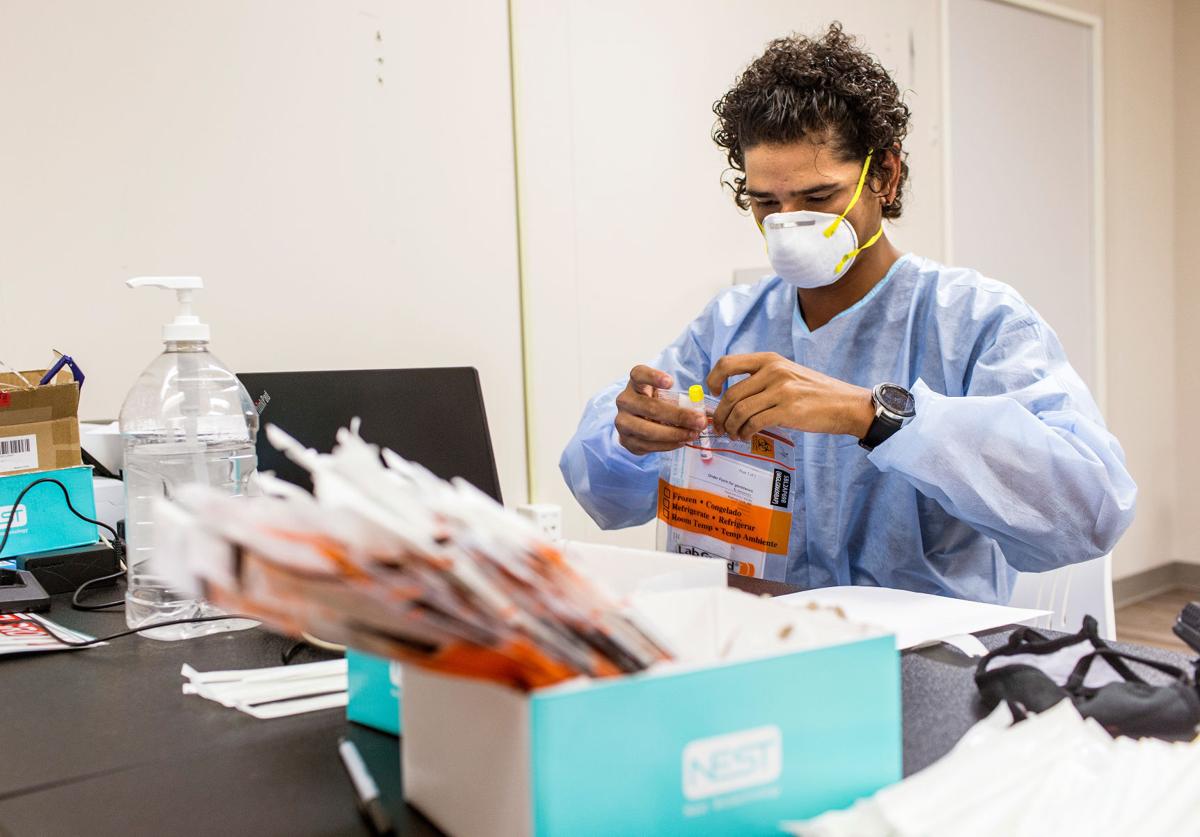 Virginia's coronavirus cases are on the decline after months of plateauing, indicating a possible turn toward recovery.
Monday's single-day increase of 611 infections, along with a 7-day average that dipped below 1,000, was the lowest recorded since October.
Though, on Friday, the state reported nearly twice the number of new cases: 1,249.
The number of hospitalizations linked to COVID-19 also dramatically dropped to figures last seen in July with 822 patients, according to the Virginia Hospital and Healthcare Association.
A week ago, 974 people were hospitalized.
One in every 7 is on a ventilator, and 27% are in an intensive care unit.
The number of people testing positive for the virus dipped to 4.6%, a rate second only to the percentage recorded on March 16, 2020, when 12 tests were reported.
Maryland and North Carolina, two of Virginia's surrounding states, are also seeing low positivity rates with Maryland at 3.7% and North Carolina at 6% .
Virginia is 20th in the country for lowest case rate per capita, and had the 15th-lowest death rate over the last week, according to the Centers for Disease Control and Prevention.
A weekly update from the University of Virginia's Biocomplexity Institute, which tracks COVID trends statewide, reported transmission rates are below 1.0 statewide, a sign that the virus isn't spreading as quickly, and 22 of 35 health districts are showing case declines.
However, researchers noted a "growing uncertainty in short term forecasts, indicating that variants and pandemic fatigue continue to pose a significant risk."
In the worst-case scenario, in which Virginians relax their behaviors as variants taken hold, the state could reach a peak the week of July 25 that surpasses January's.
Vaccination rates play a role in curbing another surge, and with 45.1% of the population vaccinated with at least one dose, the chances of remaining in recovery mode are high.
But proximity to herd immunity and COVID rates vary throughout the state.
A New York Times analysis of Virginia's cases by county show 24 localities sustaining an increase over the last two weeks. The largest rise was in Fluvanna, which saw a 757% jump and has 126 cases per 100,000 residents. On Monday, however, the county reported only one new case.
Two localities remain flat, two are not reporting figures, and the rest are declining. Poquoson saw a 92% dip, the largest drop statewide, and has vaccinated 48% of its population with a least one dose. So has Fluvanna.
Regarding vaccination rates, UVA's report indicates Northern Virginia could reach the herd immunity threshold by the end of summer while other regions might have to wait until 2022. As of Monday, nearly every locality south of Richmond has yet to vaccinate 40% of their population with at least one dose.
Chesterfield has vaccinated 44%; Richmond has vaccinated 38%; Henrico has vaccinated 47.2%; and Hanover County has vaccinated the most at 48.5%.
Dr. Danny Avula, the state's vaccine coordinator, said on a call with reporters on Friday that Virginia might have hit its peak in demand.
"That means that we are pivoting all over Virginia, in a different direction, to make sure people understand their options," Avula said. "That we make vaccination as convenient as possible and that we really start to design our vaccination efforts to be more targeted, more tailored, more neighborhood-focused."
A major push in upcoming weeks will be increasing the number of vaccines allocated to primary care providers. With federal regulators expecting to authorize Pfizer's vaccine for adolescents 12 and up next week, Avula said preparing pediatricians and schools to distribute doses will be critical.
(804) 649-6103
Twitter: @sabrinaamorenoo