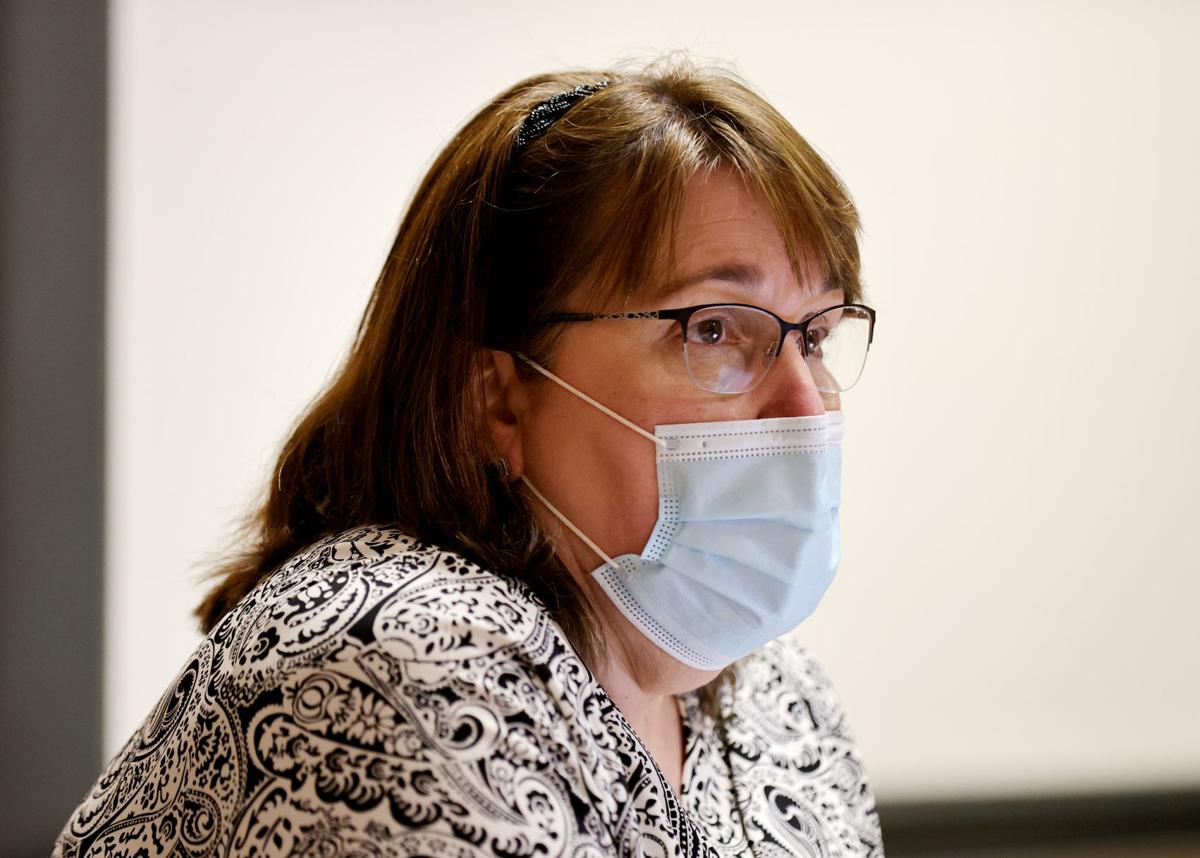 Alicia Atkins, the first Black woman elected to the Henrico County School Board, has asked a white colleague to step down as board chairwoman over a pattern of behavior Atkins said is harmful and perpetuates systemic racism.
Atkins on Monday said she was moved to ask Micky Ogburn, who represents the Three Chopt District, to relinquish her leadership role after fielding questions from children upset over an offensive Facebook post Ogburn shared earlier this month.
Ogburn has apologized and said she reposted without fully reading the message expressing disdain for the decisions by the estate of Dr. Seuss decisions to stop publishing six books that portrayed Black and Asian people in stereotypical light.
Five years ago, she apologized to constituents who were upset over a video shown to students at Glen Allen High School during Black History Month that detailed how white privilege works.
Atkins said Ogburn is not fit to lead the governing board of a school system serving roughly 50,200 children, 65% of whom are of color, state data shows. She described reeling from questions from children about the post, which contained a poem ending: 'Your goal is to hate/I do not condone/Go to hell snowflakes/Leave Dr. Seuss alone.'
"When I was younger, a teacher read a book to me. She pointed to the monkey and told me, 'That's what you look like.' I will never forget that," Atkins said in a statement she provided to the Richmond Times-Dispatch. In a later interview, she spoke about the incident through tears and said she had never spoken publicly about it.
Ogburn said in an email that it was not her intention to step down from the board unless her colleagues wanted her to.
"When we met as a Board two weeks ago, it was the will of the Board that I continue in my post," she said in a statement. "We will certainly discuss Mrs. Atkins' request when we meet in April at our next Board meeting. It is most appropriate that Board business be handled by the Board members in person, not in one-on-one conversations out of the public arena."
Atkins said she did not initially ask for Ogburn to resign during a closed meeting to discuss the post. The board has committed to attend sensitivity training. But Atkins fears that will not be enough.
In the aftermath of the video incident of 2016, renowned scholar Kimberlé Crenshaw, a Black woman who developed the theory of "intersectionality" and is the co-founder of the African American Policy Forum, told The Times-Dispatch that banning the video was a form of censorship and it was an "alarming capitulation" of blissful ignorance.
Henrico is also being sued by the family of a student who claims that school officials at Short Pump Middle School failed to provide a safe environment for their child, who was called racial slurs in a locker room.
Atkins is not calling for Ogburn to leave the board completely. She said in an initial statement to The Times-Dispatch that she believed Three Chopt voters should continue to have the leadership they asked for.
"This is a woman that has dedicated many years of public service as a teacher and service on the School Board," she said. "The Three Chopt community voted for Mrs. Ogburn and has a right to have her leadership."
Ogburn has said she feels remorse and is working hard to fix things.
Atkins said the two shared an emotional moment when Atkins detailed her teacher's comments to her, in an effort to explain why the post had been painful.
When Ogburn originally explained why she shared the offensive poem in the first place, she referenced her granddaughter. She said she enjoys reading Dr. Seuss books to her grandchildren, which inspired her to say that she "loves" Dr. Seuss books when sharing the post.
Ogburn said in a statement that she was horrified that someone would treat a child the way Atkins had been treated.
Then students in Atkins' Varina District, which is predominantly Black, began asking her "tough questions."
"'How is it that you can just say 'I'm sorry' and go on, but if it was me, I'd have to go talk to the principal or I'd have to stay after?'" she said one student asked her. She also said she had in-person conversations with students who shared similar sentiments.
"It is unfair to respond with, 'She apologized.'"
Atkins said that if Ogburn chooses not to step down, there would be some "hard fights" ahead.
"It takes consensus to move forward," she said. "I am one of five, and it will take my colleagues to also step in if they so desire to ask her to step down. It will also take a petition, if folks do a petition. ... It will take some community effort to continue to unmute themselves and share what they desire."