Virginia Commonwealth University is re-evaluating its policy to allow unvaccinated students to take in-person classes and live in university housing after some professors this week asked for a more strict response.
Though the semester began last week, the university will consider withdrawing on-campus students who have not reported their vaccination or received a medical or religious exemption, VCU spokesperson Michael Porter confirmed Wednesday afternoon. A day earlier, members of the faculty sent a letter to VCU's president asking for stronger action.
"VCU is considering adding administrative withdrawal to the progressive discipline process for unvaccinated students who are out of compliance with required public health measures," Porter said.
There are about 450 students on campus who are unvaccinated and without an exemption, Porter said. Unlike other universities in Virginia, VCU has not disenrolled those students. Instead, it placed a hold on their accounts, blocking them from adding and dropping classes. If students don't need to make changes to their schedule, they are not affected by the hold this semester.
After the Richmond Times-Dispatch reported last week that VCU hadn't disenrolled noncompliant students, chemistry professor Everett Carpenter wrote a letter to VCU President Michael Rao on Tuesday asking for VCU to take "comparably decisive measures" as the universities that are removing noncompliant students. Carpenter is president of the VCU chapter of the American Association of University Professors, which advocates for all faculty.
"This hold does nothing to address the clear and present danger these unvaccinated students pose to the rest of the VCU community who dutifully received their vaccinations," Carpenter wrote.
The decision to withdraw students after classes have started and after students have signed apartment leases would be a burden, Carpenter said in an interview. Students and faculty would have been better off had the decision been made before the semester began.
Asked why the university didn't resolve the issue in the summer, Porter said VCU has planned extensively for the fall since vaccinations became available.
"VCU is engaged in ongoing efforts to reach non-compliant students and encouraging / directing them as to the need for compliance," Porter said.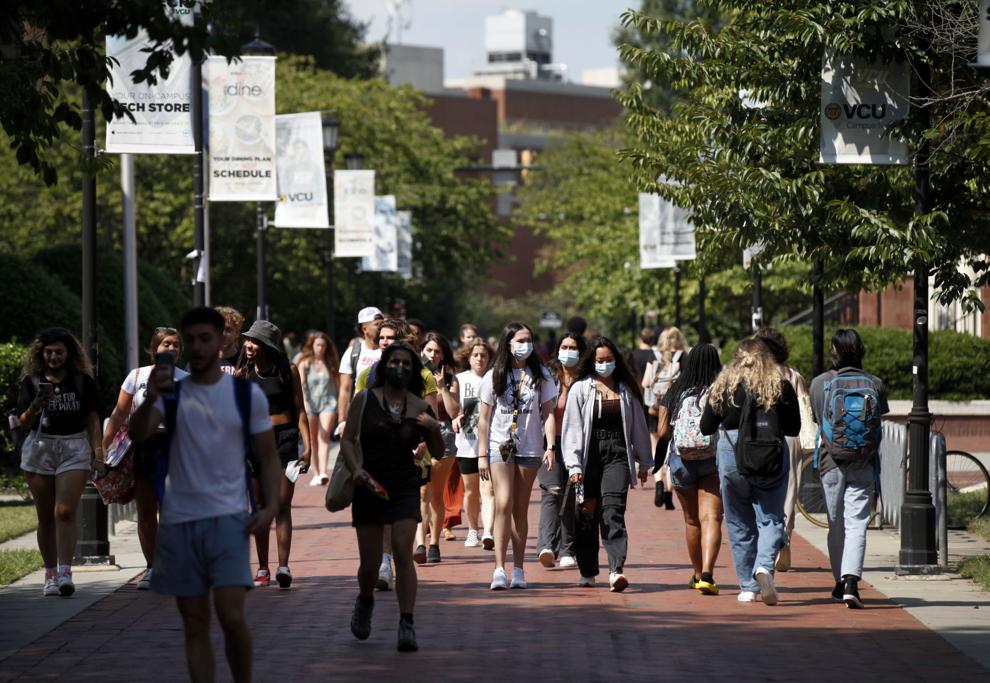 The status quo, which is leaving unvaccinated students in their classes, means asking professors to take a risk, which many are uncomfortable doing, Carpenter said.
"You're asking faculty to be the gatekeepers of their classrooms and take the risk their students aren't in compliance," he added.
Students who are unvaccinated are supposed to undergo regular testing and complete daily health questionnaires. Those who do so receive a green check mark on their phone through VCU's Entry Pass software.
Asking professors to check their students' entry pass before each class isn't always feasible, Carpenter said. He teaches a freshman chemistry class with 160 students.
Carpenter said VCU is also considering less drastic measures, including restricting access to certain buildings.
There are 756 students out of 28,850 who have not reported their vaccination or requested an exemption, Porter said. Of the 756, about 300 are taking online classes away from campus and don't have to be vaccinated.
Other universities in Virginia chose to disenroll noncompliant students before the semester began. Virginia Tech disenrolled 134 out of 37,000 students, a spokesperson said Tuesday, though it's unclear how many of them intended to return for the fall semester.
The University of Virginia disenrolled 238, though only 49 had registered for classes. The College of William & Mary withdrew 42, though only 12 had registered for classes.
After he wrote his letter, Carpenter immediately got a response from Meredith Weiss, VCU's vice president for administration, he said. She said the university would seek faculty input on what should happen to noncompliant students. Weiss was unavailable for an interview Wednesday, Porter said.
The faculty senate met later Tuesday, and faculty were told the university is still trying to decide what to do with noncompliant students, said Jon Becker, a professor of education leadership and member of the faculty senate.
In general, VCU's administration tries to involve faculty in its decisions, which not all universities do, Carpenter added.
VCU also said it will require its staff to be vaccinated, but the consequence for not doing so is frequent testing, according to the university's website. Two percent of employees told VCU they don't plan to be vaccinated. Five percent didn't respond, and 87% have verified their vaccinations.
Employees who refuse to be vaccinated and tested can be suspended or terminated.