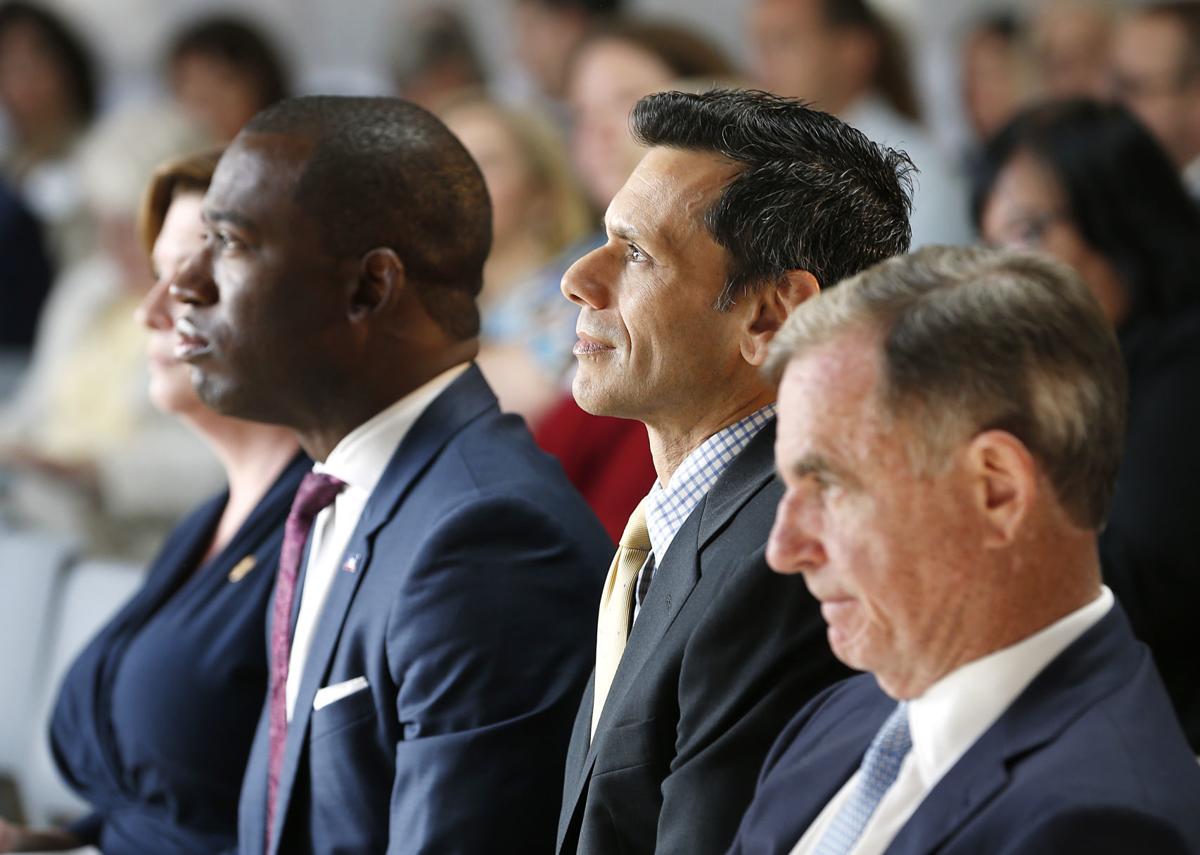 An opinion column signed by Virginia Commonwealth University President Michael Rao published in the Richmond Times-Dispatch in January that endorsed a development proposal by the private NH District Corp. was written by NH District Corp., according to public records.
The column supported the private group's plan for a development that includes a new downtown Richmond arena, hotel and apartments and would use tax revenue from an 80-block area of downtown to pay for the projects.
NH District Corp. is headed by Tom Farrell, the CEO of Dominion Energy, which recently built a new skyscraper downtown and may build a second one; both would be in the special 80-block tax area.
According to records obtained from VCU under the Freedom of Information Act, employees of the university relations division communicated with Jeff Kelley, a public relations consultant working for NH District Corp., about Rao doing a column in support of the plan.
On Nov. 29, 2018, Kelley wrote to VCU spokeswoman Pam Lepley: "I have a good basis for his piece, as we did the brief interview with him after the mayor's announcement."
Lepley replied: "If you outline major points we can put it in Mike's voice."
Kelley on Dec. 4: "I'll have a draft over for review today."
Lepley on Dec. 5: "want to make sure I didn't miss it if you sent the draft/bullets."
Kelley: "Draft attached. I've probably looked at this a bit too long, so new eyes would be appreciated. Once you are good on your end, I'll pass it through the legal team here to make sure it's all good to go."
He also told Lepley to "please edit however you see fit."
Lepley responded, "We had very few edits — mainly stylistic. I've attached with track changes. President Rao hasn't reviewed yet, but thought it would be good to get the ball rolling with approvals on your end so we can roll quickly."
Lepley had sent the draft to her colleagues in university relations saying, "The president wants to do and serendipitously was asked to do an op-ed on the Navy Hill proposal (by the city and group). Everyone is hoping we can submit it ASAP."
The final version of the column ran with Rao's byline on Richmond.com on Jan. 6. and in print on Jan. 7.
A reporter for The Times-Dispatch obtained the email records from VCU in January, but because of other news coverage demands, the news staff did not fully review and research them until this week.
Virginia Public Media, the local public radio affiliate, first reported Wednesday that NH District Corp. wrote the column. A reporter asked the newspaper's leadership last week if The Times-Dispatch would have published Rao's column had it known it was drafted by NH District Corp. Executive Editor Paige Mudd said, "No, we would not have published it. While we understand that people who submit op-eds to the RTD will sometimes receive editing help or other information from colleagues, we would not have knowingly published a piece in support of the NH project that was written by the NH spokesman and signed by the president of VCU."
Lepley, who worked with NH's Kelley on the column, said Rao was aware that the column was drafted by Kelley, and said the president signed off on the column.
"We were all collaborating because we were all in support of this plan," she said.
"They were his [Rao's] words he reviewed," she said. "They were based on the interview with him."
The Rao column said "VCU fully supports this project" and said the development would transform lives.
"The Navy Hill plan was not created by corporate or political interests, but informed by the people of Richmond during the past two decades," the column said, also claiming that the plan would include $300 million in contracts for minority-owned businesses — a claim former Gov. Doug Wilder, a distinguished professor at VCU, has twice challenged as inaccurate on his blog.
NH District Corp.'s brief interview with Rao, which was recorded by a videographer working with the corporation, was done at a November 2018 announcement. The Times-Dispatch asked Kelley for a copy of the audio of the interview to compare it with the column Kelley drafted; Kelley declined to provide a copy.
"And as Pam and I have both said, the interview provided a base. That's not to say it is word for word," Kelley said Wednesday by email. "… I also spoke with Dr. Rao moments before we began recording, so there were probably insights that didn't wind up on the recorder. … The draft was revised by Dr. Rao's staff which included input from Dr. Rao himself, and it was ultimately edited, approved and submitted by VCU."
Kelley said another column published by The Times-Dispatch online Dec. 9, 2018, and in print the next day was developed by NH District Corp. That column was signed by Hakim J. Lucas, the president of Virginia Union University; and Makola M. Abdullah, the president of Virginia State University, and several other contributors. After it was published, more contributors, including Farrell, were added at the bottom of the column online.
Mudd said the other contributors were added to the online version after the editorial staff was alerted that additional people were involved in the op-ed.
The Times-Dispatch's Opinions staff routinely receives op-ed pieces from community leaders and subject-matter experts on topics of local interest, but not all are published. Those selected for publication appear on the daily Opinions page with the author's byline and photo.
In June 2017, Farrell's group publicly revealed details of a plan to redevelop the Richmond Coliseum and an area around it, including public property and the historic Blues Armory.
In November 2017, Mayor Levar Stoney announced a city request for proposals to redevelop the area that mimicked what Farrell's group proposed. Farrell's group was the only entity to submit a proposal.
In order to take effect, the plan must be approved by the Richmond City Council, which has created an advisory commission to review it.
The Times-Dispatch sought the records from VCU on Rao's column this year after Jeff Thomas, a Richmond native and an author of two books about Virginia's power structure, made a FOIA request to VCU and shared the results with the newspaper, which then filed its own FOIA request.
Thomas said part of the reason he made the FOIA request was because the drivers of a plan for urban renewal had originally proposed a special tax district of 10 blocks but expanded it to 80 blocks.
Of Lepley's comments, Thomas said: "Jeff Kelley wrote it, then they signed off on it and failed to disclose that he wrote it. … If it's really a collaboration, then how come Michael Rao's name is on it alone?"
Thomas also questioned why VCU is involved in the project at all.
"They're a public institution. Their mission is to educate people and produce research that benefits the state and the nation," he said. "Why in the world are they getting involved in a private development project that's not in the public interest but is in the interest of their largest donors?"
Former Gov. Bob McDonnell appointed Farrell to the VCU board of visitors in 2011 and he served until 2015; Farrell asked not to be reappointed because of conflicts with his schedule, according to the secretary of the commonwealth's office that year.
Farrell served on the board's Presidential Evaluation and Compensation Committee.