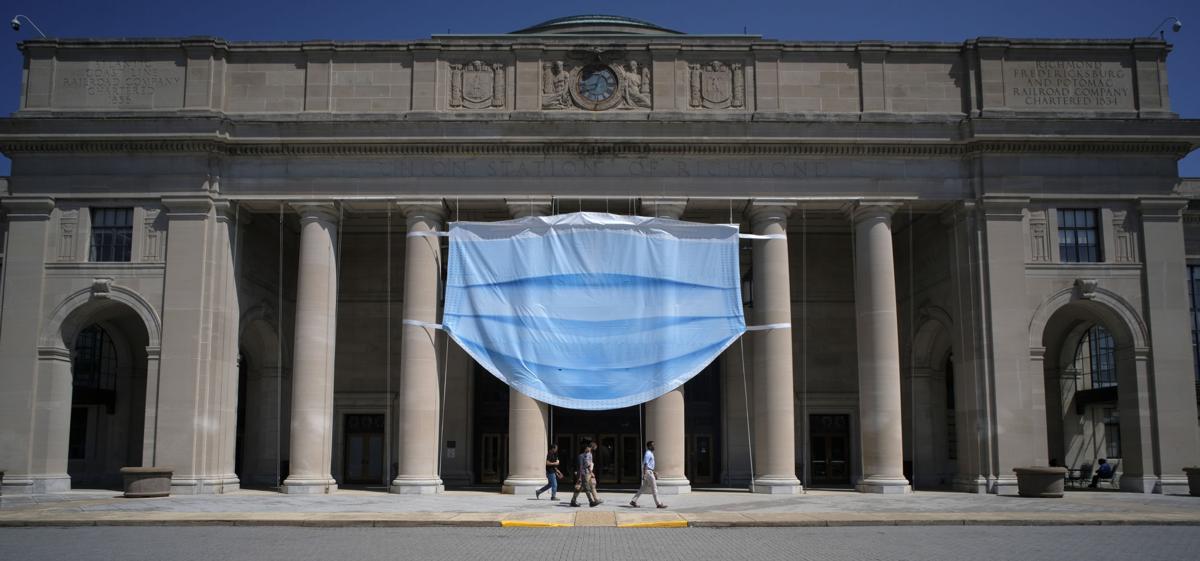 Virginia's Health and Education departments are urging all elementary school students and staff to wear masks in schools, regardless of vaccination status, until vaccines are available to children under 12.
The guidance released Wednesday stops short of mandating facial coverings for public school students, which has been required under an order from the state health commissioner, Dr. Norman Oliver. The directive, which requires students and staff in all K-12 schools to wear masks indoors, will not be extended after it expires on July 25, the two departments said in a news release.
On Wednesday, the departments updated guidance that still prioritizes in-person instruction during the COVID-19 pandemic, days after the American Academy of Pediatrics released its own guidance urging everyone to wear masks in schools regardless of vaccination status amid the spread of the delta variant of the novel coronavirus.
According to the Centers for Disease Control and Prevention, 83% of new COVID-19 cases across the country are the delta variant, up from 50% during the first week of July. At least nine states have created laws prohibiting mask mandates in schools, like Georgia, Iowa, South Carolina and Texas. Last week, California announced a mandate to require masks in schools but quickly reversed course.
The guidance urges wearing masks in elementary schools, but it is more lenient with middle and high schoolers. State officials said that school districts should require masks at a minimum for unvaccinated older students. Schools should consider universal mask-wearing if spread in school becomes severe or community transmission of a certain COVID-19 variant, such as delta, that spreads more easily among children begins to increase substantially.
"Virginia has followed the science throughout this pandemic, and that's what we continue to do," Gov. Ralph Northam stated in the news release. "This guidance takes into consideration recommendations from the Centers for Disease Control and the American Academy of Pediatrics, and will provide necessary flexibility for school divisions while ensuring a safe, healthy, and world-class learning environment for Virginia's students."
A spokesperson for the governor said it was important to "empower" school divisions to make their own decisions on masks. School divisions in the state have seen varied responses to mask mandates, from protests at school board meetings to pleas from community members to remain masked up.
"This guidance empowers these local leaders to make data-driven decisions in consultation with their local health departments," said Alena Yarmosky, spokesperson for Northam. "This is consistent with the approach we have taken on K-12 schools throughout this pandemic — recognizing that vaccination eligibility, community transmission, and disease burden vary greatly from school to school and community to community." She also said that school districts have the option to confirm immunization records but should consult their school board counsel.
Evidence has largely shown that children are less likely to get sick or die from COVID-19. However, some local schools are still shutting down due to the virus's spread.
Broad Rock Elementary School in South Richmond, which is open for summer school, shut down on July 15 after a student tested positive for COVID-19, Superintendent Jason Kamras said in a weekly newsletter. It's unclear how many people the school division had to contact during its contact-tracing stage, but during public comment at Monday's School Board meeting, parents reported being required to quarantine. The school reopened Monday.
Richmond Public Schools is still opting to continue universal mask-wearing, Kamras said in a statement on Wednesday. RPS, which has a majority-Black student body, was the last locality in the state to reopen for any in-person instruction due to high numbers of COVID-19 cases. Currently, just under half of adults in Richmond are fully vaccinated. In neighboring Chesterfield and Henrico counties, those rates jump to 61% and 64.3%, respectively, according to VDH data.
"Essentially, the announcement doesn't change anything for us," Kamras said. "We're maintaining maximum vigilance."
Officials for the counties of Henrico, Chesterfield and Hanover all said they are reviewing the guidance but didn't offer details as to when they'll announce their own policies. Currently, all are abiding by the mask mandate put in place by the state commissioner.
All school systems in Virginia are required to offer five days of in-person instruction beginning this fall thanks to Senate Bill 1303, which the General Assembly passed in February.
(804) 649-6948
Staff writers Jess Nocera and Holly Prestidge contributed to this report.