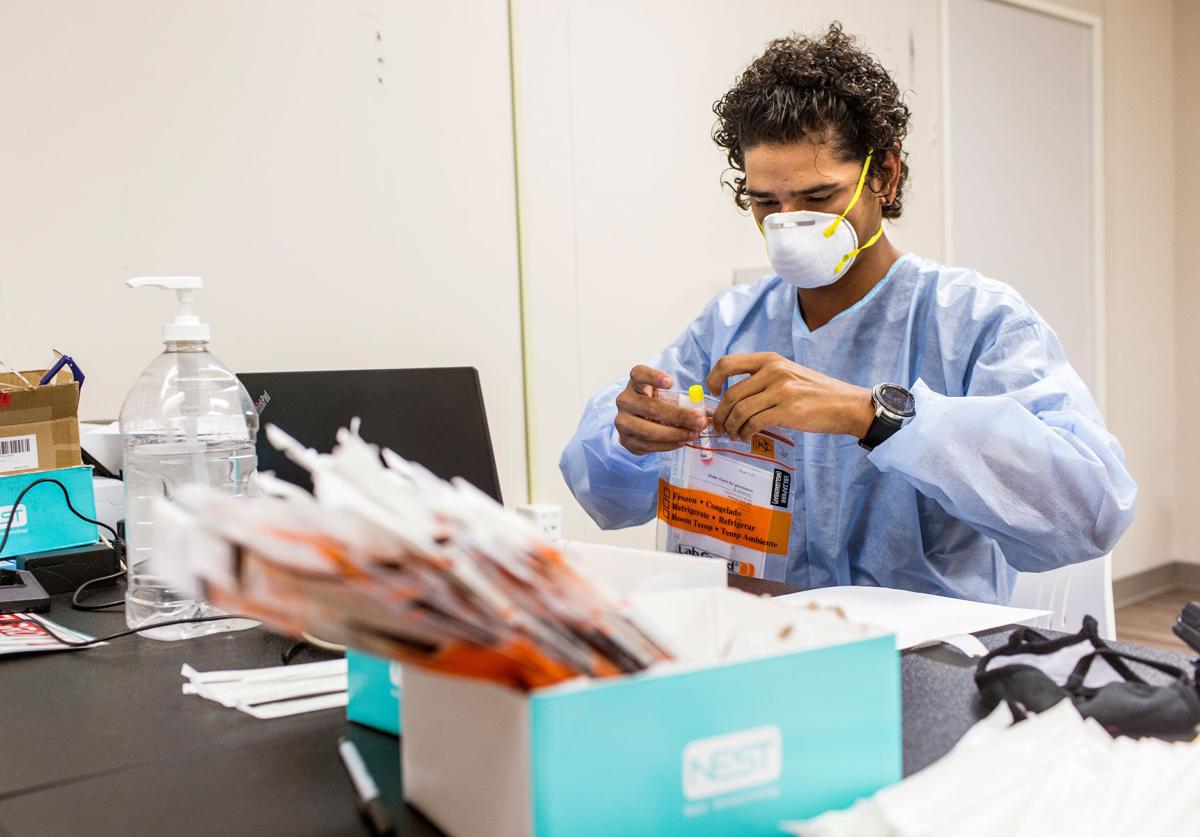 Three months after Thanksgiving, the first holiday to spark a surge that would culminate in an increase of nearly 10,000 cases in a single day in January, Virginia is beginning to better understand the deadly aftermath.
Nearly 1,600 COVID-19 deaths were announced in the past 10 days due to a delay in processing death certificates, meaning these did not occur recently. At least 820 of those were recorded from Friday to Monday, resulting in a seven-day average of 185 deaths each day. The Virginia Department of Health website notes that date of death is a more accurate mirror to the trends, which may fluctuate as more information comes in.
More than half of the state's 8,783 deaths have occurred in the past three months. In December and January, at least 3,273 Virginians — 37% of the total — died from the virus.
December had 1,545 COVID deaths and peaked on New Year's Eve with 71. Prior to the adjustment, the VDH had reported 939 in that month.
January was already the deadliest month of the pandemic in Virginia with 1,442 total deaths, but Monday's update shows 286 more people died then. The month's total is now at 1,728, but the January death certificates are still being calculated.
In a media briefing last week, State Health Commissioner Norman Oliver said deaths have consistently been a lagging indicator that follows major surges and "we'll see it come down in the coming days and weeks."
The COVID Tracking Project said Virginia uses a slower technique than other states, which is why it's sustaining a major spike that exceeds the daily averages in all other states except for California and Texas. Both have at least five times Virginia's deaths. This makes the state third in the country for the average number of deaths in the past week and 18th for number of deaths throughout the pandemic, according to an analysis of federal data.
But when adjusted for population, the state has had 100 deaths per 100,000 residents since last March — the eighth-lowest number among states. While other states such as Alaska, Iowa and Oregon use in-real-time methods by reporting deaths within days of health care facilities announcing COVID-19 deaths, not all death records have undergone review by the federal Centers for Disease Control and Prevention.
A backup is the use of death certificates, which can create weekslong backlogs. Virginia investigates medical records, speaks with family members or health care providers, and then looks at death certificates. If a death certificate doesn't explicitly list COVID as cause of death, that person is not included in the state's count unless an underlying condition was accelerated by the virus. Virginia then divides the count between confirmed and probable deaths.
By date, the Southwest region has incurred the most people dying in the past few months with an average of about 15 deaths per day. The Central region, which includes Richmond, is second with roughly 13.
But since Dec. 1, nearly every death count has doubled in every state health district. Fairfax is first for most deaths with 950. Henrico and Chesterfield follow in the second and third slots with 499 and 306. Richmond has the sixth-highest, with 197. On Jan. 1, Richmond had 95.
Last week, the U.S. surpassed half a million deaths, which accounts for at least 1 in 5 of the world's deaths from COVID. The University of Virginia's Biocomplexity Institute wrote Friday in its weekly update of virus trends that impending warm weather will likely help reduce spread. But variants and pandemic fatigue are "substantial concerns," according to the report, which cited how ZIP codes near universities are experiencing increased outbreaks and hot spots due to noncompliance with safety protocols.
With vaccinations underway, the institute predicts Virginia could revert back to case levels from June, when the state averaged fewer than 1,000 new cases per day for most of the month.
Virginia continues to creep back toward COVID numbers last seen in November, offering a promising decline. But the seven-day average of cases, which is currently at 1,701, remains higher than every case average in the first seven months of the pandemic.
The total caseload is at 577,174. The percentage of people testing positive is at 7.1%, which is down from the high of 20.2% in April yet up from the low of 3.7% in March.
COVID hospitalizations also keep falling. On Monday, 1,321 people were in the hospital, said the Virginia Hospital and Healthcare Association, 160 fewer than Friday.
The number of people fully vaccinated in Virginia — 686,289 — exceeds the state's total caseload by 109,115. About 400,000 shots were given in the past week, and Virginia could surpass 2 million doses administered on Tuesday. Nearly 1.3 million people have received at least one dose, which is more than 15% of the state's population.
Phase one and two of vaccine eligibility is made up of roughly 4.5 million people — or half of Virginia — but without an occupation breakdown of vaccinations, it's nearly impossible to gauge who from these phases has received a dose.
The state has received 2,426,545 vaccines and administered almost 82%. The national average is 78%.
A total of 431,000 vaccines are on the way to Virginia. An estimated 69,000 shots are the one-dose Johnson & Johnson vaccine. The state is planning how to distribute that vaccine, which the Food and Drug Administration authorized for emergency use Saturday.
The rest of the vaccines bound for Virginia are 180,000 Pfizer and Moderna first-dose shots, 130,000 second-dose shots, and 52,000 doses being distributed among eight federal pharmacy partners.
Julian Walker, vice president of communications for the state hospital association, said in a statement Saturday that Virginia hospitals have the capacity to administer around a quarter-million doses per week.
"Virginia hospitals stand ready to help the state administer them as efficiently as possible," he said.
Richmond has reported 14,849 cases, 680 hospitalizations and 197 deaths.
Henrico County has reported 21,446 cases, 879 hospitalizations and 499 deaths.
Chesterfield County has reported 23,594 cases, 788 hospitalizations and 306 deaths.
Hanover County has reported 6,663 cases, 252 hospitalizations and 128 deaths.
(804) 649-6103
Twitter: @sabrinaamorenoo