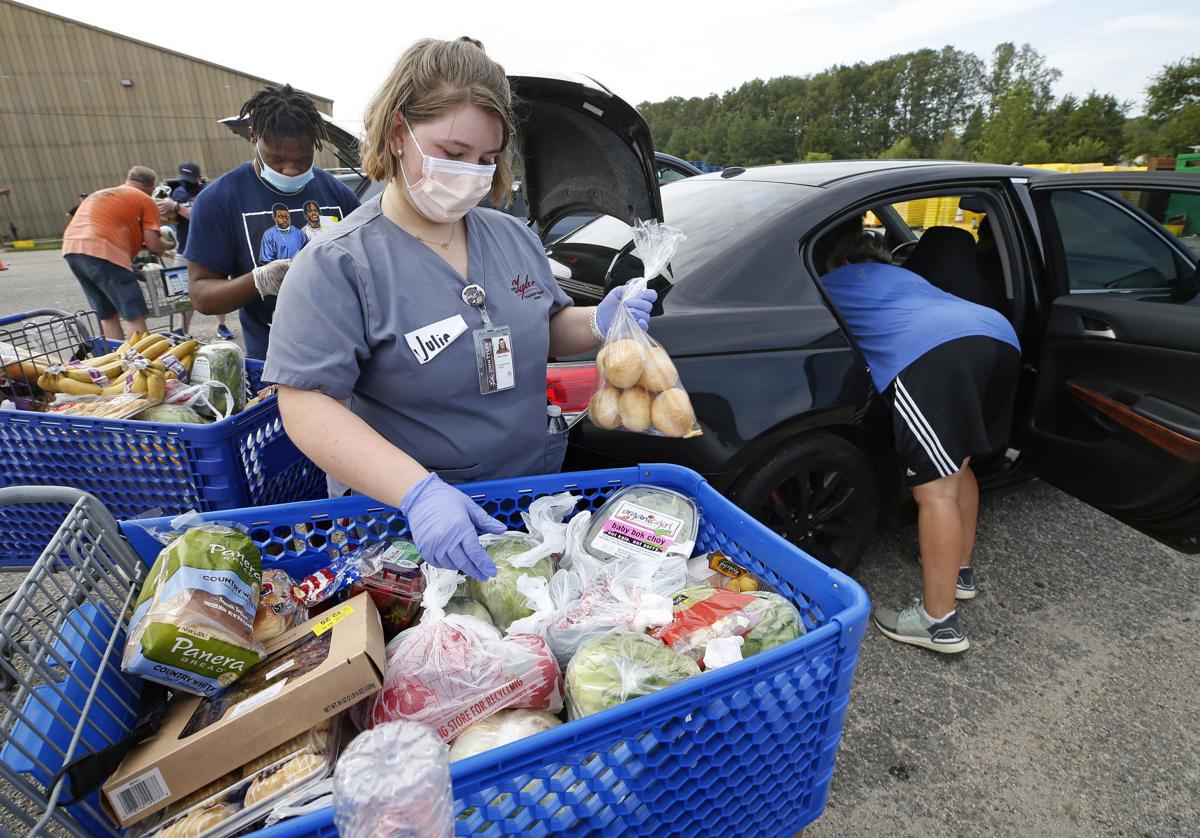 When Roy "Big Country" Richardson was growing up in New Kent County, he went to the local food bank every Saturday to get a block of cheese, powdered milk and butter.
Now, he dedicates 30 hours of his week, when he's not running his DJ business, volunteering at the Chesterfield Food Bank. On Friday afternoon, he and others hauled grocery carts, filled to the brim with food, to hundreds of families, some of whom had been waiting in the car line since 9 a.m.
Among the volunteers: a pharmacy technician, a nursing student, a retired hospitality worker and people working to meet the surging needs that economic instability from the pandemic have brought to every corner of the country.
When the COVID-19 crisis began, the food bank immediately felt the shift in need as the unemployment rate climbed. To be prepared and safely provide food to those in need, the food bank established drive-thru pickup days at various locations three times a week.
"The first week of our drive-thru [in March] I walked out to the end of the [food bank's] driveway, and it was car after car as far as the eye could see," executive director Kim Hill said.
U.S. census estimates from July 2019 showed about 28,000 Chesterfield residents living below the federal poverty level, which is $26,200 for a family of four. The number has only grown as jobs have been lost during the pandemic.
In July, the food bank served more than 30,000 people, marking the largest contribution month during COVID-19, Hill said. The food bank has never run out of food.
Richardson is on a first-name basis with many families who routinely come to the Chesterfield Food Bank. He understands and wants to be there for others.
"I know how they feel," Richardson said. "I want them to know that people are still compassionate, that people still love people."
Every Friday, cars line up as early as six hours before the food bank on Iron Bridge Road opens the drive-thru. At noon, the first 20 cars or so are allowed to park in the parking lot where they wait another three hours. Once 3 p.m. hits, the operation begins with a slew of volunteers working in the warehouse to fill grocery carts with fresh fruits and vegetables, dairy products, meat, prepared foods and nonperishable items.
Doretha Bacon, a Richmond resident, was in line by noon on Friday. That was late for her — normally she's in line by 10 a.m.
Bacon, a retired Philip Morris machine operator, has been going every Friday for the past two months, hoping for fresh fruit and vegetables. With her food, Bacon makes vegetable medleys, fish, chicken or hamburgers.
As people waited in line, nursing students from nearby John Tyler Community College weaved between the line of cars to talk to anyone willing to listen about properly wearing personal protective equipment, nutrition, exercise and more.
Tryphena Johnson, a pharmacy technician, began volunteering at the food bank in March. The North Chesterfield resident's bright personality comes to life on the warehouse floor as she checks in on volunteers and cracks jokes, all while making sure carts have the right amount of food.
"You have to have a positive attitude. You have to be caring and have a giving heart," Johnson said.
Each grocery cart provides a family of four, with or without children, two meals a day for a week. The food bank is able to accommodate food allergies and dietary restrictions; however, those families must come in during the week. If a family has children, they receive an additional seven breakfasts and seven lunches per child. In all, it's between $200 and $300 worth of food.
The food bank's "Pandemic Kids' Emergency Program" run by Richardson has served 122,000 meals to children so far this year. The program will continue through the end of the year, and the food bank expects to serve 500,000 meals, Hill said.
The agency is receiving $500,000 from the county through the federal Coronavirus Aid, Relief and Economic Security Act funding to be able to purchase more food.
The Richmond region — Richmond and the counties of Chesterfield, Hanover and Henrico — had 1,107 initial jobless claims for the week that ended Aug. 22, a week-over-week decrease of 20.3%. The region had just 294 claims for the week in March before the pandemic hit.
Since then, the total number of jobless claims in the region has soared to nearly 134,500.
Business Editor Greg Gilligan contributed to this report.