Upward of 500 people gathered beneath the Robert E. Lee statue Friday night for a peaceful demonstration and celebration of Juneteenth, a holiday commemorating the emancipation of enslaved people in the United States.
Around 8:15 p.m., recording artist Trey Songz's entourage arrived chanting "Black Lives Matter."
Songz, a Petersburg native, is hosting three days of events in Richmond and Petersburg, beginning Friday evening with the candlelight vigil and march on Monument Avenue.
"We tired right now," he said, speaking to all those who are "bold and Black," like him. "My grandfather was tired before me."
"I'm scared for my son. It could be any of us."
As he finished his comments, he held up his fist. The crowd cheered and responded in kind raising their fists.
"We're going to tear this s--- down," referring to the statue behind him. "We're going to tear these injustices down. We've been asking for a long time. We're tired of asking."
Many families were present for the event, with children playing basketball at a hoop set up beneath the shadow of the Confederate memorial that Gov. Ralph Northam has ordered be removed.
Melachi Cobbs, a teenager playing basketball, had never been to the Lee statue before.
"I just wanted to see what it's like, what people are doing out here," he said. "If they were able to protest I wanted to join in."
Cobbs said he made a few new friends at the makeshift court, and liked how it brought people of different ethnicities and backgrounds together.
Quanikua Carrington brought her daughter and niece to the event, taking turns hoisting each child up onto her shoulders, swaying to the music.
"It's history — Blacks, whites, everyone. It's beautiful," she said of the gathering around the monument, as one of the children tapped her hip, insisting Carrington pick her up.
"I hope they [the children] learn to not be racist. We just want peace, we want justice."
Earlier, a woman who said she marched with the Rev. Martin Luther King Jr. in the 1960s took the megaphone and implored those in attendance to register to vote.
A voter registration booth was set up on the periphery of the event. The woman's sign read "1 Solution? Vote."
After the speakers had finished, the crowd began to march west on Monument Avenue.
Marchers in Hanover urge school renamings
Earlier Friday in Hanover County, before hundreds marched to call for the renaming of two schools with Confederate-related names, several speakers remembered the origin story of the Juneteenth holiday.
Like the enslaved people in Texas who remained unaware of the Emancipation Proclamation until Union forces arrived in 1865, "we're still not free," said Robert Barnette, president of the Hanover NAACP.
Over the last year, the local NAACP branch and other community members have advocated for the renaming of Lee-Davis High School and Stonewall Jackson Middle School. While an NAACP lawsuit challenging the school names was defeated in federal court last month, the recent nationwide protests have energized local community members to continue fighting for the cause.
"We are marching for the truth — and the truth is those names are racist and they are oppressive to people of color," said Avi Hopkins, who graduated from Lee-Davis in 1994. "I'm not here for myself. I'm here for every young person of color who will walk down the hallways of those schools in the future."
Among the protesters who marched by the two schools Friday, chanting "Black Lives Matter" and "Change Those Names," Jennifer Clemons, a teacher at Laurel Meadow Elementary School, carried a sign that said: "I respect all my students! Did Robert E. Lee? Did Stonewall Jackson?"
"I love my students. I don't want anyone to feel excluded in the educational setting," she said.
The Hanover NAACP filed suit last summer to change the school names after the School Board voted 5-2 in 2018 against renaming them.
While lawyers for the Hanover NAACP branch alleged that the school names violate the constitutional rights of African American students, Judge Robert E. Payne dismissed the case in May, saying a two-year statute of limitations had expired because the schools were named more than 50 years ago.
In a speech before the march, the Rev. John Kinney, the pastor of Ebenezer Baptist Church in Beaverdam, noted that Lee-Davis was named in 1959, as school districts throughout Virginia were fighting against school integration.
"Those symbols were erected to assure and continue to reflect the viability of racial supremacy," he said. "They're not there to honor history. They are there to make a statement of how they will define the future."
But some in the community remain opposed to changing the names, arguing that honoring the Confederacy and its leaders is not racist.
Watching the march from the parking lot of a business adjacent to the school, H.D. Crowe and dozens of people quietly observed the protest. Most declined to be interviewed about why they were gathered there.
"I think it's ridiculous. It's history. You can't change history. This whole entire area is nothing but history about the Civil War," said Crowe, a 1987 Lee-Davis graduate.
While an appeal in the NAACP case is pending, a member of the Hanover Board of Supervisors who attended the pre-march rally at the Mechanicsville Library said they will change when the schools are eventually rebuilt.
"We've already committed to that. It's just a timeline thing," said Canova Peterson, who represents the Mechanicsville District where the schools are located.
Nonetheless, protesters said they want to see the names changed sooner rather than later.
Police state authority to halt assemblies
The Richmond Police Department on Friday afternoon, hours before the candlelight vigil, said that they are prepared to declare an unlawful assembly if the event or protests that will likely follow become "violent, dangerous or disruptive."
The department said its made several unlawful assembly declarations over the past three weeks , adding that its officers have refrained from making arrests when crowds refused to disperse. But now, the department said they are prepared to make arrests or use chemical agents.
One protester was arrested Sunday night and charged with felony assault on a law enforcement officer and conspiracy to incite a riot. It's unclear if any dispersal order was given that night, or on other nights outside the department's headquarters on Grace Street, where protesters have been met with rubber bullets, flash bangs, pepper spray and tear gas.
The Virginia State Police released video Thursday night of one of its officers getting hit in the knee with a block of cement. Police also reported that water balloons filled with urine where thrown at them, and that they intercepted ball bearings and Molotov cocktails.
"I have instructed my officers to make every effort to support each citizen's First Amendment right to express their opinion," said RPD Interim Chief William "Jody" Blackwell. "We share their vision of a better, more inclusive future for Richmond. But, some protesters' actions put everyone at risk and we must address that."
The comments came a day after the chief vowed during a news conference to "get the city back."
20200620_MET_LEEVIGIL_JM01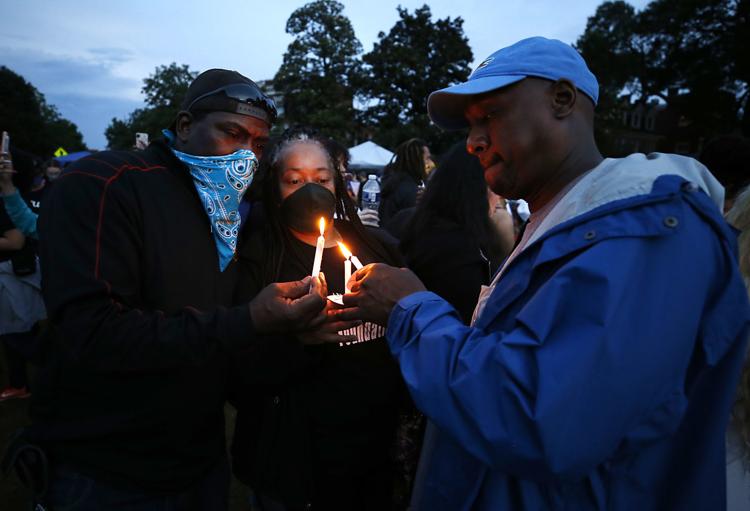 20200620_MET_LEEVIGIL_JM02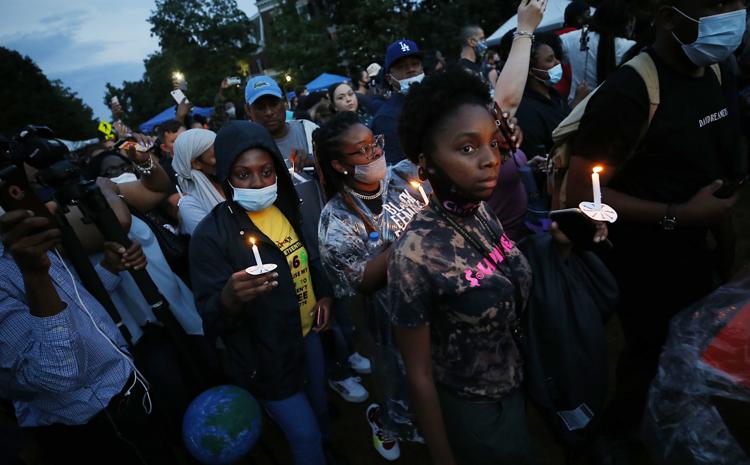 20200620_MET_LEEVIGIL_JM03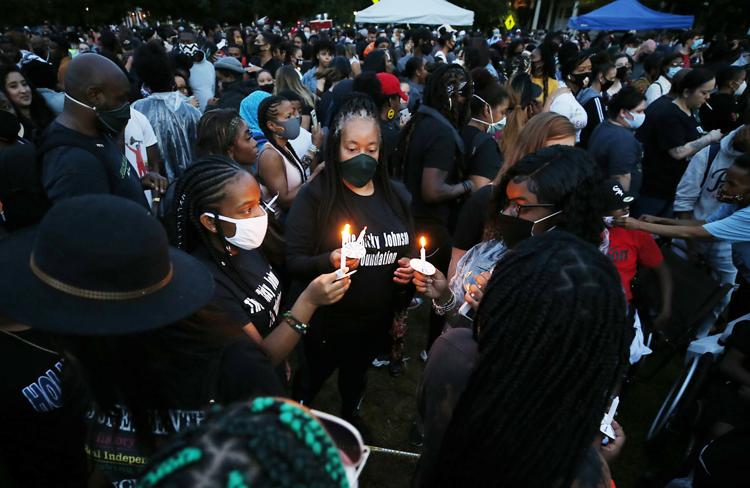 20200620_MET_LEEVIGIL_JM06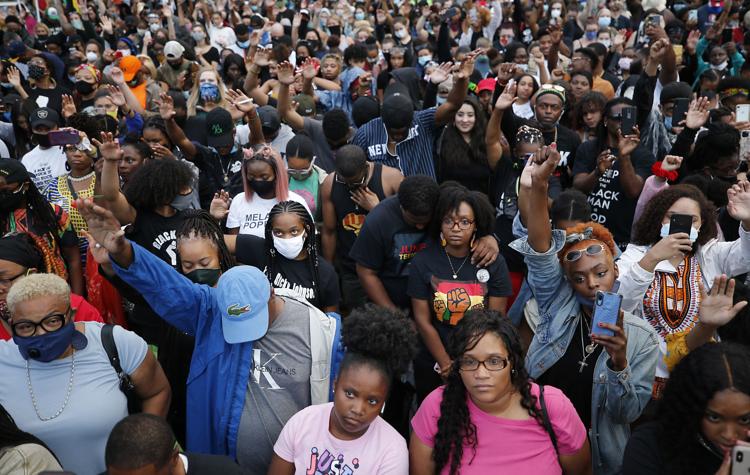 20200620_MET_LEEVIGIL_JM08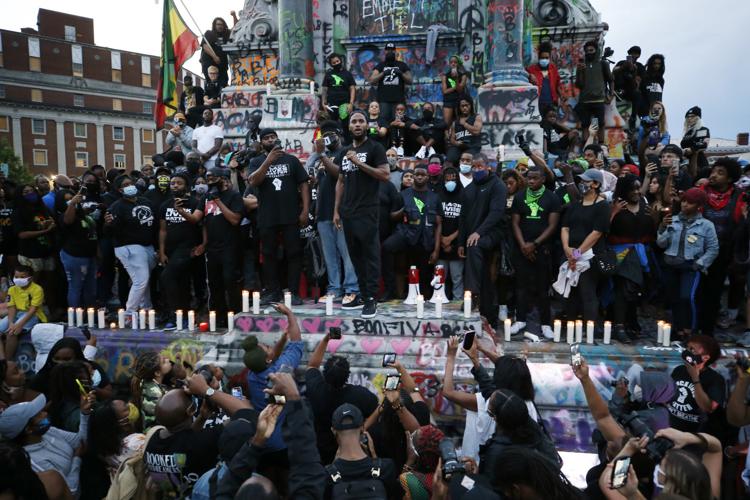 20200620_MET_LEEVIGIL_JM09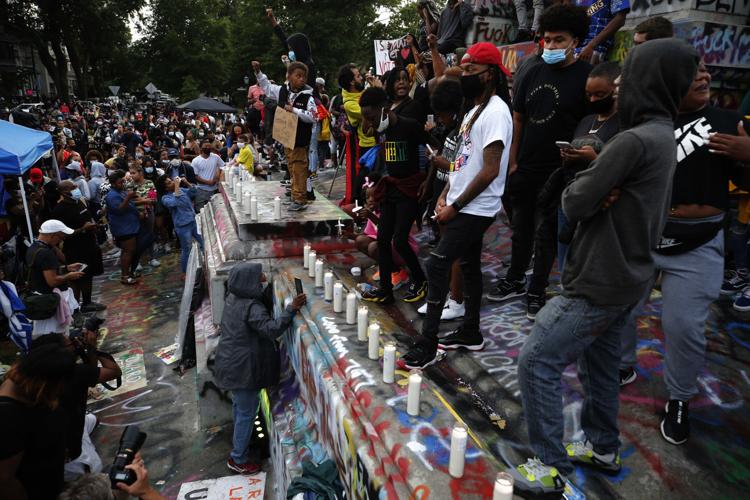 20200620_MET_LEEVIGIL_JM10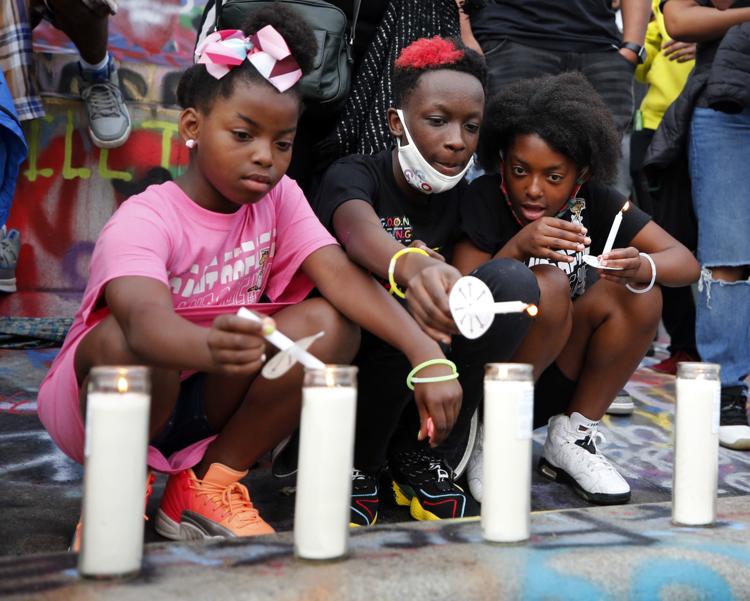 20200620_MET_LEEVIGIL_JM11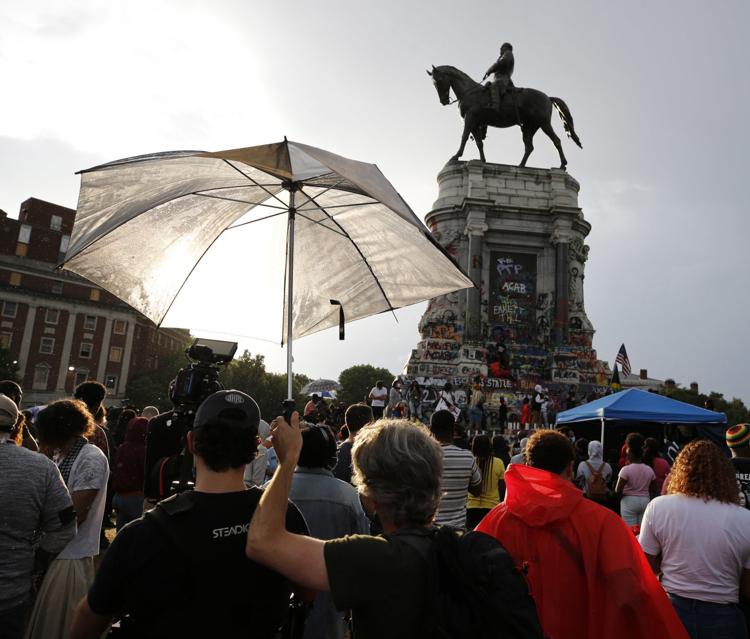 20200620_MET_LEEVIGIL_JM12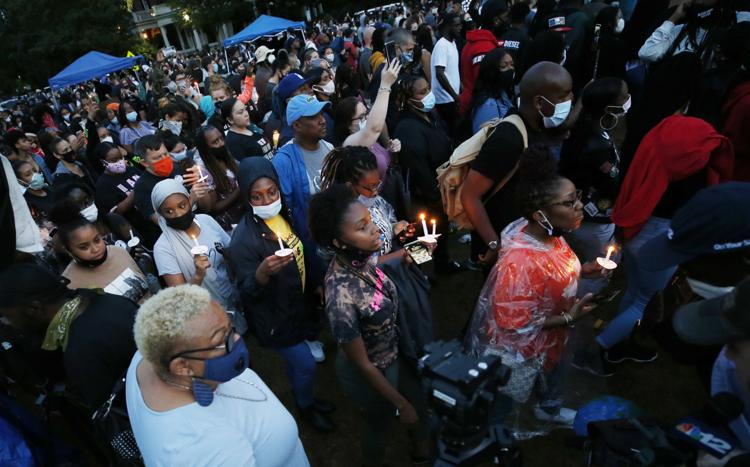 20200620_MET_LEEVIGIL_JM13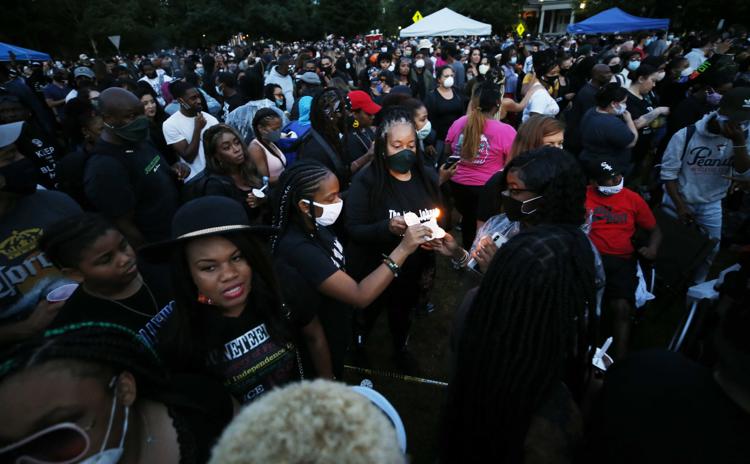 20200620_MET_JUNETEENTH_AWE01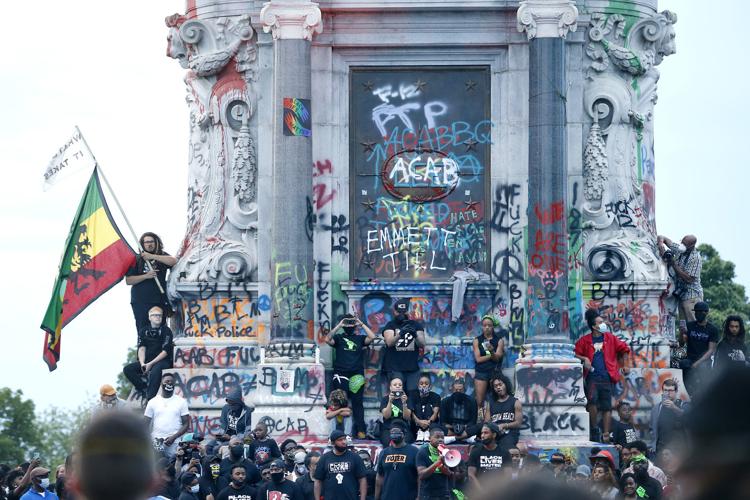 20200620_MET_JUNETEENTH_AWE02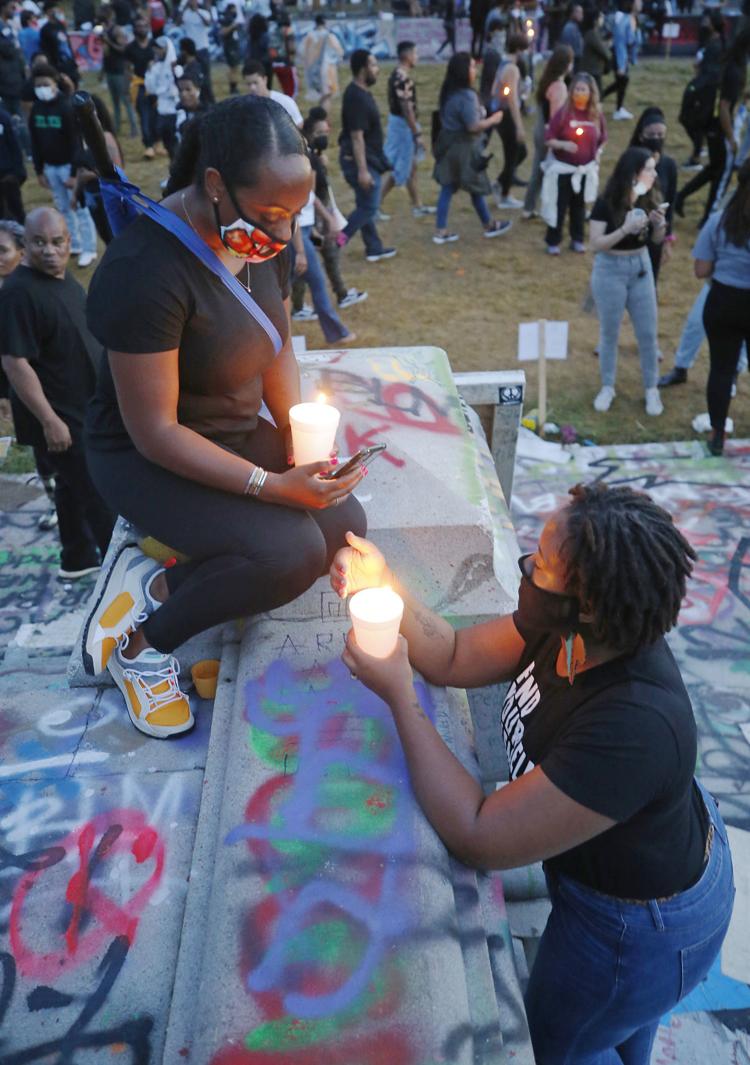 20200620_MET_JUNETEENTH_AWE03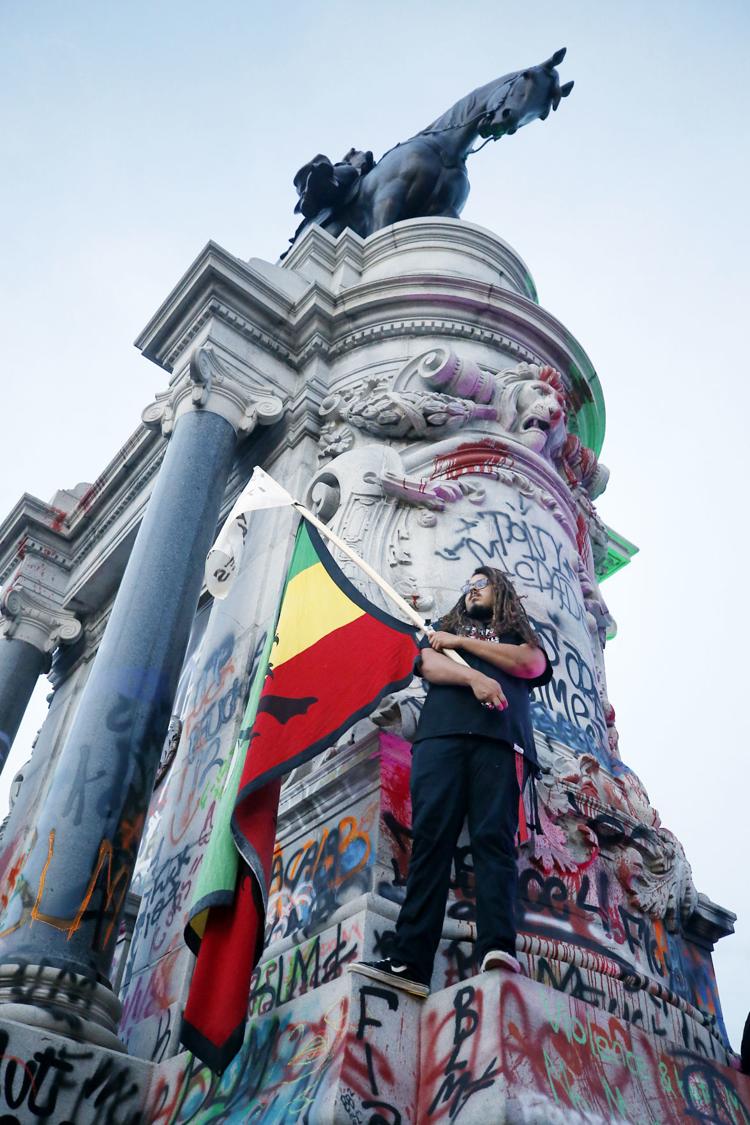 20200620_MET_JUNETEENTH_AWE04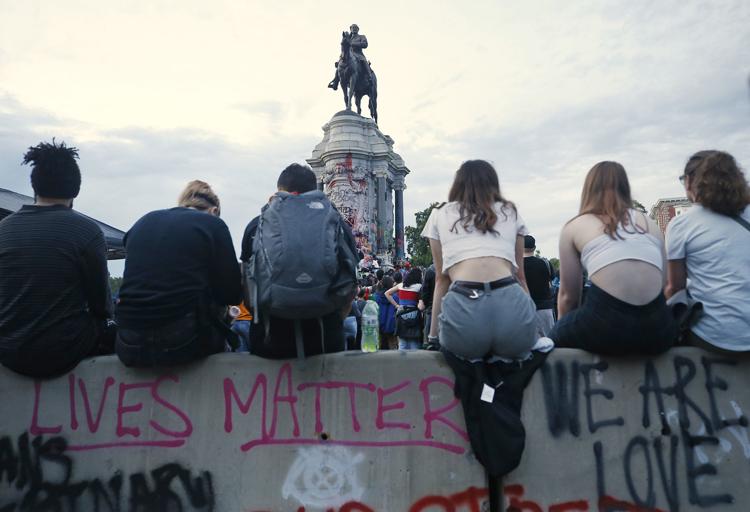 20200620_MET_JUNETEENTH_AWE05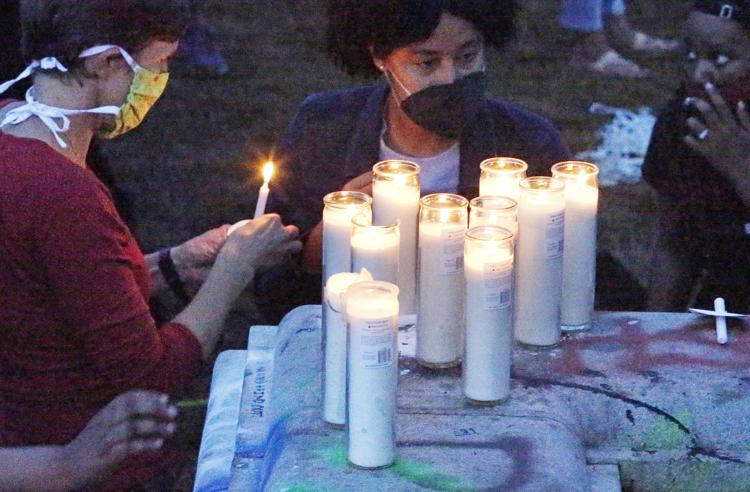 20200620_MET_JUNETEENTH_AWE06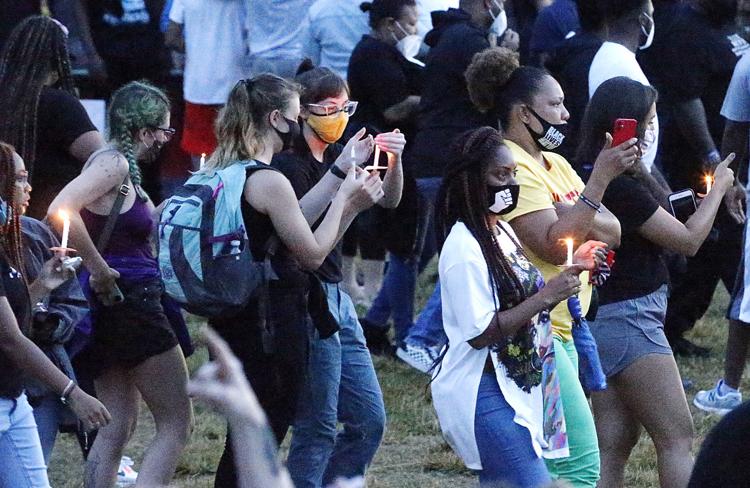 20200620_MET_JUNETEENTH_AWE07
20200620_MET_JUNETEENTH_AWE08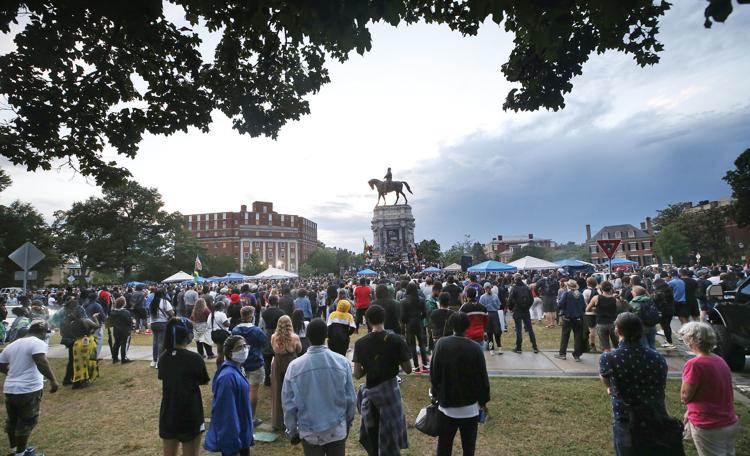 USE -- HIDE VERTICAL GALLERY ASSET TITLES --
(804) 649-6555
Twitter: @ZachJoachim
(804) 649-6527
Twitter: @AliRockettRTD
(804) 649-6178