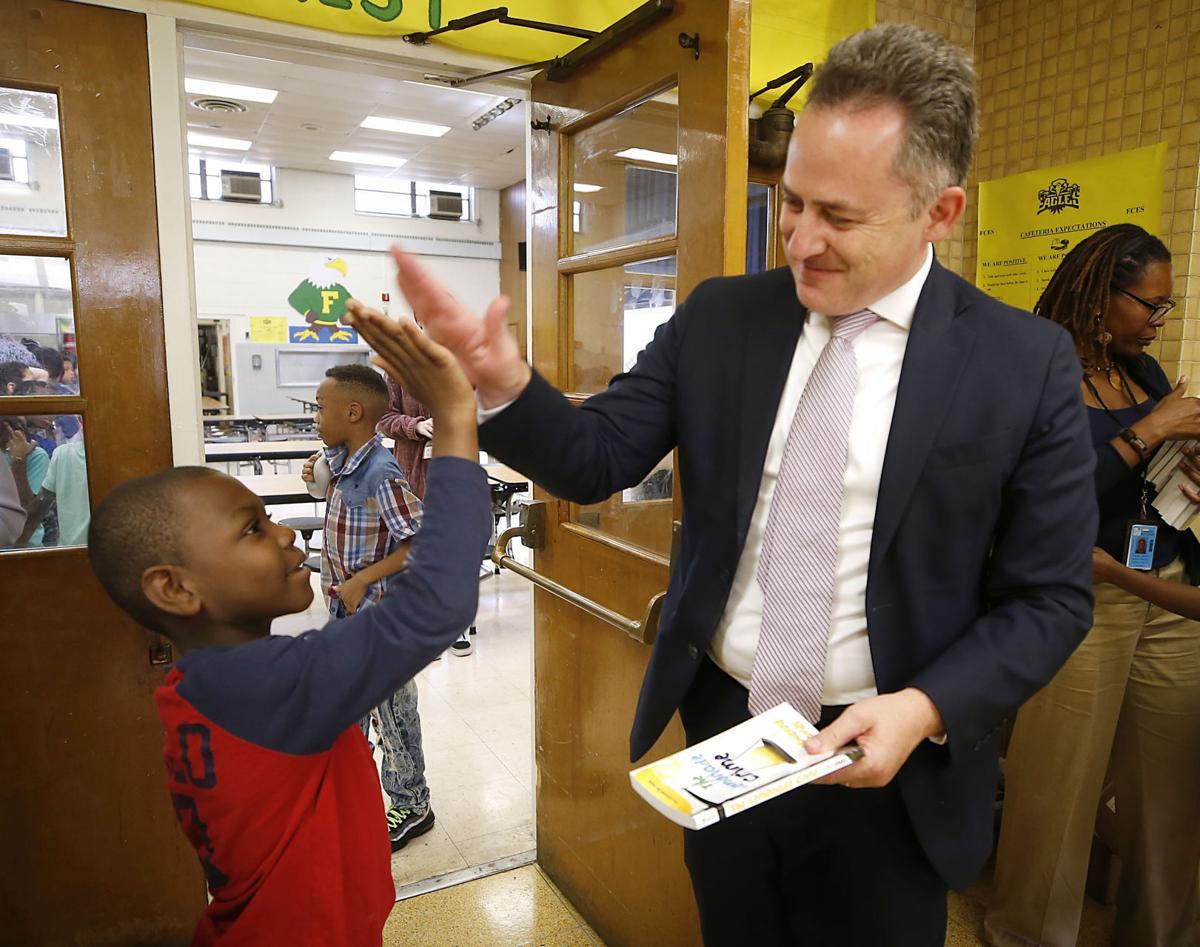 After hearing from students on Thursday who want police out of their schools, Richmond Superintendent Jason Kamras said he will ask the School Board to remove them.
He said he'll then ask the City Council to give money budgeted for school resource officers to the school system, so RPS can hire mental health professionals. The money for the 13 officers assigned to work at the city's middle and high schools currently flows to the Richmond Police Department.
"Talk is cheap, and we need action," Kamras told a group of students during a Facebook Live event on the subject. He said he expects the City Council to agree. "I think it's the right thing to do and it's what our kids have asked for."
The Kamras administration in June announced a 90-day review of the practice after schools across the country — including in Charlottesville — began announcing an end to their relationships with local police departments.
Scrutiny of what having officers in schools means for the school-to-prison pipeline, wherein students of color disproportionately are pushed into the criminal justice system, gained momentum when the Minneapolis School Board terminated its contract with the police department after a city police officer killed George Floyd.
Kamras' announcement Thursday was sudden and made well before the end of the system's planned review. There was no mention of the removal of school security guards.
"I think taking that away from the schools, I think it's tragic," said Faith Flippo, who oversees SROs for the city's police department. "I worry about what that brings and what that does to our schools. Our response time is imperative, that's one of the good things about having an officer in the schools."
School systems in Denver, Portland, Ore., and Oakland, Calif., all have cut ties with local police.
The bulk of the 121 arrests RPD made in Richmond schools during the 2019-2020 school year were for simple assault, marijuana or disorderly conduct. Marijuana possession has been decriminalized in Virginia, and it is now illegal to arrest students for disorderly conduct on school property.
In Thursday's conversation, several RPS students who spoke made clear that they don't think having the officers in schools is necessary.
"Having metal detectors and police officers in schools makes students feel like prisoners," said Corey Stuckey, a student at George Wythe High School. "If you treat kids like prisoners from the start, what do you expect them to be in the outcome?"
Public officials in Richmond took a renewed interest in the relationship after Richmond police on June 1 tear-gassed protesters demonstrating against the police killings of Floyd, Breonna Taylor and Tony McDade at the Robert E. Lee monument about 20 minutes ahead of a citywide curfew put in place by Mayor Levar Stoney.
Richmond police initially said the crowd, many members of which were kneeling with their hands up, had provoked the use of chemical weapons; the chief later apologized.
During a School Board meeting on Monday, members of the board said they were shocked to learn that Martin Luther King Jr. Middle School had the highest number of arrests out of all of the schools in Richmond. Other schools with a relatively high number of arrests include Boushall Middle School and Huguenot High School.
Jazz Miles, a rising sophomore at Richmond Community High School who helped lead the discussion Thursday, said he's excited for the change.
"There's a lot of tension between us and the SROs. It's just very unequal," Miles said. "They'll punish a group of students for doing a very little offense but if another group of students was doing the same, that they'll just get a slap on the wrist."
Cassie Powell of the Legal Aid Justice Center said the move wouldn't go far enough.
"It's really important to also include the removal of school security officers and dismantling school security officers. If we just remove SROs and replace them with more school security officers, it's not going to solve the school push-out problem, it's not going to solve the school-to-prison pipeline," she said.
Rodney Robinson, who was the 2019 National Teacher of the Year and taught at Richmond's juvenile detention center, is supportive of Kamras' recommendation.
"We just need to get the School Board to support the actual idea. Then it's time to ask the mayor to move the funding and reallocate it toward restorative justice programs in the schools," he said. "We need more mental health advocates. We also need a retraining of school security personnel. I think they need to be trained in restorative justice and de-escalation techniques."
Restorative justice is a non-punitive accountability process that is meant to reduce harm caused by crime instead of punishing crime-doers. The process is part of RPS' five-year strategic plan to reduce suspensions and expulsions.
The next scheduled School Board meeting is Aug. 3. Kamras would not say when he planned to bring the issue forth for a vote, or if the 90-day review of SROs is over.