Weather this Memorial Day weekend will be far from ideal across metro Richmond, but there will be numerous windows where it will be nice to be outside. The biggest forecast problem is figuring out precisely when those windows open.
For those taking off Friday to get a jump-start on the weekend, the only issue will be some occasional gusty breezes from the northeast. No rain falls on Friday, but a progressively cloudier sky combines with the cool winds to keep the afternoon temperatures from getting beyond the lower 70s.
A headline-making storm pushes into the North Carolina coast Friday night and Saturday, making a miserable start to the beach season from the Outer Banks to Myrtle Beach. Strong winds, coastal flooding and heavy rain will be a full-day presence at the coast.
That same storm pushes its rain into Virginia during the second half of Saturday. While it still looks like most of Saturday will be dry in spite of the thickening clouds, be on the lookout for some lighter showers before dusk Saturday. With the east winds continuing, that means an especially chilly day in Richmond, with temperatures holding in the 60s all afternoon long.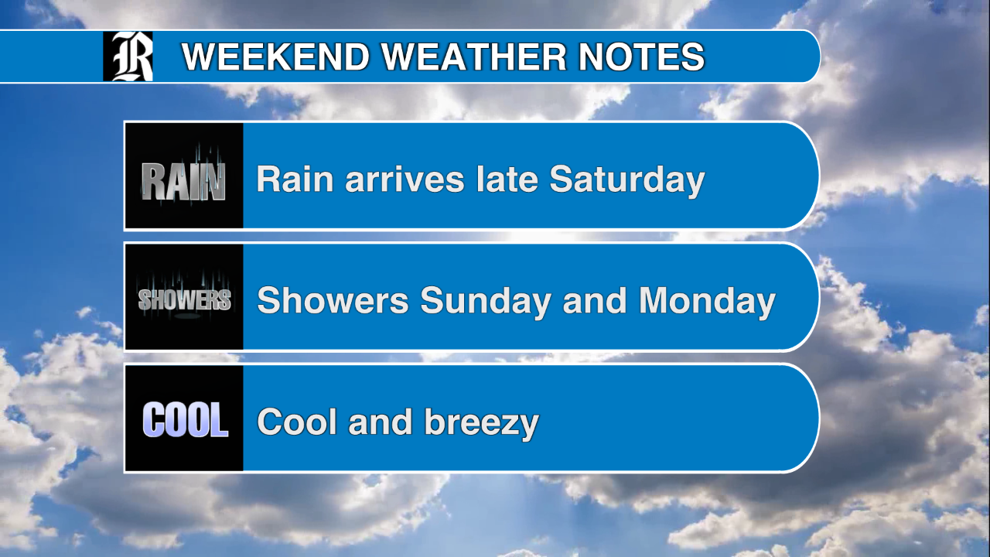 The most consistent rain settles in for Saturday night and into early Sunday, leaving about a quarter to three-quarters of an inch before coming to an end.
Once that steady rain backs away, most of Sunday will just be cloudy and cool, as the storm stalls and spins over North Carolina. However, numerous smaller showers will still pop up from time to time in metro Richmond, so trying to plan an outdoor event will remain challenging. Plus, with the clouds hanging around and the looming threat of showers, temperatures will creep only into the 70s for the afternoon.
The weather on Memorial Day will depend on how fast the entire storm system begins to move back to the east. While it will have weakened dramatically, it will also leave behind some relatively cool air spiraling over Virginia and North Carolina for most of the day, substantially enhancing the chance for showers and thunderstorms.
It is just too early to say whether any particular outdoor Memorial Day observance on Monday will be free of any rain. For now, the chance for rain over the course of the entire day is a little better than a coin flip, especially during the afternoon, so it is probably wise to wait until Sunday or Monday morning when more data is available to make a better decision.
The weather pattern evolves toward something more seasonable by the middle of next week. Then for the first couple of days of June, much warmer air that had been pooling over the Ohio and Mississippi valleys will begin to spread eastward.
But the timing of this cool and damp spell will certainly leave May as the first full month cooler than normal in Richmond since December 2022.
Frustrated folks waiting to sit by the pool will not have to wait much longer; Thursday and Friday next week will see our first back-to-back days in the 80s in about three weeks. In fact, there are early indications we could get our first 90-degree day on Friday or during the first weekend in June.
So be sure the air conditioner is in good shape. Summer is still coming.