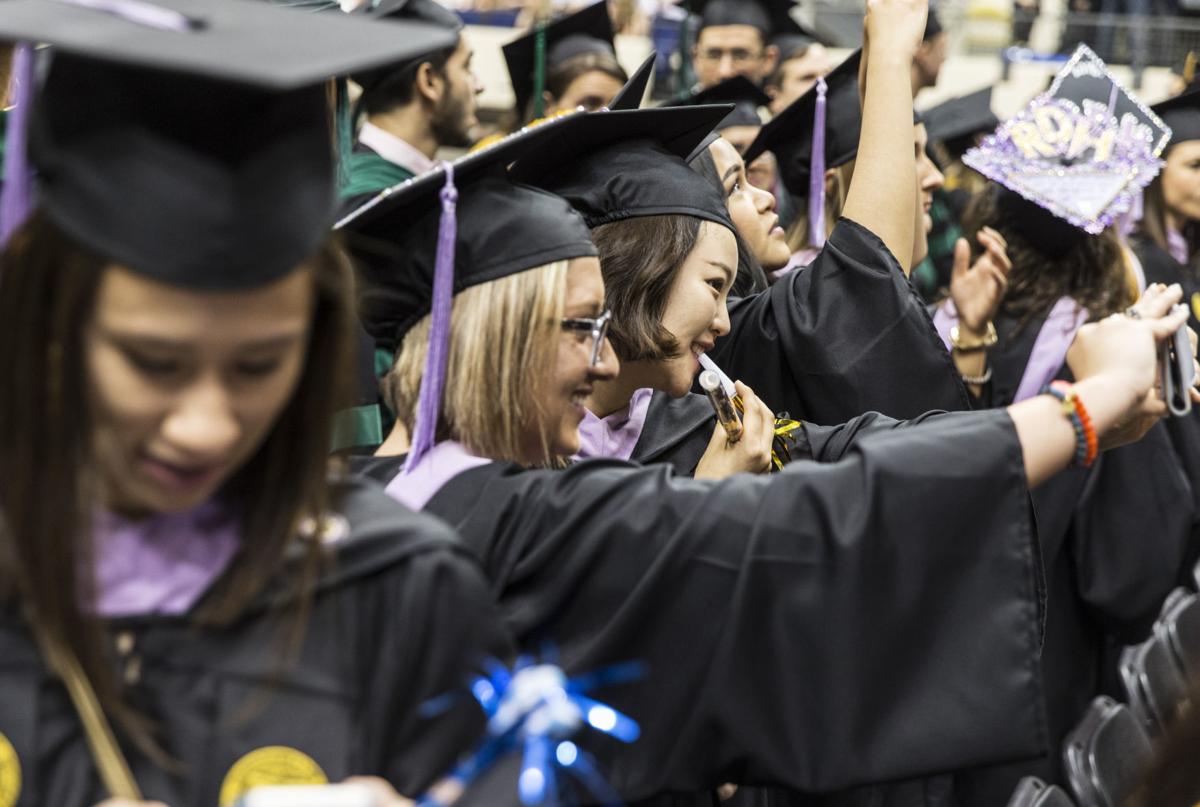 It's that time of year again.
Thousands of Virginia college students will graduate this weekend, entering a fairly strong workforce for recent graduates as they move on from years in education.
Here's what to know about the current state of the job market for college students, where the student loan crisis stands, and details on the graduation ceremonies families will flock to.
The federal unemployment rate sits at 3.6 percent, the lowest point since December 1969.
Employers told the National Association of Colleges and Employers in a recent survey that they plan to hire about 11 percent more graduates from this year's graduating class than last year's.
According to the Harvard Business Review, the unemployment rate for recent college graduates is 3.7 percent, which is higher than it was from late 2006 to early 2008 before the Great Recession.
Recent college graduates are also more likely to be underemployed, meaning they take jobs that don't require a college degree, according to the Harvard Business Review, which added that the bottom quarter of recent grads make less today than they have in the past.
The average Virginia undergraduate student graduates with about $30,000 in student loans, according to the most recent data from the State Council of Higher Education for Virginia.
The number's grown from $27,586 for the class of 2013 to $29,974 for the class of 2017, according to the state data. More than three in five graduates have student loans at the time of graduation.
It gets worse for students who get a master's degree, who on average have a $41,504 loan to pay off at the time of graduation, according to SCHEV.
But first, the students will graduate.
Here's what to know about Richmond-area commencement ceremonies and those at the state's largest colleges.
The University of Richmond will hold its main ceremony Sunday at 2 p.m. in the Robins Center Arena. Nancy Kramer, chief evangelist of IBM iX, the design and consulting division of IBM, will give the commencement speech.
Virginia Commonwealth University
VCU's commencement will be Saturday at 10 a.m. in the Greater Richmond Convention Center. Andy Florance, the CEO and founder of CoStar Group, will be the keynote speaker.
College of William & Mary
Actress Glenn Close will be the keynote speaker at this year's William & Mary commencement ceremony at 8:30 a.m. Saturday at Zable Stadium.
Virginia State University
Virginia State's commencement will be a week after most, as students will graduate on May 19 in the VSU Multipurpose Center.
Virginia Sen. Jennifer McClellan, D-Richmond, will deliver the commencement address at the 9 a.m. ceremony to graduates from the College of Graduate Studies, along with students from the College of Education and College of Humanities and Social Sciences.
Democratic Rep. Lucy McBath, who represents Georgia's 6th District, will speak at the 2 p.m. Virginia State commencement ceremony, which honors students in the College of Graduate Studies, RFL College of Business, College of Agriculture, College of Engineering & Technology and College of Natural and Health Sciences.
Virginia Union University
Virginia Union's commencement will be Saturday at 10 a.m. on Hovey Field. Actor, producer and humanitarian Danny Glover will deliver the keynote speech.
Randolph-Macon's commencement isn't until June, when students will graduate on Saturday, June 1, at the Frank E. Brown Fountain Plaza. Alan B. Rashkind, an alumnus of R-MC, will give the keynote speech. Rashkind retired this spring after 10 years as the chairman of the college's board of trustees.
Reynolds Community College
Reynolds will hold its commencement Sunday at 2 p.m. at the Stuart C. Siegel Center.
John Tyler Community College
The John Tyler commencement ceremony will be Friday at 4 p.m. in the Multipurpose Building at Virginia State University. Four student speakers — Aaron Autler of Richmond, Tisa Clancy of Chesterfield, Sabrina Fuller of Chesterfield and Cassandra Morris of Chesterfield — are scheduled to speak.
Richard Bland's commencement will be Saturday at 4 p.m. in VCU's Multipurpose Building. Justin Reid, a civil rights public historian, is set to give the keynote speech.
Legendary football coach Frank Beamer will speak at Virginia Tech's commencement Friday, May 17. The Blacksburg school's ceremony starts at 8:30 a.m. in Lane Stadium.
Longwood's undergraduate ceremony is scheduled for 9:30 a.m. on May 18 on Wheeler Mall. Civil rights pioneer Skip Griffin will address the students. Brian Ball, the state's secretary of commerce and trade, will address the graduate students the day prior.
Pharrell Williams will address the UVA graduating class May 17 at 3 p.m. on the Lawn.
Vice President Mike Pence will address students at Liberty's commencement on Saturday. The ceremony is scheduled for 10 a.m. at Williams Stadium.
University of Mary Washington
The undergraduate commencement at Mary Washington is set for Saturday at 9 a.m. on Ball Circle, while the graduate ceremony will be held the night before. Ann Elizabeth Guthrie, chief of communications for the National Gallery of Art, will speak to undergraduates, while Terrie L. Suit, chief executive officer for the Virginia Realtors, will speak to graduate students.
(804) 649-6012
Twitter: @jmattingly306