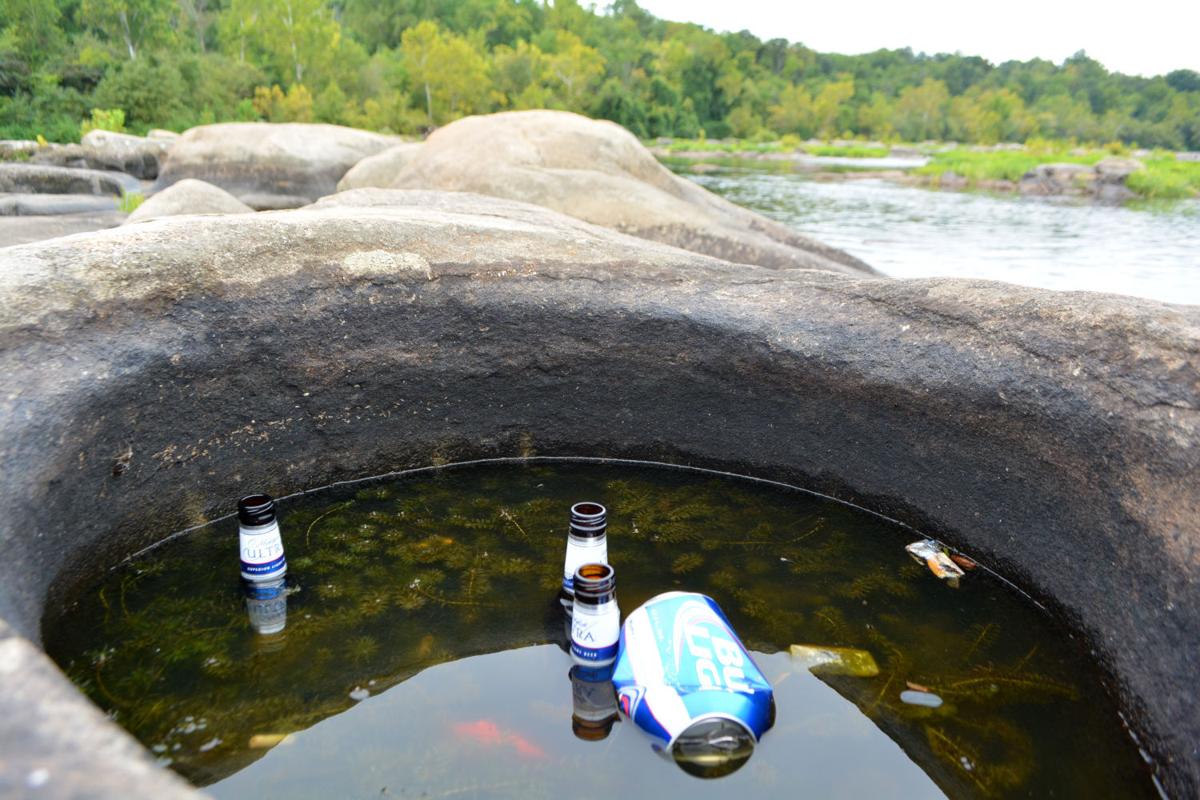 This week, it's my turn to ask a question.
Q. Why do we go down to the James River — a place we love — to have a great time out in the beauty of nature, and then leave trash everywhere? — P.R.
The James River is the most important asset in our region. Forget that it is a beautiful natural playground; the river also gives us our drinking water.
You know the type: The party animals who haul a case of beer hidden in a backpack out onto the rocks, drink all day with their friends, then leave a pile of cans down at the river.
Maybe I've got it wrong. Maybe during all the river fun, they forgot where they left their trash. Well, we found it. Again.
Last Saturday, I was one of more than 600 volunteers who participated in the annual James River Regional Cleanup organized by the James River Advisory Council. Volunteers collected 432 garbage bags of trash and 251 bags of recyclable materials. The cleanup spanned 14 sites at 10 localities between Lynchburg and Newport News, including several in the Richmond area.
I was among the 92 volunteers who registered to clean up in the James River Park around Reedy Creek. The big problem as I see it? The majority of the trash we collected was fresh, not lost materials that washed down the river.
Those materials don't show up by accident. More than likely, someone knowingly dumped them into a waterway. That's a problem for everyone.
Volunteers at Reedy Creek collected 31 bags (850 pounds) of trash and 67 bags (670 pounds) of recycling — roughly 2,400 cans and 1,100 bottles, including plastic and glass — according to Amber Ellis, watershed restoration manager for the James River Association.
"The park is a lot cleaner than it has been but still has a ways to go," Ellis said. "When you visit the James, make sure you take out whatever trash you bring in."
The 700-bag tally is less than usual for this annual cleanup because a morning storm may have kept a few hundred more volunteers away. Plus, paddlers were not allowed to get out in boats to clean in the river.
Cleaning trash can be depressing. My family pretends we're on a treasure hunt to make it fun.
For many volunteers that day, having to clean trash at the river was frustrating. We tried to understand why someone would wake up and head down to the river without plans to clean up behind them. Don't people go to the river to enjoy being in nature? Why would they trash it?
"We found bags full of recycling and trash just tossed into the woods," said Dave Inman, who volunteered with his wife. "I just don't understand why people wouldn't just carry it out."
He lives less than a mile from the river and visits the James River Park often. During the cleanup, he found lots of cans, bottles and wrappers. And lots of used diapers. Parents, you should be ashamed.
"When you find things that are clearly just tossed, it is frustrating. It would be nice if people were a little bit better stewards of the river," he said.
There are brown trash receptacles — built by volunteers — everywhere you look in the park, so there is no excuse for not being able to find a trash can.
Sisters Lelia and Lauren Abad are students at Moody Middle School in Henrico County. They volunteered with their parents as part of their service time for a school program.
It was their first time in that section of the river, and they said they were surprised to find so much trash — especially the beer cans and bottles they found mostly along the riverbank around the 42nd Street tower.
"I found a bag of poop," Lauren said.
Gross, right? At least someone was smart enough to bag the poop, but a truly responsible poop caretaker would have finished the job and put the bag in the trash.
I found in granite boulders lots of holes inexcusably full of recently abandoned trash. One included a six-pack of Michelob Ultra glass bottles sitting upright with beer cans and cigarette butts floating around. The caps were all left in a neighboring hole.
Clearly left on purpose by the same people. And there were dozens more spots just as bad.
Party people, if you carry in beverages (and a reminder: alcohol is not permitted in the park), take your empty containers back out.
I found six dirty diapers in another hole. I also found used syringes, CO2 cartridges and more than 100 cigarette butts. Those items won't fill a trash bag, but they certainly detract from the natural beauty and pose environmental health risks.
In addition to small trash items, volunteers along the entire cleanup area pulled 102 tires from the river and connected streams, as well as other large debris, including traffic cones, a tricycle, oven top, construction materials, furniture and even three porcelain toilets, according to organizers.
This annual cleanup is not the only time the James River Park gets a cleaning. Volunteers are out in the park all of the time. Most any weekend, there are people cleaning tossed and abandoned litter.
But volunteers aren't your maids, and the James River Park isn't yours to trash. From now on, carry out what you carry in. Leave no trace. Mother Nature can be so inviting. But for those who don't respect the environment, consider yourself uninvited.
(804) 649-6765
Twitter: @RigganRVA