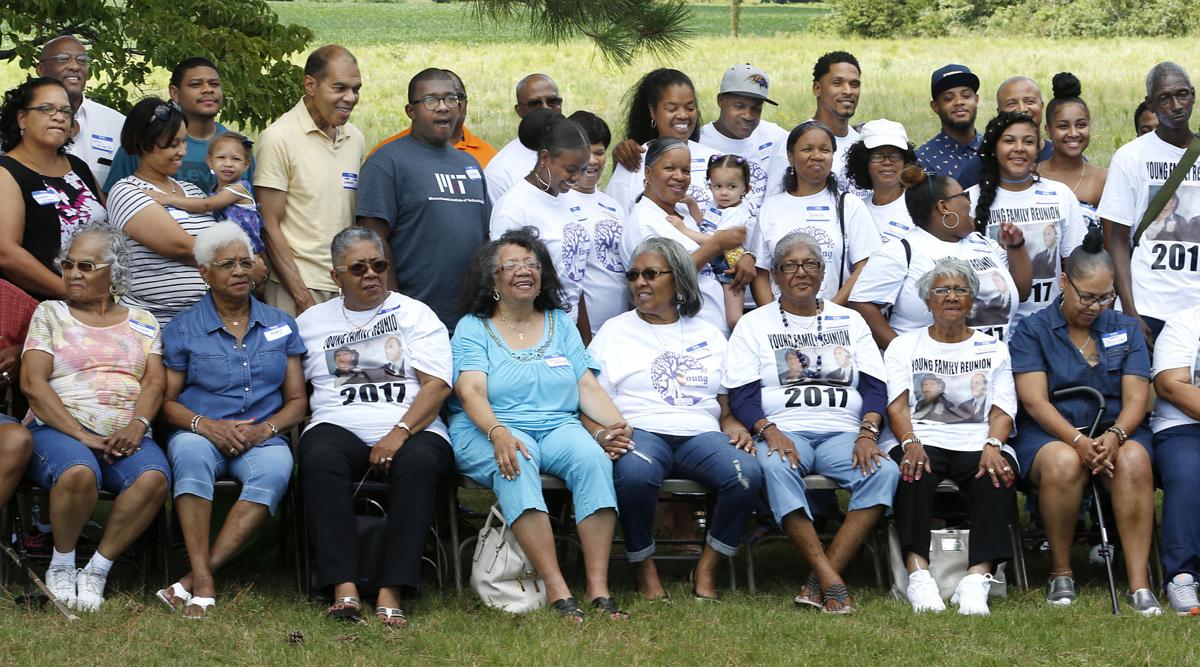 ST. STEPHENS CHURCH — The way Cynthia Alexander describes it, it's as if the spirits of her ancestors were always there with her, guiding her research and urging her from the great beyond to delve deeper into her family and her origins. She could feel their presence speaking to her soul, a calm voice from within that said simply, "find them."
While it's Alexander's late sister, Mary Kidd Gardner, who's credited with jumping into the family's genealogy back in the mid-1990s, Alexander has picked up where her sister left off, uncovering the branches of her extensive family tree one limb at a time.
Alexander's efforts could be seen Saturday as at least four generations gathered during the 32nd Young family reunion on the grounds of the Upper King & Queen County Ruritan Club in St. Stephens Church. Surrounded by green fields and under puffy white clouds set against a bright blue sky, dozens of relatives distant and otherwise mingled, either meeting in person for the first time or catching up on family gossip from the last time they saw one another.
The day included a picnic, followed by an evening banquet that included genealogy skits created by Alexander that depict the earliest members of the Young family, including Henry Young, born 1830, as well as his spouses and later generations. Alexander is linked to him through her grandfather, Skidmore Young.
Attendees also saw a video presentation, which was created by Gardner. The video offered details about the family's African origins, and moves through their arrival as slaves in Virginia.
The reunion was set to spill over into Sunday as the group worshiped with members of St. John's Baptist Church in Tappahannock, which was founded by Henry Young in 1871. Meeting the first Sunday of August to worship there is a tradition that goes back 75 years, Alexander said.
(The old church was destroyed by a tornado last year, so the congregation currently meets at Essex High School.)
The fellowship, the food — the outdoor water slides for the littlest family members — all were a blessing for the dozens who came from Maryland, South Carolina and even Georgia to share in the experience. More were expected to arrive Sunday.
Alexander's mission, however, goes much deeper.
As Alexander explained, the Young family reunions return to Essex County and the surrounding areas whenever they can because that's where the family story begins in Virginia.
Henry Young was a slave, as were his wife and two of his five children.
When slavery was abolished, he and many others remained there as farmers, as did their descendants.
Some folks said they believe the large concentration of Young descendants in and around Essex County means the plantation where Henry Young was born can't be far away, though they're unaware of its exact location.
Sporting a T-shirt with a picture of his grandparents, Ringoldia and Shirley Ranson (of the Rouzie family, which is another limb of Alexander's family tree,) Patrick D. Ranson said he's been coming to the reunions as often as possible since the mid-1990s. He's from Baltimore.
"I get the opportunity to meet family members that I haven't known before and I learn about the history of the family," he said, which is important because it's something he can pass along to the younger members of his family.
"The torches are being passed," Ranson said. "The main thing for me is to instill in the youth the foundation of family, the structure of family, and try to keep the tradition that we have, going."
Alexander, who lives outside of Atlanta, echoed Ranson's words.
"I get up in the morning and I am so driven to do this," she said, then paused.
"When I look at so many of our African-American children today, in many cases, the family structure is what they don't have," she said, "and a lot of that stems out of slavery."
"It's in our DNA," she continued.
As slaves, families were ripped apart and family names were replaced by the names of the slaveholders. All of that has an impact on today's families, Alexander said, though many people, both African-American and others, don't make that connection.
"We lost our identity as a strong people and in many cases our children don't know the stories," she said. "I want these children to understand (that) we are here today because (their ancestors) were strong enough to survive slavery."
The spirits of those ancestors, she added, "are my cheerleaders — I can just feel that."
Sherietta Gregory, of Maryland, is president of this year's reunion and as she took a few moments in the kitchen Saturday afternoon to make sure the picnic food was going out on time, she reflected on what the reunion meant to her.
"I want to know who I am," she said. "It brings joy to my heart that I can meet my cousins and learn about the history of my family."
"Family is love," she added. "We're all connected."